Palak (Spinach)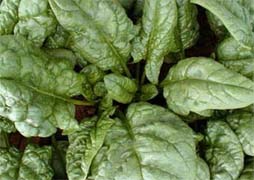 While Paneer (Cheese) is tasty and filling, Palak (Spinach) is one of the finest green vegetables, loaded with iron. Spinach combats the deleterious effects of metabolic oxidation and is referred and rated as the top "antioxidant" among fresh vegetables. Interestingly, the chemical composition of blood, and chlorophyll are quite similar, so in addition to being a good source of iron, Spinach like other most leafy green vegetables help combat anemia. It may also interest our readers to know that a bunch of Raw Spinach mixed with 2 raw carrots and an apple "juiced" together produce a wonderful home remedy for improvement of eyesight.
Ingredients
Palak - 2 bunches
Paneer - 1kg
Onion - 2 big
Tomato - 1cup pureed
Green Chilli - 2 nos
Garlic - 8 nos
Ginger - 1small piece
Jeera powder - 1 tsp
Garam Masala - 1 tsp
Turmeric - 1 tsp
Red Chilli Powder - 1 tsp
Cashew - 8 nos
Method

Pressure cook palak, onion, cashew, garlic, ginger, green chillies and make it into a fine paste in the mixer. Take some oil in a kadai or pan, add tomato pureed and all the dry powders and mix it properly. While the oil oozes add the Palak mixture and paneer cubes in it.

Keep it in a low flame covered for some time and the delicious palak paneer is ready to be served with hot rotis or parantas.