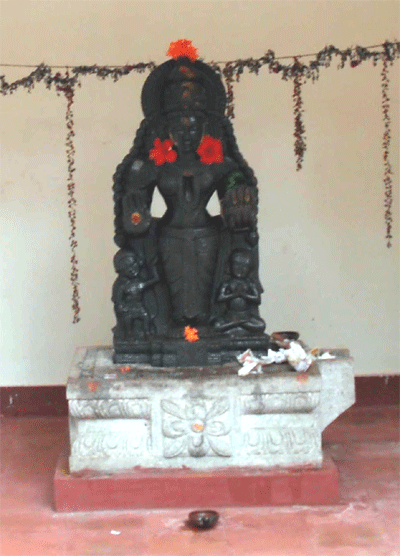 Fireflies, a small farm about 30 kilometers from Bangalore, has become home to feminism in a gentle, innovative way. "Mother Earth is the deity here," says Aravind Menon, campus resident and a media consultant. And he is right. Whether it is the rare Sita Devi temple, where villagers from all around come to worship a mother goddess as the force that protects their crops and cattle, their plantations and fields; or the various depictions of the 12th century savant Akka Mahadevi in granite; or the more modern and controversial stone and copper works by artists like UK-based Caroline Mackenzie, obvious tributes to feminism in one form or the other are aplenty in these sylvan surroundings.

Menon points out, "There are very few temples dedicated to Sita, the devoted wife of Lord Ram, the hero of the Hindu epic 'Ramayana', while Ram temples are there in plenty." Even social scientists, feminists and filmmakers visualize the character of Sita as ambiguous, to say the least. Sita is seen as a symbol of the devoted wife, the epitome of docility. She is seen as the sacrificing soul who embraces fire and disappears into Mother Earth, without a fight. Her sacrifice makes her an "ideal" wife. Her silence is her eloquent fight.

If one went by the interpretation of the 'Ramayana' by C.N. Sreekantan Nair and Sarah Joseph in Malayalam, it is the story of the "tragedy of power, the search for which only leads to solitude and destruction... about the continuing conflict between love and violence, between living in harmony with nature and striving to 'conquer' it by force". It is the story of "sacrifices that adherence to dharma demands, including abandoning a chaste wife", where questions of justice and injustice, war and peace, and the relationship between love and power, are waiting to be raised.

The film 'Kanchana Seetha' (1977) by G. Aravindan explores one image of Sita as a pawn in a tribal warfare. "Perhaps there are so few temples raised to 'Sita' because the images of 'Sita' are so disturbing," Menon adds.

One of the few Sita temples in the subcontinent is in a village in Haryana called Sitamai. Here an old temple site is supposed to be where Sita was swallowed by Mother Earth. Another controversial Sita temple is in central Sri Lanka's Nuwara Eliya. Sita was supposed to have been confined in the Ashoka orchards here by demon king Ravana.

But at the Sita Devi temple at Fireflies, which is small and fronted by a terrace, villagers from all around come to worship a mother goddess - a force that will protect their plantations and fields. Each year, there is a Sita Devi festival that is celebrated on April 22, also commemorated as World Earth Day. And besides that there is also a tradition of puja once a month on the full moon. It is a "re-interpretation and re-experience of Sita" through personal, social and ecological terms, says social scientist Siddhartha and his friends, the brains behind the Fireflies project.

As per mythology, Sita lived in the forest and was an exemplary mother. Today, mothers here seek her help when their children are sick or need guidance. Women also look to her to find a way out of their personal difficulties or health problems and farmers seek her blessings so that there is good rain and hence a good crop yield.

"The construction of the temple at Fireflies was the result of long interactions and discussions with farmers, women and youth living near the site about the meaning of Nature of Earth Mother. Now we have a place to celebrate Sita Devi as Bhoomi Thai and respect the earth along with her," says Siddhartha, the creator of Fireflies, who believes in sustainable social empowerment and balanced ecology. "Our purpose in re-interpreting the Sita Devi festival is to show that the fervent veneration of the goddess is connected to a fervent practice of agriculture that is sustainable," he adds.

"So, along with calling for a celebration of Sita Devi, there is also a calling to return to the commitment of practicing sustainable agriculture. This includes an overall larger goal of moving towards forms of development with zero carbon emissions. It is also an acknowledgement that Sita Devi is indeed the Earth, that our earth is, therefore, sacred and that we cannot continue to despoil her soil, water, air, trees, mountains and glaciers," he emphasizes.

The temple aside, the farm also houses a stone sculpture and painting of Akka Mahadevi, a controversial 12th century savant belonging to the Veerashaiva Bhakti movement, known for her poems in Kannada. This defiant woman from Bidar, who had Allama Prabhu as her guru, scoffed at society and tradition and like nude male sages of that era, refused to cover her body. It is said that so true a devotee was she that Shiva covered her with her own luxuriant hair. In a translation, thus goes one of her famous hymns:
'People, male and female,
Blush
When a cloth covering their shame
Comes loose.
When the lord of lives,
Lives drowned without a face in the world,
How can you be modest?
When all the world is the eye of the Lord,
Looking on everywhere,
What can you
Cover and conceal?'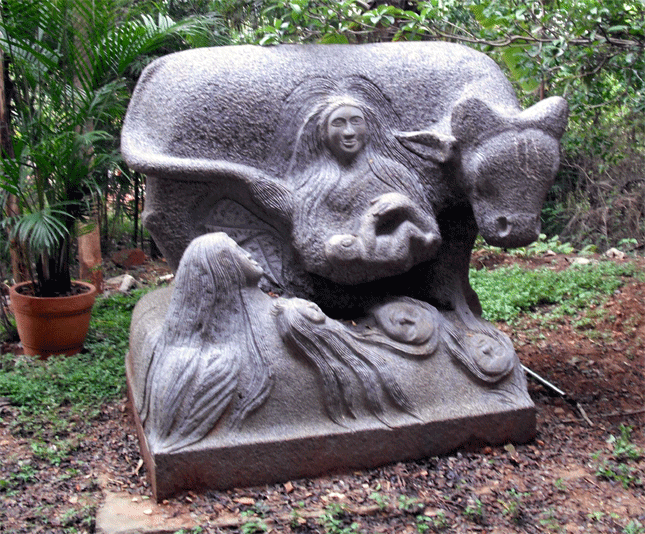 Beside Akka Mahadevi in granite, the Fireflies farm has also offered shelter to controversial stone and copper works (2004-05) by UK-based artist Caroline Mackenzie, in collaboration with Indian sculptors T.N. Muniyandi, M. Elumalai, P. Elango, Mahesh, Azad, Viju, Baiju, Ramesh and several others. "The biggest tribute to our work is that they have found such a tranquil home," says Baiju, a resident artist.

Mackenzie's sculpture 'Male Parenting' - essentially showing man as the nurturer, protector of the girl child, administering childbirth - proved controversial a few years ago and found no pedestal in any Indian city. The 'Lion Lady' is the woman-lion incarnation - distinct from the man-lion incarnation of Vishnu.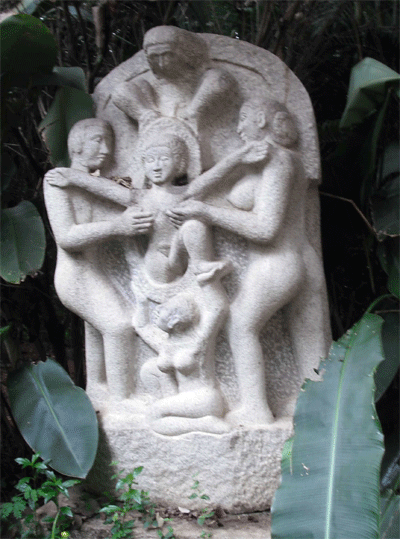 Another work is the 'Birth of the Divine Girl', which shows the girl child being sheltered by the Bird Man (Garuda) and received by Earth Woman (Bhoo Devi) while the Mother and Father flank her equally. The artist writes: "The girl child could be seen as being born from the rock" and the man and woman representatives of people "who are receiving a new sense of the consciousness" of self and earth.

The artist also provides a Christian interpretation of this particular work, saying that in contrast to the "terrifying patriarchal image of God, here the male figure looks towards the female child in a supportive and loving way. It is as if he is saying, 'Don't be scared, you can do it, you can overcome all the obstacles. I am here for you. I want you to succeed'".

She writes: "In Christian symbolism, the church is normally referred to in a feminine form. In the sculpture the kneeling woman reaches up to support the process of birth and to receive the leaping child. The idea here is of new type of church where the feminine, the creative, the earth are welcomed and given a place here in the real world."

In interpreting feminism, Fireflies has made the transition from myth to the medieval and then to modernism by selectively choosing some of India's most powerful and abiding symbols and thus managing to establish a very philosophical tradition of uplifting debates which remains subliminal, voiceless yet.

Besides providing space to work to women scholars, philosophers, artists and writers, the art village trains poor village women in pottery and weaving.