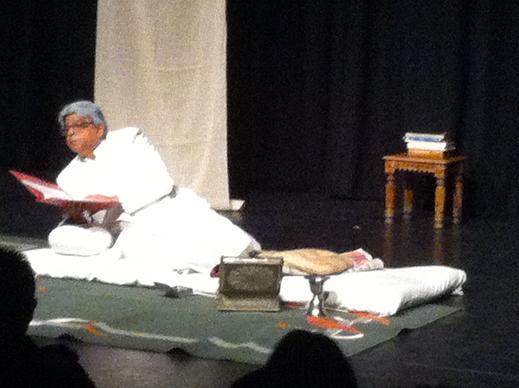 Vinay Varma performing his solo-act 'Main Rahi Masoom'
on 7th Sept' 14 at Watermans Theatre, London
To perform a nonstop 75-minutes solo-act and to keep the audience spell-bound and uttering a "Wah, Wah..!" every few minutes, is no mean task. But precisely, this is what happened….

The solo-act play was 'Main Rahi Masoom' performed by my Hyderabadi friend, renowned actor and acclaimed theatre person Vinay Varma, the date 7th September, 2014, place London's Watermans Theatre, organized by Society of Friends International (SOFI), London.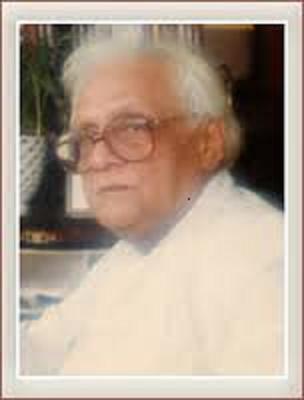 Dr. Rahi Masoom Raza (1927-1992) was a Urdu, Hindi and English scholar, poet, and a lyricist and dialogue/script-writer for Bollywood films. And above all, he is well known and acclaimed for writing the script for the mega television serial 'Mahabharat' produced by the late B.R. Chopra.

The solo, autobiographical act by Vinay Varma pays a tribute to this accomplished writer and nationalist and traces his life and times. It starts with an aged Rahi Masoom Raza pounding away on a typewriter in an effort to write his Vaseeyat (Last Will and Testament) and what does he will…? That he wished to be laid to rest in the river Ganga as he considered her his second mother!

As the making of his Vaseeyat is in progress, the solo-act by Vinay Varma unveils Rahi Masoom Raza's life, how, hailing from a small village Ganguali near Gazipur in Uttar Pradesh, India, he transforms into an eminent scholar, poet, writer, and a reputed lyricist, dialogue-writer and scriptwriter of many a well-known Hindi films like 'Main Tulsi Tere Aangan Ki', 'Golmaal', 'Alaap', 'Hum Paanch', 'Lamhe', etc., that won several awards.

During the course of the monologue, he speaks of all that happened in his life…his utter disdain towards and dislike for the pseudo secularists and the extremist, fanatic elements in both the Hindu and Muslim communities, whom he considered the divisive, communal forces of India playing vote bank politics. That Masoom Raza was a staunch nationalist first and then a Muslim, shines throughout the act.

As the drama unfolds, we get insights into the writer's world view, political thoughts and a staunch national fervour, that he did not hesitate to articulate with candour in his letters during the course of his run-ins with the Indian officialdom whether it was over the name of his daughter-in-law Parvathy Khan or responding to letters from people who questioned his secular credentials. The angst and frustration of the writer are unmistakable, though the letters are written in his inimitable witty and satirical style to these so-called upholders and guardians of the Hindu/Muslim religions and the society. Notable amongst these is the letter he writes to the authorities about converting the disputed Ram Mandir-Babri Masjid site into a Ram-Babri Children's Park!
Anything I write here in praise of Vinay Varma's outstanding and brilliant performance as Rahi Masoom Raza and his monologue, would be an understatement. His acting as the aged Masoom, his laboured movements (considering that Rahi had suffered from TB ), the voice modulations to suit various moods, the demands and pains of his aging, aching joints, the irony, wit, satire and the deep anguish dripping through his voice as he reads out various letters or recites extracts from his poems or reads out portions from his book 'Andha Gaon' …Ah, what a diction and command over the language, and oh, what a nuanced, flowing and seamless performance and dialogue-delivery by Vinay Varma!

As the audience broke into a huge applause when the play ended, I stood up involuntarily to give Vinay a standing ovation (that I thought the rest of the audience too should have done, but may be, his powerful performance riveted them and kept them pinned down!)

Some amongst the audience said that they had met Dr. Rahi Masoom Raza in person and that Vinay Varma bore a striking resemblance to him and that they felt as if Raza Sahab was standing before them on the stage! Vinay Varma shared that he has never met the writer and that the inputs for the 75-minute play were gathered from a 519 page Hindi journal 'Abhinav Kadam' that was dedicated to the acclaimed writer. Inputs and insights into the writer's life were also provided by Rahi Masoom Raza's wife Nayyar Jahan and his son Nadeem Khan to aptly and truthfully recreate his multi-faceted personality on stage.

The act is a collaborative effort between two theatre groups based in Hyderabad, Rangadhara and Sutradhar. Varma is associated with both the groups and Rangadhara's Bhaskar Shewalkar is the director of 'Main Rahi Masoom' that has performed at all the leading centres in India and is now going global with performances in London and later this year, in a few cities across the United States of America.

Don't miss this fantastic and interesting autobiographical sketch of Dr. Rahi Masoom Raza, brought alive on stage by the class act and superior performance of a supremely talented Vinay Varma (who also acts in Telugu and Hindi movies and was recently seen in the Vidya Balan starrer 'Bobby Jasoos'), when it is next in your city.

As I am posting this piece here, this brilliant, must-watch play is under way at Nehru Centre, London. Best Wishes and Kudos, Vinay Varma!