It is an acknowledged fact that the percentage of women artists who receive representation and critical debate surrounding their works has always lagged behind the actual number of women artists working across the world, through the ages. Whether in the healthily funded environs of developed societies or in the volatile and evolving art circuits of developing countries, women artists across varied media and cultural contexts are inadequately documented in art history. The National Museum of Women in the Arts (NMWA), Washington D.C., is a unique institution committed to correcting this imbalance. Its mission is to excavate from the annals of the past as well as from the less traversed territories of contemporary arts practice, women artists whose work merits wider circulation and debate.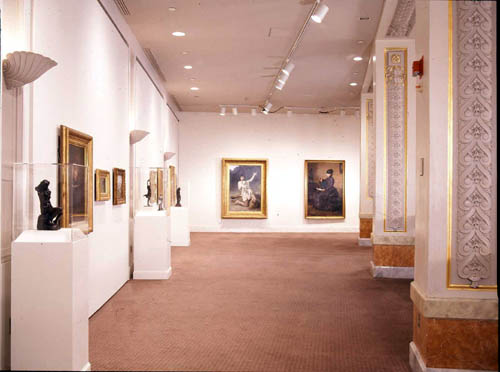 Located, ironically, in a classic building that was originally the temple and headquarters for a Masonic fraternal order open exclusively to men, the NMWA, now in its 20th year, has been actively engaged in bringing to the fore names nearly lost and works perhaps not seen so widely before. From the grassroots folk artist or performer to the renaissance painter and sculptor to women working with contemporary media such as film, installation and photography - the NMWA's approach is wide and holistic.

The museum came about when an American art-collecting couple, Wallace and Wilhelmina Cole Holloday, came across two still-life paintings by Flemish Renaissance painter Clara Peters. They were enchanted by the works and sought to find out more on the artist. Surprised by the near absence of any information in common art reference texts they made it their mission to examine art by women, collecting any materials they found by women artists. At first they housed their collection in their home. As word spread, interest and support multiplied with patrons and collectors making donations. Eventually the collection grew bigger, necessitating a committed space. It took two years to renovate and convert the Masonic temple into the museum it is now.

The idea of a museum dedicated exclusively to women artists has and continues to meet with opposition. Not all criticism has been purely conservative. Some art critics are skeptical about the gender differentiation underpinning the museum's goals, holding that such a disparity is counterproductive, provoking an unnecessary ghetto mentality that conflicts with art's universal appeal. This critique flags the risk of a biological division. Aware of this, the museum's think-tank has consistently qualified its commitments.

NMWA does not seek to perpetuate a false disparity between men and women. Its project is historical - identifying and correcting the blind-spots in art history and circulation on account of which women artists have previously been inadequately shown or discussed. In the words of curator Dr Jordana Pomeroy, the broad goal for the museum is; 'Where are the women? Giving women a chance, those women who have been off the grid because of gender.'

Pomeroy adds that interpreting this goal has been a complex task for the museum staff and, in particular, the curators. She holds that disadvantage on account of gender is still valid, though the issues confronting women today are different and more complex, exceeding notions of inequality as based solely on gender.

"The rise of women's history and literary studies has alerted us to how complex women's positions in different societies are. It gets more complicated for us in the visual arts. We are working with multiple parameters such as chronology, the subject of the art work, the nexus of the dealers and patrons in the art market of any society at any given time, and then its cultural construction. This raises very difficult questions of how a woman artist might work, survive and circulate. We are seeking here to inject political debate from their perspective; the issues that they are confronted with - we aim our curatorial practices to bring those to the fore. How gender is performed in any society, at any given time is a complex register of different forces, rather than just biological sex."

Very alert to social and cultural disparities within and outside the US, the museum's functioning is facilitated by a host of local committees set up in different states of the US and countries around the world. These committees include specialists that work closely with local museums, curators, business executives, legal advisors and arts and education specialists to develop deeply researched programming and links with the museum in Washington.

Specifically curated exhibitions that raise varied issues of gender and the arts are organized periodically. The latest on view is 'WACK! Art and the Feminist Revolution', a comprehensive exhibition that explores the formation, development, and impact of feminism in post-war contemporary art from 1965 to 1980, with works of artists from around the globe, which will be on till December this year. Then, the museum also has a centre for performance; and it fosters close links with the local community through educational and public outreach programmes that create awareness and better understanding of how women artists have functioned in different societies in different periods of history. The educational outreach programmes target both institutions as well as individuals and include a spread of activities such as guided tours of the museum - the tours are tailored to specific age groups and are free-of-charge for elementary and secondary school students - seminars and panel discussions, film screenings and performances, lectures, book signings and any other events to honor women artists.

Coinciding with its 20th anniversary, NMWA this year launched Clara - a unique web-based database of women artists. Clara will provide access to archival materials and biographical information on close to 18,000 women artists. These materials are housed by the NMWA's library and research centre that are open for scholars, critics and researchers. Besides books and periodicals, archives on women artists, an audio-visual collection, collections of artist's books and book plates among other material is also available.

Over the years, the NMWA's collections have expanded to over 3,000 materials and in the future it seeks to reach out beyond America to countries such as India, where a local committee is in the formation. Part of the permanent collection are the works of Mexican artist Frida Kahlo, the Renaissance paintings of Elisabetta Sirani, modern photographs by Barbara Morgan and sculptures by Louise Nevelson. NMWA is also constantly faced with the challenge of adapting and interpreting its own role as a museum dedicated exclusively to women in the arts. The museum has motivated new practices and thinking surrounding art curation and documentation in which history and women's positions within it are key.

While the challenges continue within the museum as well as outside in terms of wider cultural representation and gaining critical acceptance, NMWA is a crucial space that explores and critically documents how women artists through time have expressed their creative energy.