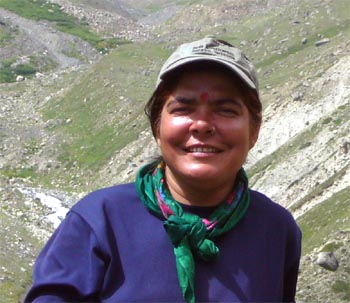 In Antarctica, she grimaces, the wind is your worst enemy. Reena Kaushal Dharmshaktu, who has become the first Indian woman to ski to the South Pole, loses her winsome cheeriness momentarily as she attempts to describe, back home in Delhi, the excruciating cold on the frozen continent. An accomplished mountaineer, with numerous expeditions to Himalayan peaks behind her, the 38-year-old recalls her quick realization of the difference between Antarctic and Himalayan conditions, "In the Himalaya, when the sun is out, you are quite comfortable. The sun provides warmth, even on a windy day. But in Antarctica, it doesn't make a difference whether the sun is shining or not. What matters is whether the wind is blowing or not. When it is, you are in agony."

Her bubbly laughter is back as she then describes the arduous process of refueling the body during skiing. "While skiing, our faces were completely covered. Beneath our snow goggles, we wore 'gorilla masks', which covered the nose, mouth and cheeks. The breath would freeze and long icicles would form on our masks. When we stopped for our snack breaks, we had to first break those icicles before removing the mask to put food into our mouths," she describes.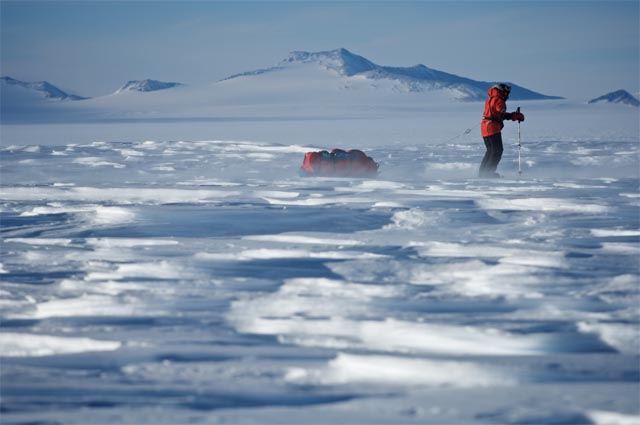 The Kaspersky Lab Commonwealth Antarctica Expedition was a dream that eight women fulfilled under the leadership of British polar expert, Felicity Aston. Originally Aston's pet project, the expedition was conceived to spread a message about women's empowerment, about climate change and environmental degradation, and to celebrate the 60th anniversary of the founding of the Commonwealth on January 1, 1950. "I'm fortunate to live in a country and society where I can make my own choices in life. But there are a lot of women out there, even in the 21st Century, who don't have that freedom," Aston had told the media in Delhi in 2008, when she flew down to interview the Indian applicants for her venture. Aston pared down the 130 applicants from India to a shortlist of 10, whom she then interviewed. Dharmshaktu and another applicant were picked to attend a selection-cum-training camp in Norway, after which the final selection was made. The final team had eight members - from Ghana, Cyprus, Jamaica, Singapore, Brunei Darussalam, India, New Zealand and the UK. It represented not just the corners of the Commonwealth but also five continents, six religions and seven languages. After a week's training in cross-country skiing and facing sub-zero conditions, the team dispersed. It was to come together again for another training session in New Zealand, in September 2009.

However, before the expedition, the Ghanaian member was struck by malaria. Though she recovered, the period of illness had eaten into her preparation time and it was considered unwise for her to go on the expedition. Her place in the team was taken by a Briton, an adventurer who had earlier been to the South Pole and whose experience was an asset. Another member who had to drop out was the Jamaican, suffering frostbite in her fingers during acclimatization training in Antarctica before the team set out for the South Pole. Eventually, seven women from five countries completed the arduous journey to the southernmost point on the planet.

Despite it being summer in the southern hemisphere - with round-the-clock daylight in Antarctica as a result - they faced temperatures around minus 30 degrees Celsius and 80-knot winds as they skied 900 kilometers from the coast of the continent to the geographic South Pole. The team carried tents, stoves, rations, medical kits, and navigation and communication equipment on sleds weighing 55 kilograms, pulled with a harness that girdled the hip with crossed straps on the back for support. The team also carried back its garbage, including human waste - becoming the first such Antarctica expedition to do so.

Setting out from the "Messner Start" on the ice shelf of Antarctica's coast facing South America, at 82 degrees latitude, they navigated a route past mountain ranges and over wind-formed waves of snow or sastrugis. "Every day, for 38 days, we skied 10 or more hours. There was nothing to see in that frozen wilderness except the sheet of snow, mountains when they were there, and the sky. We were the only living creatures. Not even a spider lives there. Yet, we felt a wonderful energy all the time. It was as if an Almighty Being were there," recalls Dharmshaktu.

"If we could achieve our goal, anyone can achieve theirs," is the message the expedition has emphasized. Dharmshaktu points out that they would never have got to Antarctica were it not for the sponsorship of Kaspersky Lab - the Russian software firm. The expedition spent months in fruitless efforts to garner funding before Kaspersky Lab stepped in. In India, Dharmshaktu received financial aid from Bajaj and the Indian Mountaineering Foundation though her appeals to the government, especially women ministers, went in vain. Describing her journey from childhood to a record-setter and role model for Indian women, Dharmshaktu recalls being intrigued by the mountains as a little girl in Darjeeling - a place her army man father fell in love with. "I would look at Kanchenjunga on the horizon and wonder what it was like, up close," she says. Fluent in both Nepali and her native Punjabi, she recalls studying in Loreto Convent, Darjeeling - where Tenzing's daughters once studied. "My father would take my brother, sister and me hiking around Darjeeling a lot and it's from there that my interest in adventure grew," she laughs.

Her other great debt, she says, is to her husband, mountaineer Lovraj Singh Dharmshaktu from Uttarakhand, who has climbed Everest three times as well as the more fearsome Kanchenjunga. Never losing sight of his roots in his beloved Munsiyari - where he often skipped school to hike alone in the Himalayan foothills - he has kept home and hearth going to enable her to pursue her dreams. Today, as she enjoys a hard-earned rest at home and basks in the sun and the media attention, he stays at hand to make tea, cook lunch and join smilingly in the interviews and felicitations.