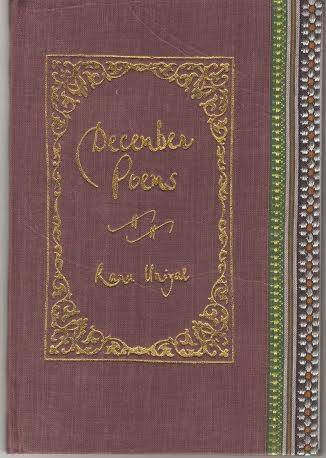 December Poems by Ranu Uniyal,
Witers Workshop (Kolkata), 2012,
ISBN 978-93-5045-028-4, Rs. 100
With her first book of poems "Across the Divide", popularly well responded by the readers, "December Poems" is the second anthological tour the force of Ranu Uniyal, one of the strongest women poetic voices of contemporary writings in Indian English. With 58 poems showcased in this book, she evokes emotions and feelings in readers as the poems deal with everything oft recurring in and around human life. Uniyal tries her best to warm up the readers shivering in the coldness of the time and sizzling at the same time with frozen and impassioned passion for and the zeal to live in the world. To her "December" assumes symbolical significance. Going through her poems I was reminded of Coleridge's thoughts and ideas expressed in following lines about the times of December. It also holds good for the poems of Ranu Uniyal from all perspectives.
"Come, come thou bleak December wind,
And blow the dry leaves from the tree!
Flash, like a Love-thought, thro'me, Death
And take a Life that wearies me."
The Month of December is the time when the poet does introspection into the months of the year of her life passed by and the months of hope, joy, aspirations, and dreams, to be followed in a renewed year. "December" is to her-
"A time to celebrate and the time to venerate
A tme to sing and the time to pray.."
It is at the same time 'Looking behind" and " Marching ahead" "hand in hand with memories that belonged / To a life."

Most importantly, Ranu Uniyal opines that December is the clebration of innocent love " clogged but could not be silenced". Nevertheless, she further remarks with a question mark -

"We dance and dance until the wee hours in the morning
Well that is what December nights are for?" (Winter Blues)

December is the threshold of the maturity of her soul's journey. At one time she is happy with the lot she has had, her sadness, of separation, in life behind frustrates her. However, the cherished memories of those she once lived and spent times, rejuvenates her other times.-
"Let us rejoice with seeds of hope our
Memories could not reap and tear failed
To show blessed with the grace and beauty
Of days which hang like lame twitters of you." (In love)
While there is a pervasive sense of fulfillment in some poems; the melancholy does reflect her tormented self in other ones.

A seasoned poet of feminine sensibility, she is a strong voice with her poetic protest against the patriarchal clutches and domination gripping our society. All aspects of her life, physical, emotional, psychological, spiritual, philosophical, find a brilliant expression in all her poems. Her helplessness can be felt in the poem " Between Us" where she reveals out :

"Sometimes it is there a throat full of sadness
And the knee-deep silence and then I find
Somewhere,a lustful smiles............... "

Her poems are much more haunting, reflective, and a thoughtful probe into the past which contains some sweet and bitter memories of her life. She recalls "good old nights/ Self –effacing moon in full view " of those romantic times. She is nostalgic and feeling broken inside for 'lips have slaughtered all craving for a kiss". "But this was twelve Decembers ago" (Yesterday no more").

Ranu Uniyal's poetry is a feminine voice of strong protests against the patriarchal domination and the domestic and marital violence. Empathizing with women in distress, she feels touched and traumatized by the domestic violence against them in their marital coteries. With reference to the mythological episode of Ahalya's emancipation by Lord Rama, Ahalya in herself seeks emancipatory release and freedom. Anything like "shame" and ' loss" caused to women, is "mine", she boldly declares in "Ahalya to Ram". With a satire on the biased attitude of man to woman, she remarks, carrying "within her a heaviness":
"Aged with envy and unmindful distrust
He crossed my legs and left me with a curse
Until the gods intervened
And I came back to life."
The poet's pangs and angst, frustration and sadness can be felt in her poem "A woman has no dream". In "Woman to Woman", dedicated to Kamala Das and Judith Wright, she expresses her feministic concerns about fairer sex "with a sense of despair"-
"Are they all the same the men loved?
The one who promised and walked away
And the one who married
And the one whose seed I held inside
With such unholy patience and longing."
In spite of all the brutal treatment meted to woman, she prefers to march on with the seed of creation as if "Nothing at all happened". The modern woman is now strong enough to work shoulder to shoulder with man whether " at the bus stop" or " at the post office," " in bed or the kitchen". She is no longer Clytemnestra, Draupadi, Medusa, Ahalaya, Anusuya who had to face the patriarchal blows. Times have now changed for them thanks to her attitude of "kicking her angst afraid." In "Draupadi" she presents the condition of woman so realistically. However, she proclaims "no stones can destroy me". Even if faced with myriads of problems and threatened by the storms of times, she doesn't give up her zeal. As a true representative of woman, she believes -
"Life is precious and only love
can take its place on this earth." (Before the Storms).
In her poetry, streams of feministic consciousness flow with dreams and hope, yearnings and longings. Depicting the realistic picture of the yearning of woman with remarkable lines " like a lovely woman, anxious for company", she sarcastically bursts out-
"Often I have tried to hide the secret, it gushes out.
Like a lonely woman, anxious for company
I often see tilting hands as if a mere touch of lust
Is what I am looking for? So foolish are men
And so little they know of man" (I am a game)
So what if she take to task the highhandedness of man, she doesn't retreat and regret to pay tribute to man. Her love and respect for her father is well expressed in some of her poems. "Papa at eighty two" mirrors the pathetic condition of an octogenarian. A man in old age always remains under constant fear, apart from being neglected and seeks refuge in God." From a young girl to her father" is a testimony to the fact that to her father is everything. That's why she gets emotional and says-
"Papa, you have been my one and only comfort."
Most of her poems are the emotional response to her mood swings at different times. Sometimes she seems to be sad at heart, she is ecstatic other moments, for she is a human being.

Apt and befitting usage of myths and mythological, and of course, spiritual and scriptural illustrations , allustrations and characters also help her communicate her thoughts with great sensitivity.Apart from other relevant themes dealt delicately, philosophical and spiritual elements are also apparent in her poems. "Krishna to kauntaya" reflects her beautiful thoughts on profound essence of life's philosophy-
".………It is only they who burn this pride
And become one with me can thus be blessed
With that divine insight and be able to achieve
Death in life and life in death."
In the final analysis of Ranu Uniyal's poems, it must be pointed out that "December Poems" is a "sheaf of emotions" spontaneously mustered from time to time in wake of varied different affectionate, sympathetic, empathetic attitudes towards woman, her friends, parents etc. Nevertheless all the negative impulses, ill-treatment of the times, she has unflinching trust in the power of love, principled to offer reverence to the elderly people. She has in her memory all the good things of life she has enjoyed. As for the bad things, she has transformed and refined them into her beautiful thoughts on life. Along the border of constant changes of times, she succeeds in flowing the stream of her life, love, triumphs, ideas, feelings and this is what establishes her as a capable poet with vast and comprehensive experiences, a seasoned soulful poet of contemporary times.

Sadness, sorrow, pains, angst, frustration, unfulfillment and agony are some of the most remarkable themes from a feministic perspective, very poignantly dealt in her poems. However, love, hope, struggles, enthusiasm are the crux of her poetry, that make her a true humanitarian poet and hence her poems are of perennial significance. To understand the seasons of life, diurnal and nocturnal movements of the seasons with beauty, grandeur, forgetting the pinching coldness and scorching sun of the time, Ranu Uniyal's present collection is a better option and greater solution. A must-enjoyable and thought-provoking book recommended for the readers to have poetic warmth in the coldness of contemporary times.