From 02 October 2014 to 11 October 2014
I am very thankful to Shri Sanjay Sona Alhat, because of him I have completed my Maa Narmada parikrama by him Alto tubeless tyre car. It is said that Narmada is the daughter of Har or Shiva. She was born out of Shiv's sweat, she is Shivsutaa and Jatashankari. She also called Brahmacharini, many meditator for sadhna & meditation prefer bank of narmada.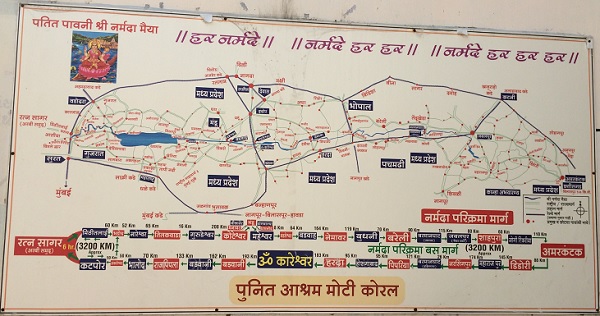 It was like a dream which I never thought to be complete it. Omkareshwar from where I attached very much with Ma Narmada, Amarkantak dream to see origin of Ma Narmada and this journey I was completed by crossing Indore, a new birth of my life (the place where my boyfriend leaved me forever in 2008) and Lahori (once dreamed to go there, i.e. boyfriend home town actually can called Ex-boyfriend or an history).
Important Note:

Maintain discipline, it is an adventurous spiritual journey around the sacred river through hills, dense forests, gorges, ravines, rocky patches, caves, plateaus and plains.
Total expenditure for this 10 days journey was 30,000/- and because of time limitation or can say difficult to get leave from office we just start journey by sanctioned 4 days leave i.e. 6 to 10 Oct & 2 to 5, 11-12 was holidays.
We started on our journey at 02 Oct 2014 i.e. Gandhi jayanti/ Durga Ashtami. After cleaning in office 12.30Pm releaved and at 2.15PM started journey from Dehu Road, Pune to same via Omkareshwar-Amarkantak.
Omkareshwar-Amarkantak-Omkareshwar its 3163Kms.
We started our parikrama, by performing parikrama of Omkareshwar.
Before to start the journey must bring Identity proofs like an PAN Card or Election Card to get stay in Hotels.
Put the banner "Narmada Parikrama" on the vehicle, it helps us.
Keep the tank full/CNG of the vehicle at the available petrol pump as well as yours (Drink adequate water at least 4-6 liters mineral water bottles).
While taking food at roadside dhaba type hotels, requirement about spicy, etc shall be clearly stated (normally preparation will be more spicy); even at stay locations, being small villages/cities, need to be ordered at least before 2 hrs.
Looking at road conditions, forest & hilly area, try taking light food during travel; we preferred taking shev-poha, samosa, mung dal wada, potato pakoda and fruits right from the morning breakfast & taking dinner as required & available at the stay location.

Ensure the identity proofs are taken back, Try to plan travel upto 4.30-5.00 p.m, At each stay location, kindly enquire & review your plan; add if any locations can be included; Ensure route & road conditions; Donate biscuits, chocklets, note books, pencils, good usable clothes, etc to adivasis, wherever possible.