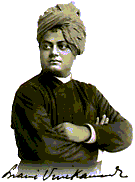 A rare soul - Swami Vivekananda - was born in Calcutta (India) on 12th of January 1863. His father was a renowned pleader of his time and lived an aristocratic but pious life. His mother was an embodiment of wisdom and simplicity. She taught Narendra - later to be known as Swami Vivekananda - the true meaning of Hindu Religion. Based on the mythological stories from Ramayana and Mahabharata, she introduced Narendra to fearless character of Hanuman, to the divine nature of Sri Rama and Krishna, and values of truthfulness and simplicity.

Narendra was very scientific in his attitude. He did not accept anything without proof of knowledge. During his college days (it was British India that time) once his professor told him to go to Sri Ramakrishna at Dakshineswar Temple if he wanted to know true meaning of trance or Samadhi.

This opened up a new relationship of Teacher and Disciple unparalleled in the history of spirituality. This wise man of Dakshineswar with his simplicity and immense knowledge of Advaita Vedanta won over the mind and the heart of this young boy --Narendra-- once for all. At the lotus feet of his Teacher Sri Ramakrishna, Narendra learnt and realized true spirit of Eternal Vedantic Religion --Sanatana Dharma, and gradually evolved into Swami Vivekananda.

The realization that with spiritual practice one can transcend the limitations of body-mind complex - the ego - and regain the memory of one's true divine nature made a great impact on the mind of Swami Vivekananda. He renounced the transient worldly pleasures based on the five senses and started to lead a life of a monk that later on paved the way for a new monasticism in modern India. For him now the mission of his life was to broadcast this message of Sri Ramakrishna to the East and the West - everywhere.

Vivekananda The Scientist!

To arrest the sectarian influence of onward march of 'scientific reason', to fight the onslaught of external technological progress which claimed material prosperity as the only goal for humanity, one required answers in the scientific language alone. Language of simplicity and faith was brushed aside as weakness and defeat. Religion was on defensive in the face of clattering advances of science. To combat this destructive march of quasi purposive science, Swami Vivekananda entered the world arena as a great disciple of Sri Ramakrishna.

Chicago; 11th September 1893. His call of, "Sisters and Brothers of America" echoed the voice of universality and oneness of life. It shook the Western thought of reason and science at its very root. He extracted scientific truths from Upanishads and Vedanta and put breaks on the criticism of religion as non-scientific mumbling. The old philosophy of Vedanta was given new form suited to the modern scientific thinking.

Swami Vivekananda experienced neo-vedantic culture and evolutionary vision in the wonderful life of Sri Ramakrishna, and he maintained that that was the essential pre-requisite for future survival of civilization. As a man of vision, however, Swami Vivekananda advocated the unity of physical and spiritual sciences. One is lame without the other. He truthfully elaborated the teachings of Sri Ramakrishna that were in 'seed form', so to say.

New Dispensation: Worship of Man as God

The Divinity is best manifest as human consciousness. Hence it is logical and rational to 'worship God in each human face' rather than try to find Him in icons and images, temples and buildings, scriptures and books. Swami Vivekananda was convinced that the blot of apartheid, caste and racial prejudice, exploitation based on privileges, and slave mentality would vanish from the face of the earth if the teachings of Sri Ramakrishna are put in practice. He was convinced about this most important teaching of his Master that all religions are but so many paths to reach the same perfection or goal. Naturally, religious fanaticism, persecution, and bigotry had no place in Swamiji's concept of religion.

In the year 1897, after his triumphant return from the West he formed the New Monastic Order -Ramakrishna Math and Mission- with its Head Quarters at Belur, P. O. Howrah, Calcutta, India. The world to day is rich because of his tremendous contribution in the realm of true Spirituality which he has elevated to the category of Science.

His return to India was a phenomenal event. From Colombo to Calcutta, everywhere he went, a rousing reception and welcome was accorded to this great sage.

His famous replies to these welcome addresses are so nicely compiled in the famous book: "From Colombo to Almora". Moreover, whatever he spoke, preached, or taught is all available as "Complete Works of Swami Vivekananda" in nine volumes. Also his wonderful biography by His Eastern and Western Disciples.

All these books are published by & and are available at Advaita Ashrama, 5 Dehi Entally Road, Calcutta 700014 (India).
Also at: Vedanta Press, 1946 Vedanta Place, Hollywood, California, 90068-3996, USA.