Manhood, Grasshood and Birdhood
By Aju Mukhopadhyay
Pages. 88, Year 2014
Prakash Book Depot, Bareilly, India
ISBN: 978-81-7977-521-9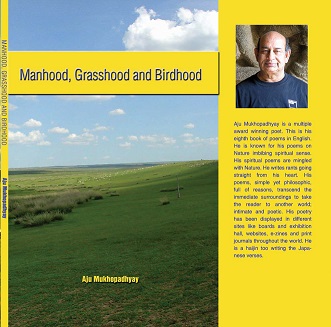 Manhood, Grasshood and Birdhood is Aju Mukhopadhyay's eighth collection of poems in English. The anthology has mainly two parts. The first part Manhood and Grasshood has three sections conveniently categorized subjectwise.: 'With Men and Countries', 'Subjective' and 'Dwelling with Nature". The first section contains poems dealing with men and countries and their plight from all levels. Apart from some subjective poems, some are beautiful reflections of his profound love for Nature and its opulence. "Birdhood" forms another part of the book. It treasures the poems of his keen observation of the life styles of various birds.

In the anthology under review, a variety of themes ranging from nature beauty, deforestation, materialism, loss of values, erosion of humanism, global unity, communal riots, fragmentation of the world have been thoroughly dealt with. There are also some elements of satire against the prevailing system of politics. His appeal to the people to imbibe and revive values and get united in the name of humanity is an essential aspect of his poems. His vivid experience , minute observation in and around, seem to have heightened his poetic stature. As seasoned poet, he has raised some international, racial issues also in his poems. Apart from themes of social, moral political environmental issues, the beauty of his diction and metaphor is spell binding. The language used by him provides a speedy meaning to his poems. Without any iota of doubt, his poetry is 'elevating, educative, artistic or otherwise pleasing."

His poetry is suffused with his adoration for Nature and romanticism. Immense beauty and the power of Nature rule the roost in his heart with all the sensibility. Nature nurtures; it sustains and witnesses our advancement. Man, grass and birds are dependent on one another and they together maintain the ecological balance. The earth looks beautiful with pied beauty of nature- trees and the sky dotted with birds and their joyous flight alike. A. C. Ward rightly says-" In the face of modern industrialism, they [modern poets] solace their souls by retiring to the country and celebrating the beauties of unspoiled Nature." With unflinching faith in its creative power, Aju Mukhopadhyay also divulges the same thing in a different way:
"Nature with its creative agents creates
creates everywhere artistic things
which the men imitate." (A Creative Artiste)
With profound love for flora and fauna, Aju Mukhopadhyay, a veteran poet, is seriously concerned with defilement of Nature. With varied themes and imagery drawn from Nature, he takes a vow to go green for our sustenance on this planet and hence the present anthology is a conscious effort that shows the poet's enormous and generous heart for the people and their surroundings. He has well championed the cause of protection and preservation of Nature from man-made pollutants.'Nature Groans' expresses his deep anguish and angst over the loss of natural beauty, its values due to ongoing constructions of the buildings, walls, caves etc. Nature is being harmed in some way or the other. Very poignantly the poets echoes her cries-
"Harassed Nature groans without freedom."
The poet is serious about the conservation of natural resources and protection of Nature from the greedy people of modern time. He believes that " Earth, water, sky air and fire have their own symphony" that maintains ecological balance for providing us a better peaceful dwelling place. He suggests-
"The best perhaps would be to come out to let Nature live on
its own. (Man fumbles with Nature's bounty in Sunderabans)
His poems are an endearing endeavor aimed at arousal of love and feelings for nature and natural lives in the heart of the people bereft of this sensibility to appreciate and enjoy the gorgeous grandeur and beauty of Nature, following the rise of their materialistic attitude and commercial gains.

The cursory glance at his poems reveals that his poems are the products of his deep brooding on our country, her people, and nature. At the same time, they also have pinching satire on so-called politicians. First few poems aptly presented in the anthology are an expression of the poet's love for the nation. National consciousness is the crux of poems such as "India the mother" and "National Anthem" which contain the poet's longing for the country to have her victory in spite of all the impending ups and downs. He highlights the pristine and glorious past of India and bemoans her present. Formative influence of Tagore on him can be seen in some of his poems marked with the excellence of Tagorean expression of beautiful, simple thoughts paired with his innermost feeling.

Global harmony in one of the important themes treated so wonderfully in poems like "United in Camp-fire", "Sea of Humanity", and "Politician of the world Unite". His heart is saddened to see the world broken into the pieces with relentless communal riots. Religious bigotry is eating into the vitality not only of democracy of a country but also of the harmonious fabric of society. With hate and envy, the sense of humanism is being eroded gradually. There lurks a big threat to progress and advancement of society and country. He questions:
"Hate and envy, our greatest enemies
if still dominate us
how can we progress as humans?" ( United in Camp-fire)
As a poet of national consciousness, he makes repeated appeal to the people to activate their nationalistic zeal and fervor through his poems 'United in Lamp-Frame' in his universal appeal to cosmopolitans. He remarks:
"let us embrace all with pure love
for that is the only sovereign entity."
He expresses his disappointment at the plight of the country faced with myriads of problems. With a description of the physical feature of India, enriched in "biodiversity, wildlife and Nature's beauty", he appeals to the people to restore her pristine glory, asking them to guard against the "real enemies" who are 'insiders holding powers / Who stealthily rob her of wealth and beauty" (India the Mother). He further merits our attention to the beauty of the poem-
"With all admixtures India is a cauldron of culture;
Present looks back to greet the past
Past comes back to harmonize the present."
Another big issue that he has taken up seriously is deforestation. In this materialistic age of commercialization, forests are being cleared off to serve the ultra greed of dehumanized people. The bosom of mother earth bleeds and nature bemoans the sad affairs of the natural vegetation. Very kind to flora and fauna, Aju Mukhopadhya's poems is really an eye opener. Making fun of the heinous people who share misdeeds and the altitude of hoarding money for nothing, he is surprised to see
"People dance sing clap drink and joke
Shameless despicable innocent folk. " (Yearend Gloom)
He feels dejected to see that they are no longer conscious of their nationalistic pride. However, he is optimistic as
"Hope and trust surge in us that that God may indeed
Burn all garbage, evil doers and deeds
And sow in us the fresh-life seeds.". (Yearend Gloom)
He is a great supporter of nuclear proliferation in the interest of humanity. He regards Nuclear as "Evil force". Drawing our attention to Chernobyl, Fukushima , and Hiroshima & Nagasaki badly wrecked, he condemns nuclear activities. He calls upon the members of international communalities involved in these activities to keep away and
"To defeat the end of life like nuclear
To keep high the flag of fraternity." (Nuclear the Evil Force)
In the poem "The Grasshood" , he very boldly proclaims that "….man can prepare / uprooters, satellites and clutters/ poisonous nuclear arsenals/ et al to put to death;/but happy grass never dies.." He further brings to our notice
"man lives and lives
Dying to himself many times
Until one day to realize
That grass like earth
And wind and space
And fire
And breath
Is superior
To man
Naturally." (The Grasshood)
Gradual depletion of values of idealism and humanism in the world is the one of the serious concerns of the poet, expressed in the "Politician of the World Unite", "The Victim of the Evil Forces", while the equality , social, religion, national or international, form the theme of "In Reasonable Support of the Hazara people". Themes of humanism, universal brotherhood can be adequately found at the same time. He remarks-
"Humans are born with their unequal inherent capacities
But born with equal rights to share
Earth water fire space and air"
(In Reasonable support of the Hazara people)
He appeals at the end of this poem:
"Rise up brothers to forget and embrace the brothers
Be humane, not just logs.."
His perception and perspectives on some subtle issues- life, death, time, truth bear profound didactical expressions. His philosophy of life is brought home through some remarkable lines. He redefines Truth in 'Mismatch'-
"Anything genuine has its intrinsic value, of whatever the quality, it is true'
Another soul-searching elements/lines can be seen in the poem'The Events' which is indicative of the poet's existential concerns-
"a gulf of silence
Island of non-existence
Nothing prevails"
He becomes philosophically reconciled when he says –
"life after life
events after events
it has a happening;
everything is in a flux
everything flows into the void
yet they take place
the evanescent events."
His poetry is replete with the subtlety of expressions about several things of greater significance. 'Time is a dusty affair' for him. His poem 'The Past' contains remarkable lines. He says-
"Past is like voiceless echo of the sound
Present in our mind and sense
Perceptible in its essence."
And
"Past is inseparable from the present
As present lives forever in the past."
From Objectivity to Subjectivity

The poetic journey of Aju Mukhopadhyay along this anthological path veers from objectivity of life to subjectivity of self. As we read the poems further and further, we come to get at the truth of life, with more and more maturity of thoughts and ideas. Here in lies the true versatility of his being a poet.

Poems coming under the section 'Subjective" are a subtle manifestation of subjectivity : the inner world of the poet. His thoughts on realism and humanism, philosophy of life, introspection for evolution of soul invisible entity and cosmic aspects, futility of life and inevitability of death are wonderfully interwoven and this way the poet's poetic and insightful self is revealed to us.
Life is a constant advancement from the present though trial and error processes. He believes "life is meant for correction at each step" and "All the strife and struggle are ethereal/against a fight eternal." (Invisible yet perceptible).

In course of evolution of our inner being, we come to realize the inner reality thanks to the cosmic reality. "Do I walk in I walk me" bears testimony to this metaphysical realization of the poet.

The 'Rowing Still' portrays a very beautiful picture of a full moon light and various floats of moods into the 'depths of (its) watery heat'. The poet has no grudges to accept that "We live outside at our best" but 'alone yet in company, we live outside". He prefers to be insightful and introspective
"A voiceless, guiltless hush settles
Neither pleasing nor bitter; no stir.
In impeccable atmosphere serene
Under the graceful serein-
May be time for going inside." (Inwardness)
His perception about life is outstanding in terms of philosophical profoundly. As a conscious poet he realizes the immortality of soul after the decay of the body. His "Pray that you Play your part best" deals with the futility of life, and inevitability of death. Like Shakespeare, he also holds the view that
"everybody has to take the exit path
from the world stage, today or tomorrow.
With or without sorrow."
He regards 'Death' as 'the greatest equalizer". Life to him is, in fact, a "progressive evolution".

The concluding section "Birdhood" of the anthology under review showcases his minute observation of the lifestyles of various birds. The pictorial, natural and poetic beauty is at its best in these poems. The poet seems to have wanderlust for the natural sanctuaries only to comprehend the language of the birds which has an objective of creating a harmony between man and nature, birds being a connecting link. The bird-centric poems reveal one more aspect of his multi-dimensional personality that he is a keen bird-watcher. With each fluttering of their varied hues, thoughts and ideas seem to have widened and broadened the contemplative horizon of the poet's mind, filling his heart with lots of joy.

In the ultimate analysis of the poems, it must be said that Manhood, Grasshood and Birdhood is Aju Mukhopadhyay's a vast poetic panorama where human life continuously moves on in perfect and smooth rapport with flora and fauna. In view of ever growing material prosperity of contemporary times, there needs a perfect blending element to bring together manhood, grasshood and birdhood. We need to imbibe the values to comprehend the abstract meaning of humanity, to have a spiritual understanding to transcend the structures and strictures of the manifest world. It is through nature that we can perceive the inherent power of supernatural things. Aju Mukhopadhyay's poems well presented in the anthology are quite remarkable for the philosophical and humanistic prospective. Nothing can survive in isolation. He bring home the fact that for a proper evolution, outward or inward, we must establish a cordial rapport with Nature. The poet's unflinching faith in God and His power is reflected through some of the poems.

In short, the anthology in question is a must-read for the people who wish to evolve, refine and sharpen their realistic and aesthetic sense of life, humanitarian outlook, and and of course, a sense of ecstatic wonder at the immense beauty of Nature. Wish all a happy reading !