Mango Delight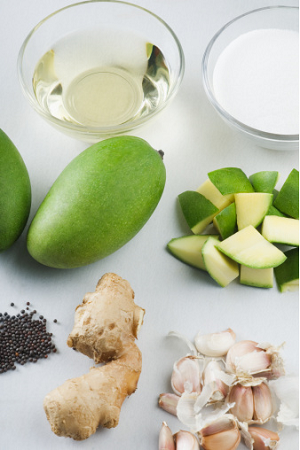 Ingredients
4 raw and firm mangoes,
1 tsp. of coarsely powdered saunf, jeera, dhania
1 tsp. of garam masala,
1 tsp of methi,
1 tblsp of salt, red pepper,
1 tsp of turmeric,
a large pinch of hing,
2 tblsp of oil.

Method

Peel and chop mangoes into small cubes. Heat oil, put Methi seeds, when it splitters add other spices and hing, and pour mango pieces, stir and add salt. Stir till the mangoes are a bit cooked, remove from fire and store in a airtight jar when cooled. You can use this pickle instantly and it remains for a week fresh.
Mango Sweet and Sour
Ingredients
4 raw mangoes,
50 grams gur,
1 tsp of laung, dalchini, elaichi powdered,
1 tsp of jeera,
1 tblsp of salt and red chili,
1 tblsp of oil.

Method

Peel and cut mangoes in thin slices. Heat oil, add jeera when it splitters add mangoes and other spices, stir and add coarsely ground gur or jaggery. Cook till gur dissolves and forms one thread consistency. Cool and store. This remains intact for a fortnight, you can use it instantly.

Mangoes are a great source of beta-carotene, an anti oxidant, which protects the body against the damaging effects of radicals. They are rich in vitamin A and contain significant quantities of vitamin B and C. Mangoes supply some vitamin E and are a better source of fibre than many other fruits.