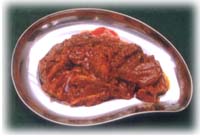 Ingredients

25 big size raw mangoes
(preferably nice and sour)
2 kg salt
1 kg red chili powder
50 grams turmeric
200 grams fenugreek seeds (roasted and powdered)
10 - 15 dry red pepper
100 grams mustard powder
1 kg sesame seed oil
1 tsp asafetida
1 tsp mustard seeds

Method

Wash the raw mangoes well and wipe them clean. Cut them into thin flat slices of an inch wide and two inches long. Mix the pieces with 1 kg salt and turmeric little by little. Store the mix in an air tight ceramic jar. On the third day squeeze the pieces of the sap and sun dry them on a plate until the dampness disappears (don't let the pieces harden). On the fourth day, add the second kg of salt into the sap along with 1 kg of red chilli powder, 200 grams fenugreek powder and 100 grams mustard.