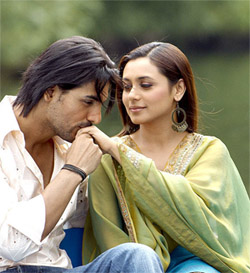 On the question of many westerners, some sophisticated Asians and even Indian expatriates as to why Indian women still cling to the 'outdated, unsteady and always-slipping-off-the shoulders' garment resembling a shawl worn backwards, one tends to feel either defensive or fall into the trap of assertion of false modernity and new concepts of modesty.

Jyothirllata Girija addressing the issue of dress code for college girls in India in an article for The Hindu writes 'One should never deride and discard certain good things just for the reason they are age-old customs or accept and glorify anything solely because it is new and modern, without delving deeply into the pros and cons of it'.
We don't really know the exact origin of a narrow scarf or veil commonly known as Dupatta, however an over garment, resembling it, seems to be present in the Vedic times. The upper part of the body of both men and women was covered by a long and ample scarf of light texture. One can claim that today Dupatta remains only a fashion garment, the one which adds grace and breaks the monotony of a dress, but try asking a woman and you will be amazed of its various purposes and lasting importance.

Apart from being worn over the head as a mark of respect while going to worship or talking to elders, Dupatta has multiple uses in day-to-day life. Dupatta is draped over the head to avoid burning sun of summer's heat or pouring rain if caught by a sudden outburst of monsoon shower. Dupatta protects you from the freezing cold of foggy night and is to make yourself comfortable on the rough floor of a railway platform or overcrowded government hospital. But don't be enchanted by the picturesque images of a lofty life a decently clad Indian woman leads. Other usages bring one back to the age of Kalyug and to modern day India.

Will a girl be able to face her numerous relatives if shown on major TV channels in Meerut's Gandhi Park caught in the rage of 'Operation Majnu' without the protective cover of Dupatta? Will she manage to uphold her dignity in a country where such social evils as eve-teasing and molestation in public have been long since accepted? Regardless of admitting it to be a misconception, it is ground reality in India that people believe that woman's indecent attire invites harassment. It is enough to observe the way general public, including elderly females comment on rape cases, wondering whether the girl was 'provocatively dressed' or 'asked for it'. Again Dupatta comes as a savior. However not a panacea it gives a girl an inner feeling of being protected and covered from ever lusting eyes.

The only usage of a Dupatta, one can neither be defensive nor proud of is that of Nafisa Joseph, Kuljeet Randhawa* and hundreds of others, their personalities not considered famous enough for the cases to be reported. One can only hope that it won't become the most widespread adoption of an 'old-fashioned' garment for a modern India of the 21st Century.
* Both former miss India Nafisa Joseph and actress Kuljeet Randhawa hanged themselves from the ceiling fan with a 'dupatta'