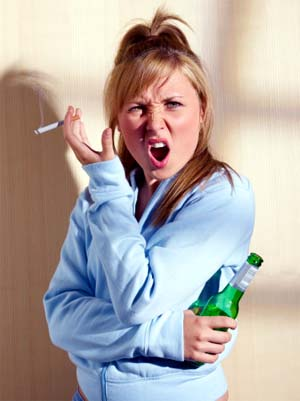 The growing up years are always difficult. Most parents do not know what to do when their children drink, do drugs and display spells of incessant anger and violence. It'd tough when children, who until recently were playing with Barbie dolls or sitting glued to 'Spongebob Squarepants', transmogrify into angst-ridden teenagers. And when the inappropriate behavior patterns increase with time, parents find it hard to come up with remedial action plans. Gradually, they become hostages within their own families, anxiously following the mood swings of their recalcitrant teens.
Experts, such as Gary Direnfeld, an Ontario-based social worker specializing in parent-child relations, point out that parents of out-of-control teens need to toughen up. They need to get counseling, send the teen to a youth shelter or call the police if the teen keeps pushing the envelope. After giving the adolescent a no-nonsense message, he suggests that parents set-up new house rules and enforce them strictly.
But how do immigrant parents handle teenagers, raised with markedly different values? Ontario-based Gurjinder Anand, a mother of an 18-year-old boy, elucidates, "As a parent, it's easy to get tense and demand what you want from your teen. But that does not work. You end up facing even more rebellion or the child can become completely unreachable. I find it very hard to make my son listen. There is a whole space between him and us. It seems we live on two different planets. While growing up in India we never created so much trouble for our parents."
Direnfeld says that such a situation is common in immigrant families. "There is a clash of cultures when it comes to immigrant families, which gives rise to greater teen rebellion," he says. While the parents hang on to their cultural values that often emphasize respect for elders, the teens who grow up in a different country tend to gravitate towards a set of cultural values that privileges the individual, and considers the self as separate from the family.
When it comes to girls, the pressures of the teenaged years take their toll on both parents and daughters. Recalls Toronto-based Shreya Gandhi, "I could not wear the latest clothes. My parents who would be shocked at anything I would wear. Once my dad ripped apart one of my sweaters because he disliked it so much."
Direnfeld explains there are many factors that lead to tensions between a teenaged daughter and parents. "Risk of pregnancy is a potent issue. In addition, strong cultural imperatives with regard to dress, deportment and socializing with the opposite sex can place greater demands on females than males," he says.
Gandhi says that it really irked her when she was not allowed to go out on Saturday nights. "Even if I wanted to go out for a movie, I was not given permission," she says. According to Direnfeld, in many situations the girls choose not to fight with their parents openly but resort to covert measures. This includes leading a double life, keeping their relationships a secret and even hiding the way they dress when they are with their peers. "Other teenaged girls may seek to subordinate their feelings to the will of their parents only to find themselves depressed and anxious over their difficulties with cultural and family adaptation," he says.
Direnfeld has a message for immigrant parents. He says that parents should accept the fact that their children would adopt the dominant culture. "It is less a question of whether the children will be changed by the dominant culture, but rather how and to what degree. Those who can adjust and minimize the risk of conflict with their children on these matters stand the chance of remaining more influential in their children's lives, otherwise it can only create resentment and detachment over time."
However, this is not to say that only immigrant families have to contend with headstrong youth. As a mother of teenage sons, Sheryl Cepeda, who had immigrated from the US, found that each child needed a different strategy for disciplining. She adopted a firm ground rule: a parent does not have to give in to everything. She has a piece of advice for mothers. "You make some rules and you expect them to be obeyed. It is your house, after all, not theirs and it won't hurt them to be made aware of that. I would not yell as much, but I would lay down the rules and just demand that they be respected. Consequences would follow every time if they did not obey the rules."
However, Cepeda admits that being tough is not always easy. "At times, I felt sorry for them when I should have simply enforced my rules and showed them I was to be respected no matter what." However, she has continued with her tough love rule and it has paid off. She is now a proud mother having raised strong, independent and responsible young men.
While Cepeda relied on her own instincts in dealing with her boys, professional help in the form of counsellors is also an option. "It is important that parents check out the counsellor's years of experience, credentials and, most important, if the counsellor's value system is similar to that of the parents," says Direnfeld. He also argues that parents could seek other forms intervention - the clergy, for instance, or other family members.
Tougher approaches are also possible. There are boot camps or wilderness camps that promise to help parents regain lost control of their teens and bring about a behavioral modification. When it comes to joining the camp, the consent of the youth is not required as admission is based on the parents' decision. Activities at the boot camp include military-style exercises and marching early in the morning to instill discipline.
However, even boot camp administrators say that there are no easy solutions to controlling a wayward teen. "Wilderness camp is the first step on the long road. It is followed by a longer therapy, which goes into the reasons for why a particular youth is getting out of control," explains Douglas Bodin, CEO, Bodin Group, a California-based educational consulting group that also runs a wilderness programmes for young people in crisis. "We try to find why the child is out of control and there can be a number of reasons," he explains. The reasons can range from substance abuse and Attention Deficit Hyperactive Disorder to a history of sexual abuse.
However, Direnfeld feels that camps can only be a short-term answer. "Often a lot of work needs to be done in the family. There may be issues like violence and drugs within the family which are adversely affecting the young people within it," he says.
In the end, experts leave it to the parents to use a disciplining strategy that best suits them. They, however, reiterate that the important thing is to get outside help when things seem to be reeling out of control.

Image (c) Gettyimages.com