Gloria Steinem-speak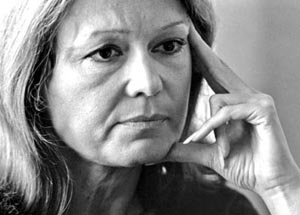 "Biology isn't destiny, and it isn't a free pass either." Gloria Steinem, 72, journalist, author and glamorous grande dame of global feminism has clearly not lost her well-known talent for aphorisms.

This quotable quote was one of many in a recent, hard-hitting article in which she debunked the notion that "feminists back every woman, regardless of how she behaves", listing a number of "women who are in trouble" for whom she has little sympathy. Chief among them is Condoleezza Rice. According to Steinem, "As United States President George W. Bush's hired gun for foreign policy, she's been working for a guy who is opposed overwhelmingly by African American women and men voters, and by a majority of all women voters. Many white men are giving up on him, too... I don't care that she's going down with a sinking ship... She has gone from a Presidential 'mention' to an unmentionable on the coattails of the boss she chose."

"I believe that women have the right to be wrong, with no double standard of criticism," Steinem explained, "But when we have the power to make a choice, we also have responsibility." That article was an exclusive written for the Women's Media Center, a New York based not-for-profit foundation set up in 2004 by Steinem, Jane Fonda and Robin Morgan, which now counts among its directors and advisors several leading US journalists, media women and academics.

Steinem is clear about the need for such an institution even now, even though - by her own admission - "there is no shortage of terrific women writers, editors, journalists and scholars". According to her, while a lot more women are now employed in the media, thanks to the women's movement, they are still rare at decision-making levels. "We got as far as tokenism," she says, "but nothing much has changed for a decade." Significantly, she points out, only about a third of news items in the US - in print, broadcast, and Internet combined -- cite any female source at all.

In fact, she says, "After the terrorist attack of September 11, the number of female authorities interviewed on TV plummeted, even though the heads of all the relevant Congressional committees were women, and even though the only US prosecutor to successfully prosecute a case of foreign terrorism within the country was a woman. Instead, TV producers dug up retired generals who knew very little, all because terrorism is 'hard news' and women are relegated to 'soft news.' How gendered is that?!"

The disparity persists in media management, too. According to Steinem, "Women are fewer than 10 per cent of board members of major media companies, and only three per cent of so-called 'clout' titles - positions with the power to set budgets and make news decisions... So you can see why we started the Women's Media Center!" Another new media organisation she is involved with is Greenstone Media, the first women-owned radio network in the US, launched in September 2006 to meet "the unserved need on radio for innovative, topical, relevant and entertaining programming of particular interest to women" and to
"build the leading brand for women's talk programming".

According to Steinem, it was women radio professionals who saw the window of opportunity for a new kind of programming that is "entertaining and informative, respects its callers, and creates the feeling of an on-air community". This approach is reflected in Greenstone's promotional slogans: 'This is a lecture-free zone'; 'Respect spoken here'; and 'As edgy as you can get with the kids in the car'.

"During these past couple of years, I've learned that radio is the most democratic medium," says Steinem. "It doesn't demand literacy or expensive equipment or even electricity... Radio can lessen power differences that computers and the Internet sometimes only increase."

She is currently in the process of adding another book to the list of bestsellers she has written over the years. Titled 'Road to the Heart: America As if Everyone Mattered', it is about her experience of over 30 years on the road as a feminist organiser. "The ironic truth of this on-the-road book is that I've been on the road too much to write it," she says. "I began it nine years ago and still have two-thirds to go." She describes the book as part on-the-road, part memoir: "I want to show how much more diverse the United States is than the media phrase 'the American people' would have you believe. I also hope to encourage more people to become organisers. Mass media and the Internet delude us into thinking we don't need to be in a room together - but we do. Nothing takes the place of listening to each other's voices, seeing each other's faces."

This is a lesson she says she learnt in India during her first visit 50 years ago. During that period, which she describes as "crucial and transforming", she got a taste of Gandhian activism accompanying Vinobha Bhave's followers to villages affected by caste violence. She still values the radical advice she received from her padayatra (travelling on foot) team leader: If you want people to listen to you, you have to listen to them. If you hope people will change how they live, you have to know how they live. If you want people to see you, you have to sit down with them eye-to-eye. "Most of us have a few events that divide our lives into 'before' and 'after,'" she wrote in her book, 'Moving Beyond Words'. "This was one for me."

Commenting on persistent efforts - by the media and others - to bury the women's movement and devalue, if not debilitate, its contributions and gains, she says: "It makes no more sense to say 'post-feminism' than to say 'post-democracy'. We haven't achieved either...The author Erica Jong once counted and discovered that Time magazine alone has declared the women's movement dead 27 times. Anti-equality folks first said that feminism was against nature and unnecessary. Now they say it used to be necessary, but it's not anymore. It's just the current form of resistance."

According to her, "The good news is that American feminism used to be three crazy women in New York; now a third of the country self-identify as feminists." She has a longitudinal view of the struggle for gender equality. The 19th and early 20th century wave of feminism lasted more than a century, she points out. It took that long to alter the status of women from the equivalent of chattel and legal possessions to being acknowledged as human beings and citizens in many countries. "That wave earned women a legal identity; this wave is striving for legal equality. We're about 30 or 40 years into this one, so we probably have at least 60 or 70 years to go. Then there will probably be other waves before we finally have cultures that don't determine human futures by the single difference of sex or race or ethnicity, but assume shared humanity and individual uniqueness."

Steinem is due in India later in February at the invitation of Women's World India. She will be speaking at public events during the forthcoming South Asian Women Writers' Colloquium in Delhi and the 5th Annual Meeting of the Network of Women in Media, India, in Bangalore.

17-Mar-2007
More by : Ammu Joseph
---