As much provocative as reactionary, the trailer for Britain's latest fly-on-the-wall TV documentary begins with a woman ironing and her husband declaring: "Meet my wife. She's the one who's going to cook for me." Then the words, at once serious and gently mocking, '35 years of blissful marriage', flash across the screen.

The couple are British Asians Arvinderjeet Singh Grewal, 54, and Sarbjit Grewal, 55, and together with seven other family members - one of whom is born during the filming - they are the protagonists of 'The Family', a popular show on Channel 4 television. It's the second series of a programme created in 2008 when it featured the Hughes from Kent in southeastern England.

Edited down from footage filmed over eight weeks by 28 cameras that followed the Grewals round the clock, Channel 4 describes 'The Family' as: "A unique eight-part observational series that documents the universal themes of family life."

And fans of the first series certainly tend to approve. "The Hughes were good, but another series of them would just be overkill. I think an insight into an Asian family will make good viewing," wrote one blogger, who signed herself as Sharon.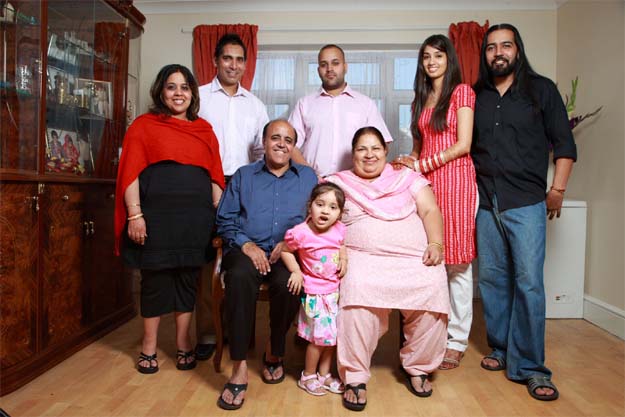 What the critics took from the first series of show was a sharp and welcome contrast with the most famous reality TV show of them all, '
Big Brother
'. Whereas '
Big Brother
', to be discontinued next year following a drop in audience ratings, included long tracts of often tedious reality and dysfunctional, occasionally racist clashes - as when the late Jade Goody was accused of making derogatory remarks about Indian actress Shilpa Shetty - the Hughes family was mostly happy and ordinary in a positive sense and the extensive footage was carefully shaped. "
It's not a piece of reality TV. It's real TV. It's lovingly crafted
," Channel 4's deputy head of documentaries Simon Dickson said at the time of the first series.

Perhaps ironically, given that '
The Family
' is about real people, not fictional characters, the Grewals, who live in Windsor in southern England, are bound together by a love of acting that runs through the generations. They have in addition a powerful sense of family, which is also handed down, even if the modern Grewals share out the domestic roles more than their parents and the present generation of women are ambitious for themselves, as well as for their children.

Head of the household Arvinderjeet says he loves watching cricket and soaps as well as wearing colorful clothes. "
His family means the world to him
," say his character notes. Born in Nairobi, Kenya, he used to act in Punjabi films and theatre. He went to Mumbai, hoping for his big break, but instead threw himself into family life following his marriage to Sarbjit. He still acts, but now earns his living as a coach driver after he was forced, around a year ago at the height of recession, to close down a courier business he ran.

Sarbjit, a housewife, was born in Punjab and is described as "
the glue of the family
," in Channel 4's notes. She married Arvinderjeet as the man her parents chose for her. "
Sarbjit is in charge of everybody's finances and shows her love through food and great cooking. Her ambitions in life are to get her youngest son Tejind married and see her grandchildren
," they add.

Described as "
the most laid-back person in the house
," Tejind, 23, plans to train as an accountant, but meanwhile is passionate about his part-time DJ business and is working at Heathrow Airport in security.

The Grewals' other children are Mandeep, 33, the eldest son and a daughter Gurdip Kaur Chaudhary, 32. Gurdip is married to Jitender Singh Chaudhary, known as Jeet, who is a professional puppeteer and former Bollywood actor. (His film credits include '
Gangster
', '
A Belly Full of Dreams
' and '
Buddha Never Smiled
'.) The couple met and fell in love in India, but Jeet, like his father-in-law, gave up his career to be with his wife. Now he juggles being a house-husband with running a part-time theatre company with his wife, who writes and produces all the plays, while he directs and acts in them. When not working in theatre, Gurdip is a desktop publishing coordinator. The couple has a two-and-a-half-year-old daughter Bhavika and the birth - two months early - of their second child Jaskaranjeet is one of the series' major events.

The other is the wedding of Mandeep, known as Sunny, and Gursharonjit, known as Shay. Estranged from her mother, her only surviving parent, Shay, 24, lives in the Grewal family home in Windsor and works as a human resources recruitment consultant in London's City financial district.

Sunny worked in his father's courier business until it started doing badly and is now a security officer, although he dreams of being a film director. He turned down a place at an American film school because he had just met Shay whom he married in a registry office in 2005. Their Punjabi wedding took place in August this year and is a focal point of the series. It's a big traditional wedding - perhaps like that of Arvinderjeet and Sarbjit 35 years ago.

Reacting to the on-air series, '
The Guardian
' said that the show was "
filmed with a lot of love
", while another commentator said the Grewals were "
the latest in a long line of great British families
".