"I was married as a child. When I reached my in-laws' home, they owned around 100 high-breed cows and camels, and around 10 acres of land. Ours was a rich family, but a few years after my marriage, the village witnessed a drought and our downfall began. The number of cattle gradually fell. We had to rear other people's cattle to make ends meet but the grazing grounds had shrunk and I had to eventually shift to Ahmedabad with my daughter. In the city, I did household chores for a living. But my earnings were insufficient and I was forced to return to my village - and to my fate. The retreat affected my daughter's education. She can't go to school now, and is forced to help me in daily-wage work to sustain the family."

When Jali Ben, 52, of Sujpura village in Ahmedabad's Detroj block narrated her story, the audience sat still - empathizing with this woman whose eyes welled up as she presented her testimony on the impact of climate change on her life.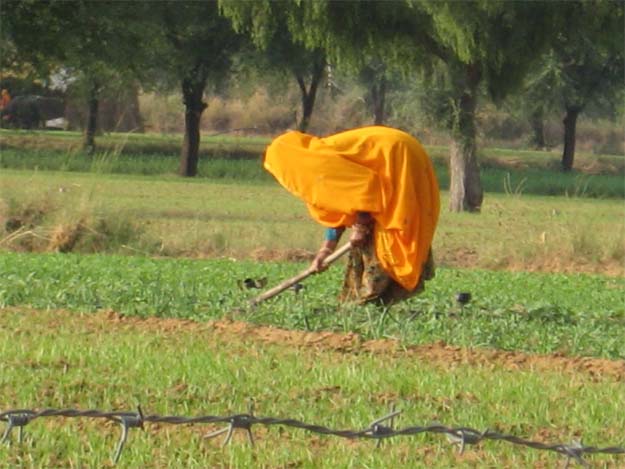 Jali Ben was one of the 350 participants at a public hearing on '
Climate Change: Voices From The Rain-Fed Areas
'. The testimonies constituted a rich blend of academic insight and experiences of ordinary people living in the rain dependent regions of the country. They came from Rajasthan, Bihar, Jharkhand, Uttar Pradesh, Uttaranchal, Madhya Pradesh, Chhattisgarh, Gujarat, Andhra Pradesh, Maharashtra, Punjab and Haryana. The hearing also saw small farmers come forward to illustrate the impact of climate change on their lives and livelihoods.

Held at the BS Mehta auditorium of HCM Rajasthan State Institute of Public Administration, the Jaipur hearing was part of a nationwide series organised by Oxfam India and a coalition of civil society organizations to inform world leaders - in the run-up to the UN global climate summit at Copenhagen - that climate change is impacting the poor first and to the greatest extent.

More than 70 per cent of agricultural production in India is done in rain-fed regions where farming is largely dependent on the monsoon. Thus, among the common issues raised at the hearing were increasing climate variability; the impact of unpredictable weather on agriculture and food security; and the increasing imbalance between food demand and supply.

Sita Devi, 45, from village Pandechhod, Nainital, Uttaranchal; and
Mamta Kumari Gaund, 21, of West Champaran district, Bihar, maintained that women suffered more than men did as a result of climate change. "
Forty per cent of West Champaran is forest or mountainous
," Mamta explained, "
Irregular monsoon has robbed us of the opportunity to work in other people's fields. Rising temperatures have made things worse: Women are at an increased risk of contracting temperature-related diseases. Most of them die for lack of medical care. Health centers in the tribal districts are few and far between.
"

Mamta, who came with her father, Sonalal Prasad Gaund, also talked about job insecurity and uncertainty of livelihood with the Bihar government having cancelled the mining lease in her district. "
Reduced crop yields has brought about forced dependence on the market for family demands. Moneylenders thrive and farmers like us are neck-deep in debt
," added Sita Devi, recalling how around 20 years back her family could sell some of their agriculture produce after meeting household needs. Today, that is not even a possibility.

Talking about how the increased use of chemical fertilizers has accentuated the agrarian crisis, Sita Devi said most farmers in her area were now only growing vegetables. This has negatively impacted the health of women. "Women have to spend more time in vegetable farming. The use of chemical fertilizers has resulted in many falling ill more often now, even as the cost of treatment has escalated. Sometimes women have to travel as much as 40 kilometers to receive medical help."

Furthermore, the chemicals used in farming have diminished soil productivity. "
Less harvest means less fodder for livestock. Women are now largely dependent on the forests for fodder. But the forests are also shrinking. This means that women in our villages have to walk longer distances to access this fodder
," added Sita Devi.

Shekhar Sharma, 30, a social activist from Guna district in Madhya Pradesh, points to the social turmoil caused by deforestation. "
While deforestation has forced forest-dependent communities like the Saharia tribe to migrate from the region in search of alternative means of survival, tribes like the Bheels and Gaunds from other areas are making their way into Guna, Shyopur and Shivpuri, deforesting the area further for their settlements. In the process, the forest area here has been reduced to one-fourth its original size,
" Sharma said.

But by far the biggest impact of climate change in this region is the drastic drop in groundwater levels. Sharma cites deforestation and the sowing of crops that require more water as the major reasons for this. The soil in this area is also not conducive to groundwater recharge.

Quite distinct from other testimonies were the observations of Nalinikant, 45, from Koilakh village of Bihar's Madhubani district. Nalinikant talked about earlier times when many festivals were linked with crops. "For instance, farmers planned a pilgrimage after Makar Sankranti, which marks the end of the rabi season (winter crop). But now crops are often not ready by this time. Similarly, there is a festival called Jood-Shital, also known as Satuaani in some parts of the state, which earlier marked the onset of summer. Mango trees started fruiting by this time. Now, there's no guarantee that summer would begin around Satuaani," said Nalinikant.

After the presentation of testimonies, the jury, in its interim order, demanded that the National Action Plan on Climate Change be brought into the public domain and that inputs from all stakeholders be taken on board to determine the course of national action. The jury also highlighted the need to bring women into mitigation efforts. It noted, "
Bearing in mind that women will bear the worst brunt of climate change impacts, it is recommended that all developmental programs ensure that adequate space is created for women to act as change makers
. "

The jury included Arun Kumar '
Pani Baba
' - a journalist-turned-ecologist from Uttarakhand; CK Gangly '
Babloo
' - a political and theatre activist from Andhra Pradesh; Kamla Bhasin - renowned activist and gender trainer; Om Joshi - agriculturist, who represents Phalodi in Rajasthan Assembly; Rajendra Bhanawat - NREGA commissioner in Rajasthan government; Dr Suman Sahai - scientist and convenor of Gene Campaign; and Justice V.S. Dave and Justice
Panachand Jain, former judges of the Rajasthan High Court.

By way of a warning, the distinguished jury observed that climate change will worsen the living conditions of farmers, fisher folk, and forest-dependent people, who were already vulnerable and food insecure. More frequent and intense extreme weather events will make life impossible for them.