A month after its stunning election defeat, the Bharatiya Janata Party (BJP), which once took pride in its disciplined cadre, has its top leaders tearing at one another in a blame game that is seen as a power struggle between two generations.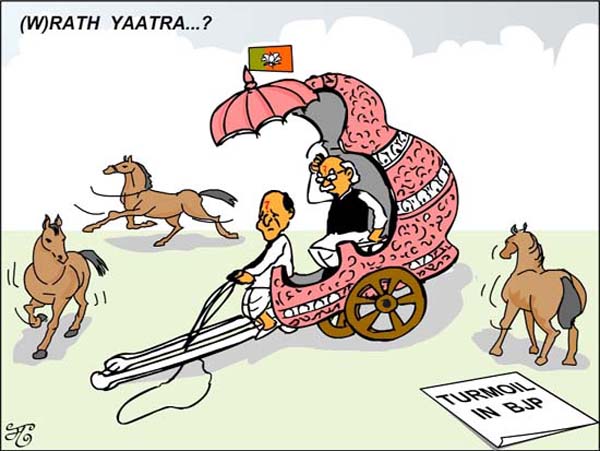 Jaswant Singh and Yashwant Sinha - both powerful ministers in Atal Bihari Vajpayee's government (1999-2004) - have raised a banner of revolt, primarily against the party's powerful general secretary Arun Jaitley but also tacitly against L.K. Advani, the BJP's prime ministerial candidate in the polls, albeit without naming any of them.

Sinha, who Saturday quit all party positions including as vice-president, national executive committee member and in-charge of the party's Karnataka affairs, echoed Jaswant Singh's views that the BJP leadership was evading discussion about the reasons behind the defeat for it would entail fixing the blame.

Party sources explain outbursts from Jaswant Singh and Sinha in terms of a generational shift that Advani has effected by making Jaitley the leader of opposition in the Rajya Sabha and Sushma Swaraj his deputy in the Lok Sabha.

Both Jaitley and Swaraj are in their mid-50s and their promotion bypasses seniors like Jaswant Singh and Sinha, who both had handled the key portfolios of finance and external affairs in the BJP-led National Democratic Alliance (NDA) governments.

"Both (Jaswant Singh and Yashwant Sinha) have held important positions in the party and so they feel left out. They are generally conveying to the party that they could not be simply looked over," said a BJP leader who did not wish to be named.

"The moment you involve them in important decisions and you will see this ideological pitch petering out," he said.

G.V.L. Narasimha Rao, a political analyst and now a BJP national executive member, told IANS Sunday: "The reactions are normal in any political party after a defeat of that scale, but the BJP will only emerge stronger from all this. It is a phase of transition."

The latest in the blame game came Saturday when Sinha criticized the party leadership in his five-page resignation letter Saturday that got leaked to the media -- just when party president Rajnath Singh was, through a press conference, warning the leaders that "disciplinary action" would be taken if they went public with their views.

Jaswant Singh last week gave an interview to NDTV, calling for reinventing the party. This came on the day he severely criticized the party leaders during a meeting of the party's core group at Advani's residence. He also wrote a critical letter to the party president.

The very next day, BJP spokesperson Rajiv Pratap Rudy said party seniors did not appreciate that leaders went public with their grievances.

Jaswant Singh and Sinha are incensed that instead of hauling up chief campaign manager Jaitley, the party leadership - that is, Advani - has rewarded him, making him the leader of the opposition in the Rajya Sabha.

Without naming Jaitley, Jaswant Singh's letter to Rajnath Singh last week spoke of a disconnect between "parinaam aur puraskar (results and rewards)" - a point also highlighted by Yashwant Sinha.

Yashwant Sinha, MP from Hazaribagh in Jharkhand, wrote: "While on the one hand, the party is avoiding a systematic appraisal of its performance, on the other, those who were responsible for the management of the campaign have already made their views public through interviews and articles in the media, drawn their conclusions, apportioned blame and given themselves a clean chit."

There is an undercurrent of discontent against Advani as well. While Jaswant Singh merely hinted this in his results-and-rewards comment, Yashwant Sinha went a step ahead.

Sinha wrote in his resignation note: "Advaniji set a fine example of accountability by declining to take up the position of the leader of opposition in the Lok Sabha. It was an eminently appropriate and dignified decision. (But) He was persuaded to continue."

In a veiled attack on Jaitley, he asserted: "So have the others who wanted to take responsibility and resign... it appears as if some people in the party are determined to ensure that the principle of accountability does not prevail so that their own little perch is not disturbed."

Sinha did not stop at that. He added: "I am getting a sinking feeling that once again there is a conspiracy of silence. We are shying away from pin-pointing our weaknesses and fixing responsibility."

The BJP's internal crisis came out into the open after Jaitley wrote an article in the Indian Express May 27 and Sudheendra Kulkarni, a close aide of Advani and a key poll strategist, contributed a more assertive analysis in the Tehelka magazine last week.

Jaitley wrote: "The prime minister's (Manmohan Singh's) own image created a sense of sympathy that a man who wanted to deliver was being obstructed from proceeding further."

This, when the BJP's key campaign theme was to attack the prime minister calling him weak and subservient to Congress president Sonia Gandhi.

Kulkarni, in his analysis, asked the BJP to introspect and also said: "The RSS (Rashtriya Swayamsevak Sangh) needs it no less. The leaders must ask themselves, and answer the question honestly and earnestly - why is the acceptability of the RSS and VHP limited to Hindu society itself?"

He also said the party "did nothing" while its allies started moving away in the aftermath of the 2002 Gujarat sectarian violence.