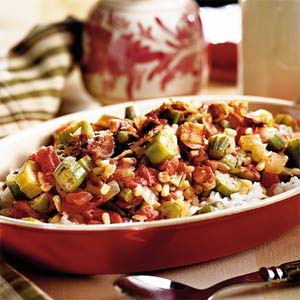 What binds India to Brazil apart from the common love for high energy dancing? Both countries are hooked to food. Brazilians love their nuts and vegetables -- especially the humble "bhindi" or lady's finger that millions of Indians fall back on days when there's nothing else in the fridge to whisk up a curry with the rotis.

They can be sauted, stir-fried, deep fried into crispies with onions and tomatoes or curried with spices and Brazil nuts.

"Brazilians eat eight different kind of okra or lady's finger - each tasting slightly different - with brownpequi (brown Brazilian rice with souari nuts) ormanioc (cassava) bread. Okra is very popular throughout the country. The dominant variety is the smooth type which has high mucilage," Brazilian master chef and herbal therapist Claudia Mattos told IANS at the Hotel Leela Kempinski in Gurgaon on the sidelines of the three-day World Dance Festival Sep 11-13.

The most popular okra dishes are "Frang Quiabo" (chicken with okra) and okra cooked with tomatoes and manioc flour, she said.

"Though Okras date back to 200 BC, it only reached Brazil from Asia in the 17th century. The name Okra is African in origin," Mattos said.

One of the highlights of the festival that is featuring popular Brazilian and Latino dance performances from across the world is a lavish low-calorie Brazilian vegetarian spread for the participants and guests cooked especially for the occasion by chef Mattos and her team for three days.

The festival, sponsored by Surya Brasil, a leading Brazilian herbal cosmetics giant, is being supported by the embassies of Brazil, Cuba, Venezuela, Dominican Republic and Ecuador.

Mattos, who cooks only vegetarian food, said bananas, tomatoes and coconut were some of the staple Brazilian fruits and vegetables, along with manioc roots.

"Manioc roots, native to Amazonia, resemble sweet potatoes which are cultivated by the natives in the rain forest. They yield cassava starch. The roots are also fermented to make alcoholic beverage. It is high energy," Mattos said.

The chef had rustled up two manioc (cassava) dishes, "farofa" -- fruits and rare Brazil nuts in buttered and roasted manioc flour; and manioc roots curried Indian style with pumpkins.

Brazilians love both yellow and green bananas. "I have a signature dish of green banana peels called banana peel caponata. It is a fried salad dish, inspired by the Italian slow food movement," Mattos said.

The slow food movement as opposed to fast food, explained Mattos, was founded by Carlo Petrini in Italy in 1986, to counter the invasion of junk instant food.

"The aim is to preserve the cultural cuisine and the associated food plants, seeds, domestic animal and farming methods. The movement has spread to 136 countries. We have been campaigning to preserve some varieties of Brazil nuts, beans and cocoa seeds which are grown by the natives in the Amazonian rain forests. We want to sustain the traditional methods of farming, which are losing out to commercial cultivation and cash crops," Mattos said.

As a tribute to the "endangered nuts, beans and fruits" of Brazil, Mattos had cooked a "rajma-type yellow dal" with Brazilian brown beans, caldinho (bean soup) and a light palm-heart salad, made of the white fleshy core of special Amazonian palm fruits mixed with local Baru nuts.

"The palm hearts grown in the Amazon forests are a gastronomic exotica. They are very expensive," Mattos said.

"Brazilian desserts are mostly fruit-based," she said, pointing to a bowl of orange pumpkin pudding sprinkled with manioc flour, a sweet banana paste, coconut cream topped with the "sweet umku" (a pigmented Brazilian herb) and "goiaba (guavas with red cores)".