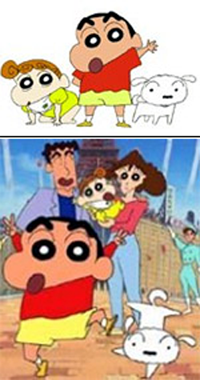 Recently, 'Shin Chan', a cartoon aired on Hungama channel angered parents who found some of its content extremely inappropriate for children. Shin Chan, 5, the protagonist, called his mother, "Bacche churanewali moti budhiya (Fat old woman who steals children)." This is only one example of the unsuitable content in children's cartoons.
New Delhi-based Centre for Advocacy and Research recently conducted a five-city field study in Delhi, Lucknow, Kolkata, Hyderabad and Ahmedabad with children between the ages of six and 12 belonging to different socio-economic groups. The study was an attempt to understand the relationship between the child-viewer and violence on television and other electronic media. The key findings were more worrying than surprising.
According to the study, the hours devoted by children to TV viewing have increased over the years. Children watch television between two and five hours each day. In a number of cases, they watch it till 11 pm on weekdays, and even later on weekends. Also, they watch not just children's programmes but other popular, adult programmes - television soaps like 'Kyunki Saas Bhi Kabhi Bahu Thi' and 'Kahani Ghar Ghar Ki' that are full of domestic squabbles and covert violence.
The data demonstrates that though actual physical acts of violence were not high on prime time TV, verbal violence and visual depiction of conflict remained at its peak. Arguments, screaming, shouting, bullying, mental tension and disturbing phone calls topped the list. The study also revealed that children found horror and suspense shows fascinating. They also confessed to experiencing fear and having nightmares after such viewing. "Don't like it. I have horrible dreams sometimes"; "I think it can happen in reality, so I am scared of it", were some of the reactions.
Psychologists warn of the effects of excessive television watching. "Children who start watching cartoon or television at a very young age find it difficult to separate reality from fantasy. If they watch something in which violence is shown as funny, then they also see it as something funny and not as something that will hurt the other person. It becomes a frivolous activity for them. For instance, they don't realize that if they knock somebody down, they will hurt the other person," says Dr Monica Chib, Senior Consultant Psychiatrist, Indraprastha Apollo Hospital, New Delhi.
Apart from violence, the cartoons today carry a lot of sexual messages. For instance, the advertisement for Popeye show goes thus, `Ek Olive thi, ek Popeye tha, yeh in dono ki prem kahani hai (Olive and Popeye - this is their love story)'. Another instance is 'The Winx Club', which is aired on Cartoon Network. The programme basically has three fairies fighting a different battle in every episode. But the fairies are preoccupied with their looks and clothes and how the guys look at them.
"I really believed cartoons are harmless, till my daughter's class teacher told me she was hitting other children in school and a psychologist told me that it might be because of excessive television viewing. I had great difficulty in controlling her TV viewing after that. And since I work, it was all the more difficult. I even contemplated getting cable removed," says Preeti Seth, mother of a six-year-old.
"I was very concerned about my six-year-old son watching cartoons for five or six hours everyday. I even resorted to disconnecting the cable wire or switching off the electricity for two hours during the day when he used to watch. Even so, he took at least 10 days to start showing interest in some other activity. He would just sit listlessly waiting for electricity to return. Initially, I didn't mind if he watched cartoons - or for that matter any television programme - since it gave me time to do my own thing. But then I noticed that he was becoming violent, and the language he used was changing," says New Delhi-based Shalini Singh.
This is in keeping with most of the cases that come to Dr Chib. She believes that excessive cartoon or television viewing is a habit inculcated by the parents themselves. "Parents are generally very happy if the kids spend their time watching television because they are out of their way. It is only when they are addicted to it that they start showing some concern. Parents must realise that excessive television viewing affects overall growing up. Children who are addicted have a short attention span and have no interest in outdoor activity," she says.
However, everyone does not agree on the impact of television on children. Dr Jonathan Freedman of the Department of Psychology at the University of Toronto, an authority on the impact of media violence, notes: "I see no convincing evidence that, in general, it has any harmful effect. However, as with almost anything, moderation is a good principle. If they are watching so much that they are not doing other activities, that's probably too much. Parents are always free to exercise their own judgement. If they worry about violent cartoons, they have the right - even the responsibility - to limit their children's exposure. Also, although I don't think cartoons have any harmful effect on children in general, there is always the chance that cartoons, or even a particular cartoon, has a bad effect on a particular child."
Parents have a tough choice in a world pervaded by media. They cannot possibly keep their children away from television, nor can they remain passive spectators. Regulating children's TV viewing is the need of the hour.