In Manipur (North East of India), civil society supports the struggle of a young woman who keeps fasting for peace.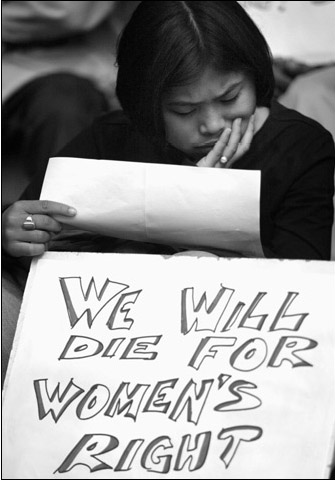 Two thousand and fifty-two days on the 13th of April: this is the longest political fast ever recorded in world's history. In Manipur, one of the 'seven sisters', a State of Indian Union in the North Eastern area, the female activist Irom Chuna Sharmila refuses to swallow food using her mouth since the Fall of year 2000. Her only life line is a nasal catheter which feeds her. In a hospital in Imphal, Manipur's state capital, this 34-year-old woman protests against AFSP law, Armed Forces Special Powers Act, an emergency law which gives extended powers to the army in this small State close to Burmese border.
A Killing in November 2000
Manipur is burning. Not less than twenty insurgency groups fight against federal Indian armed forces since more than half a century. AFSP gives since 1958 the right to shoot at anyone who is suspected to be a rebel. That context makes possible some tragedies as the killing of November 2000: on that day, a convoy of Assam Rifles ('fusiliers de l'Assam' in French) was attacked, and in retaliation, the AR soldiers shot dead ten civilians who were waiting for the bus, Vachan*, a student, summarizes. Irom Chuna Sharmila started fasting to protest after the killing. Since then, Sharmila has been added to the global list of '1000 Women for Peace Nobel Prize'. At the end of March, the filmmaker Kavita Joshi met her. A Joshi's short film about the conflict in Manipur was awarded in February at a movie festival in Kerala (South Western India). Media in India already told about Sharmila, but she remains almost unknown in Europe.
Manipur, A Land of Coveted Strategical Resources
But a way towards peace will be long. Manipur does not find a hope of appeasement. That is the contrary. To give an example of the political climate, from the 21st of February to the 2nd of March, Naobi Chanu, a young teacher, has been detained, beaten up and raped3. Even if on March 4, five policemen have been suspended ' Manipur Government is investigating the case ' the tension remains quite high. Bullet wounds and violent deaths happen nearly every day in Manipur.
Because of the enduring warfare, life becomes painful and difficult: 'Imphal is only a town by name, Ajita* tells. Everything falls apart. There is a lack of electricity and water supply'. Ajita asserts that New Delhi divides and rules in Manipur to empty entire areas of the State and to ease their exploitation without 'obstacles'. Manipur actually conceals a real treasury. Not jewels, but 'Imphal is sitting on natural gas and uranium', Ajita explains (in Meghalaya, another State in North East, uranium was found as well). Under Manipuri soil there is also 'black gold', oil. This is not surprising if Ajita considers insurgency groups not as rebels but as people fighting for their (and her) rights.
'They Have a Dream', A Referendum's Dream
However, insurgents are not automatically and magically united. The Nagas, who also inhabit the neighboring State of Nagaland and Myanmar (Burma), demand the sovereignty of all Nagas, included Manipur Nagas. If Naga rebellion could win, Manipur would disappear or would have its size reduced by 60%... At that moment, in Nagaland, a ceasefire between Naga insurgency and Indian army will last until August 1. So Nagaland seems closer to peace than Manipur.
Manipur? A sick person in coma already entering NDE (near death experience)? Not in Imphal; the people keep resisting, as shown by the 'iconic' figure of Irom Chuna Sharmila who carries on fasting, faithful to Gandhi's concept of 'ahimsa', non-violent behavior. Moreover, in spite of the long war, civil society dares to have a dream: on the 28th of March, five NGOs met in Imphal. They demand a referendum under the aegis of UN in Manipur and appeal to be united beyond the differences between tribes and cultures, just to help the dream to come true. It is utopic, in the present military and political environment, but at least, in war-torn Manipur, a handful of citizens do not capitulate in front of guns. Here they are, the 'Sharmilas' from the far side of the world !
*The names are forged to keep anonymity of people
Image Courtesy �Le Courrier�