Steaming hot biryani, mouth watering tikkas and kebabs, delicious south Indian dosa, laced Kerala appam and stew are now part of the British palate through the thousands of Indian curry houses that are doing roaring business in Britain.
Britons' love affair with Indian cuisine can be traced to the early 1980s when celebrated food writer and television presenter Madhur Jaffrey made Indian cooking popular across the US and Europe with her simple and easy recipes.

The curry houses have now become a flourishing industry. And adding some glamour to them is Shilpa Shetty's Gourmet Creations. The 34-year-old Bollywood actress and her fiancé Raj Kundra recently bought 33 percent stakes in V8 Gourmet group, one of the biggest Indian restaurant groups in Britain. Shilpa is teaming up with Andy Varma, celebrity chef and head of the wholesale division and business development of V8 Gourmet group, to bring out ready meals, pickles and chutneys.

The success of the curry houses stems from the fact that they are popular with everybody in this country, not just people of South Asian origin.

"Oh I love Indian curry. My favorite is lamb biryani with chutney. It's yummy. I don't mind spending 100-150 pounds a month for eating out at Indian curry houses," said Peter Forester, a British accounts executive.

Alberto Furlan, an Italian now settled in London as a journalist, said: "I love Indian curry and my favorite is Rogan Josh (Kashmiri lamb preparation), though I don't know how the authentic chicken tikka masala tastes because each curry house makes it in its own style."

For NRIs, the decor of the curry houses with displays of Indian handicrafts and murals gives a feel of home away from home.

Das Sreedharan is typical of the entrepreneur who has started a curry house in Britain and has never looked back. He came to London 20 years ago from Delhi with the ambition of becoming an accountant. Initially he worked part time as a manager in a local restaurant in Stoke Newington in East London.

Armed with that experience, Sreedharan borrowed some capital from his friends and the first restaurant, Rasa, was born in 1994. "I made a vegetable dish and made some people taste it and the chef whom I had hired said 'you don't need me'," he said. Since then there has been no looking back for Sreedharan who has added seven restaurants to the chain.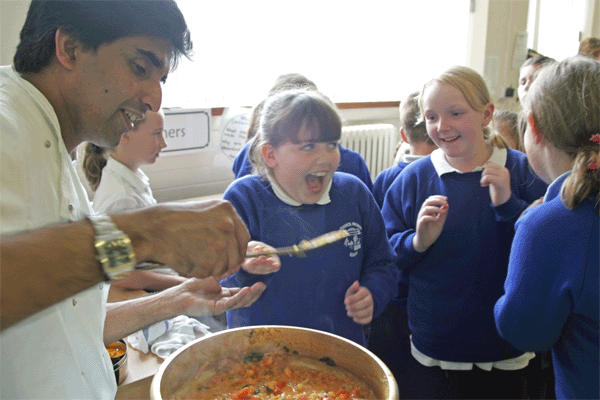 Jamie Oliver, the celebrity British chef, spent a few days at Rasa's kitchen to learn the nuances of Indian curry.

Sreedharan was one of the first restaurateurs who introduced the snack and pickle basket as starters for both vegetarian and non-vegetarian customers.

He regularly conducts 'An Evening with Das', taking his clients on a culinary journey to his world of food making and the Rasa experience.

Since the early 60s Indian restaurants here have been christened curry houses, much to the disappointment of 44-year-old Sreedharan.

"Indian food is much more than curry. Earlier people did not respect Indian food and the food too did not live up to expectations," Sreedharan, who has penned four cookery books, told IANS.

But celebrity chef Varma thinks it's not a derogatory term.

"At the end of the day, if British people like lager and curry, why spoil the term, if that's what they want?" Varma, whose clients include KLM, Delta Airlines, and Malaysian Airlines, told IANS.

However, despite the popularity of Indian cuisine, the recent global financial crisis forced several small curry houses to close down.

"There has been a marginal drop, but we have been doing quite well amidst difficult times," said 45-year-old Sriram Aylur, executive chef of Quilon restaurant situated in Buckingham Gate.

Aylur believes that his mantra of "delight your guests with tasty authentic Indian food and fun" has helped bring the foodies to his seafood restaurant.

His welcome drink is piping hot rasam, a kind of soup made with pepper, tamarind and other spices with tomato and dal. For a three-course meal sans spirits, Quilon charges 22 pounds.

The prices charged by Indian curry houses suit all types of pockets. Rasa's lunch box offers an Indian bread, rice, three accompaniments and a dessert for 3.50 to four pounds. In the pricier Indian restaurants of London, the sky is the limit.

(Cynthia Chandran can be contacted on cynthiachandran@gmail.com)