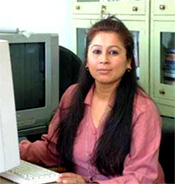 Anju Chhetri, born in a lower-middleclass family in Biratnagar, was drawn towards women-oriented journalism when, as a student of history, she found that women were either excluded from historical accounts or grossly misrepresented. Understanding full well that she could not rewrite history in the absence of well-documented historical sources or the resources for historical research, she decided to write the 'history' that was available to her-in the form of journalism.
She combined her journalistic aspirations and her empathy for Nepali women in a single career. Her twofold effort has been to project neglected women's issues as issues of national importance, and to analyze political, social, and other issues being discussed in the mainstream media from a gender perspective
In 1988, Chhetri, along with her friends, set up Asmita, a feminist publishing house, at a time when nobody was writing about women's issues in the Nepali media. Scholars, intellectuals, and policymakers had no access to women's thoughts, concerns, and ideas.
As editor, Chhetri identified issues, and researched and wrote thought-provoking articles even in the mainstream newspapers and magazines. Over the years, Chhetri has not confined her writing to so-called "women's topics": she has also been writing about political affairs, high corruption, government policies, development projects, the Maoist people's war, ceasefires, and peace talks.
From August 2001-September 2003, she wrote 86 pieces for her weekly column in Kantipur, the country's largest daily. She has recently been writing regularly on the trafficking of women in the weekly newsmagazine, Samaya.
Nepal is not journalist-friendly. When Asmita was launched, the autocratic Panchayat system was in force and the mass media largely state-mediated. The then monarch, King Mahendra, abolished parliamentary democracy in 1960 through a bloodless military coup, calling his autocratic regime the "partyless Panchayat system". During this era (1960 '1990), all political parties were banned, people were deprived of many democratic rights, and the mass media was largely state-arbitrated.
Chhetri and her colleagues escaped the State's intense vigilance because their magazine was targeted towards women and, therefore, considered relatively harmless. They used the space to be forthright in espousing the cause of democracy, arguing that women could not achieve their specific rights before they had basic democratic rights.
In 1990, when the people's movement for the restoration of democracy was set rolling by banned political parties, the magazine supported the movement through editorials and articles, and reported women's participation in it. After the restoration of democracy in April 1990, Asmita became a watchdog of democratic rights.
Equal property rights for women, the right to abortion, women's sexuality, violence against women, and women's right to health are among the other issues that have been brought to the forefront of national life and to the attention of policymakers, by Asmita. On 3 August 1995, the Supreme Court passed an order amending laws that were against Constitutional directives that upheld equality. From then on, women activists have lobbied hard to pressure the government and parliamentarians to amend discriminatory laws. Their efforts led to a National Civil Code that replaced old laws to give women rights such as equal rights to ancestral property and the right to abortion.
Asmita executed a nationwide research on women and media in 2003, sending its reports to major media agencies. Editors and journalists have not only appreciated Asmita's efforts but have also shown a willingness to change their policies. Some national newspapers have started to publish women-related reports on their front pages, and encourage women journalists and writers to write for the opinion page.
As a result of Asmita's findings on what women really like, and dislike, on TV, the most popular television serial, `Hijoajko Kura', on Nepal Television has reworked its depiction of women. Previously, female characters were stereotyped, and the language used towards them often offensive. Today, there has been a sea change.
Chhetri's strategy has been to always maintain a symbiotic relationship between the women's movement and the media, which she uses to document and debate women's issues.
Currently, three political forces are vying for power in Nepal: the monarchy, democratic parties, and the Maoists. In 2005, King Gyanendra declared a state of emergency, suspending most democratic rights, and impacting the work of women activists, to limit their activities to urban centers.
While using the media to promote the cause of women's rights, Chhetri, now 45, does not demur from also using it to criticize the women's movement and make it accountable to the public.