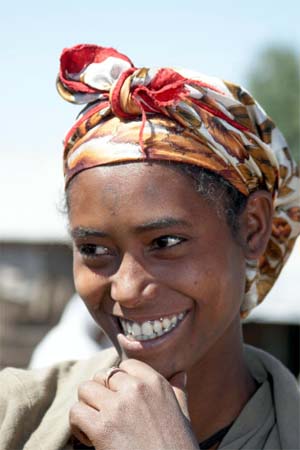 In a faraway country called Ethiopia in Africa, every young woman was given a 'cike' (pronounced sik-ki) - a wooden staff with bells, at the time of her marriage by her family. The 'cike' was left in a corner of her marital home. The cike played a very important role - if a wife was abused by her husband, she picked it up and walked out to the village common. That was the signal for other women to pick up their 'cikes' and join her, leaving all the housework, cooking, cleaning, milking of cows, and other chores undone. The men in the village, hungry and forced to take note, would then put collective pressure on the abusive husband to apologize so that life could return to normal in every household. The man had no option but to ask his wife's forgiveness and promise good behavior.

The Indian Court of Women held in Bangalore on July 28, 2009, as part of a global series of unique 'courts', or public hearings, on violence against women, initiated by the Asian Women's Human Rights Council across the world, began with an arresting enactment of this tradition of the 'cike', with renowned dancer-activist Mallika Sarabhai following it up with another enactment of an Indian story. She presented the true but tragic tale of four sisters, aged between 17 and 26 years, who 20 years ago in the state of Kerala - a state enjoying high literacy and a matriarchal tradition - hanged themselves as their poor parents could not find them grooms because they could not afford the dowry entailed. Unable to bear the humiliation of being 'shown' repeatedly to prospective husbands, more interested in the enticement package, the sisters took their lives.

Two decades on, despite changes in the law and rise in incomes and literacy levels among women, the menace of dowry is claiming more lives than ever before. Where once the annual figures were 400 'dowry deaths' during the 1980s, today official figures put the number at around 7,800, even though women's groups estimate that the real figure is closer to 25,000 per year. In Bangalore, Karnataka, on an average, three women die unnatural deaths, each day, mostly in the burns wards. Most of them are dowry-related fatalities.

In keeping with the global tradition of focusing on issues specific to each country, the Bangalore session of the Indian Court of Women, called Daughters of Fire, concentrated on dowry-related violence - bride burnings; harassment for dowry; and the related epidemic of female feticide. Activist Sabu George, who participated in the Bangalore 'court' hearings, estimates that more girls have been eliminated before birth in India in the last seven years, than those killed in the Holocaust. This is a chilling revelation. Albeit illegal, sex determination tests continue with the connivance of the medical profession and have become a Rs 1,000-crore business, with ultrasound technology now available even in rural areas.

While farmers' suicides have merited frequent media coverage, the court decided to focus on the gender dimension of this horror in the prosperous states of Punjab and Haryana, where prosperity itself can kill under the current pattern of globalised and 'market-driven' development. Mechanization in the name of progress has meant that the productive inputs that the women traditionally supplied are now no longer required. As a result, Jat women - barred by social norms and traditions from seeking paid employment - find themselves marginalized as 'worthless' dependents. Ironically, prosperity perpetuates the social menace, with grooms hiking their demands for larger dowries beyond the reach of most families. It is against such a scenario that the tragedy of marriage debts, suicides when these debts become insurmountable and female feticide plays out.

With fewer brides available for marriage, families in many northern states are 'buying' wives from southern regions. Alternatively, several brothers can even share a woman if they cannot afford to pay for wives. This commodifies women and results in trauma for the brides, living isolated lives in distant regions amidst an alien culture. They have nowhere to turn to for succor when they find themselves exploited.

Lax enforcement means that existing legislation does not address this continuum of violence. Twenty-five women testified at Bangalore, describing how a daughter's death by burning (or being driven to suicide through unbearable torture for dowry) got recorded by the police as "accidental death" because there were no witnesses.

Siddamma, Sharifunissa, Malathi, Binapani - whether they were from the north, south, east or west of India, whether they spoke in Hindi, Tamil, Telugu, Kannada or Malayalam (the court offered simultaneous translations to the audience), whether they were educated or illiterate - all had similar tales of losing a daughter or sister to dowry, with the perpetrator invariably going unpunished because there was no "evidence".

This silence, this failure to speak up collectively as a community and nation against brutal murders of women in our midst, is what this 'court' process seeks to fight. It brought private testimonies into the public sphere, in the presence of experts (judges, activists, academics and bureaucrats) who served as the 'jury' and offered suggestions for alternative mechanisms that could impart more dignity to women's lives.

One of the testimonies was from a qualified medical practitioner from Delhi, Dr Mithu Khurana. Assaulted, starved and tortured because she refused to abort her female fetuses, Dr Mithu wrote to the prime minister and sent e-mails to high-placed officials, only to be faced with dire threats if she did not withdraw her complaints. This is the reality that cuts across lines of class, caste, religion and economic background.

Six round-table groups, organized by Vimochana, an activists' group of Bangalore along with 40 other NGOs, discussed different aspects of dowry and related violence at a day-long pre-court sitting on July 27, and offered suggestions for action at the personal and community levels. Among the suggestions made were the need to teach sons to respect sisters and wives, promote networking among women to garner group strength (such as the 'cike'-tradition), use new community initiatives like 'nari adalats' (women's courts at the local level) to promote gender justice, and boycott weddings where dowries were paid.

Justice V.R. Krishna Iyer, nonagenarian activist and former Supreme Court judge, went to the extent of suggesting that July 28 should be declared a "national day of the death sentence on dowry", while a number of young men stood up to promise that they would not take a dowry or attend marriages where dowry was demanded. But as the jury pointed out, dowry is but a symbol of a larger malaise, a pattern of marriage where the woman's contribution to the family and society is seen as so worthless that the men have to be "compensated" for marrying them.

The testimonies included accounts by some gutsy young women in their twenties and thirties, who described how they resisted and survived dowry harassment and made new lives for themselves. These examples could encourage other young women to stand up against practices that demean them as human beings or measure them in terms of cars, scooters, refrigerators, TV sets, or hard cash.