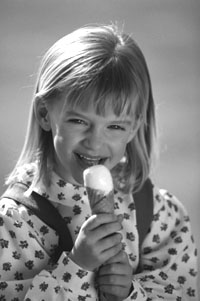 Feeding a child more than 2 years old is more like a struggle than anything else. These little ones have a mind of their own, and there is not much way to get around it. Add to it the dilemma of keeping something new and interesting in Tiffin box everyday , providing a balanced diet to the rapidly growing body and brains, and you have the saga of every mother in your hands!!

There are a few key things to remember. Firstly, make it a cardinal rule that junk would not be allowed inside the home. Do not buy and keep chips, candies, cold drinks etc in home. If you must keep them for your own use, please keep them out of children's view. This would help you in two ways: one, kids would not have access to harmful food, and it will therefore immediately save you from a bad habit formation. Two, whenever you go out and decide to let the kids have some fun with junk, they'll be so happy and thankful, that it would be very easy to manage them.
Second important thing that every parent aims for is a balanced diet. However, it is extremely difficult, if not impractical, to provide a balanced diet in each and every meal. The focus should rather be on providing a wholesome meal over a full week. So, if your kids had pizza one day, make it up with a protein full of lentil soup the next day. Make sure that they are having enough of all essential ingredients- carbohydrates, proteins, vitamins, minerals, fats, and yes- water. I do not advocate calorie counts for young kids. They are growing up; and need enough calories for a typical action filled day. If you sensibly censor the junk-intake, and provide the child with a variety of healthy choice naturally, the kid will grow up with healthy food habits for sure. Here are some other easy recipes if you need some inspiration for during the week.
One mistake parents often do is to divide food into "may have" and "should have" parts. "You may have candies later but you should have your veggies first" or "You'll get dessert only of you finish the cabbage; it's good for you!" What the child really hears is : "Eat the vegetables and cabbage; it is not tasty, you would not eat it yourself, so I'm bribing/pushing you for it." If the parent will treat nutritious healthful food as normal daily routine, so will the child.
Even nutrition conscious parents often miss out on the importance of proteins. Kids meal is generally full of starch and carbohydrates, and lacks in proteins. For example, if your child has Bread and jam or butter in breakfast and roti-sabji in the lunch, he is not getting any protein at all. Protein comes from dal, pulses, milk , milk products, egg , fish, chicken , meat and nuts. So , in the above example, we must add milk in the breakfast and dal in the lunch to make it a balanced meal.
The problem increases manifold when this nutrition has to be packed in a small container, to be opened after a few hours and still has to look attractive enough for the kid to eat all by herself. When your kid starts preschool, keep the initial lunch-box limited to his favorite finger foods that won't get him messy. Only after he is firmly rooted into eating himself nicely in a preschool environment, you should start experimenting with the tiffin. Try to keep the contents visually appealing. For example, a cheese sandwich can be cut in interesting shapes using a standard cookie cutter. Paranthas should be stuffed to avoid keeping separate accompaniment with them, and are ideally kept as rolls for ease of eating. Instead of keeping regular idlis, you can keep small cocktail idlis that kids would so love. Infact, a friend of mine mixes vermilion, beetroot juice or spinach puree to the idli batter, and makes idlis that are naturally colorful, and nutritionally enhanced. Such minor changes go a long way in catching children's imagination.
And remember, whenever you get tired, bored or stressed out keeping tabs on the food of your kids, you can always hand them a packet of Lays, and relax with the knowledge that this break is a very well deserved one for both of you!