Bangladesh is one of the world's most crowded countries, with about 1,763 people attempting to survive on each square mile. About 85 per cent of all Bangladeshis live in rural areas. About 45 per cent of the landholdings are smaller than 2.5 acres, but over 60 per cent of the population is landless or near-landless. This majority constitutes the poorest of the poor. They survive mainly as agricultural wage laborers for landowners.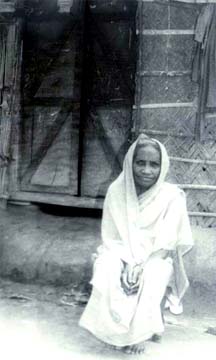 Ebadon Bibi was once just another daily-wage laborer. Today, she is a spirited and committed activist fighting for the rights of landless people, particularly women. Her work has brought about a sea change in the life and attitude of the landless persons in her village and surrounding areas.

Ebadon was born in 1945 in Sekhahati Gram, Bogra district. Her father, a farmer, owned a very small plot of land. Although the family was not rich, they considered themselves more fortunate than many others. Although Ebadon was a bright young girl and her father wanted his daughters to get an education, there were no schools in the locality. Looking back, she realizes that her childhood was special because her parents were impartial with their affection and care; they treated their girls just like they treated the boys.

As was the custom in those days, Ebadon was married at a very young age (when she was only 11 years old). After marriage, she moved to her husband's village, Pairaband in Rangpur district. The couple worked as daily-wage laborers. Even their combined earnings were far from adequate. To add to the expenses, Ebadon became a mother when she was very young. Although she bore six sons and a daughter, three of her sons died of various illnesses.

Ebadon never had the chance to go to school and circumstances denied her a cultural education. She lived out her youth in drudgery, working for a pittance to feed her family as best as she could.

In 1985, a talk with Nijera Kori (literally, we will do it ourselves; an NGO that works with landless persons) workers, who visited her village, changed Ebadon's life around. Rangpur is one of Bangladesh's poorer districts and the Nijera Kori activists wanted to understand the root causes of this poverty. They found that the women in the district were the worst affected; they were the poorest of the poor, largely illiterate, and burdened by conservative attitudes.

The activists spoke to the village women about fighting against the injustices they face. Ebadon was deeply impressed by the idea that she and others like her could make a better life by organizing themselves and working together. Initially, she worked to mobilize the women in her village, forming women's groups and inspiring the group members to take up issues that affect their lives and livelihood. Gradually, she expanded the scope of her activities, visiting other villages, forming new groups of landless persons and mobilizing the men in these villages.

Ebadon's activities are today rooted in the strong ideological conviction that comes of experience and hardship. Under her leadership, the group has been celebrating Rokeya Day on December 9 every year. They organize demonstrations, mass gatherings (of 15,000-20,000 people, 60 per cent of who are women) and cultural events to celebrate the life of Rokeya Sakhawat Hossain, renowned educationist, philosopher and one of the earliest champions of women's rights and education. The events are held in Pairaband - Ebadon's village, and also the place that Rokeya was born in. Rokeya Day attracts people from neighboring areas and even the cities. Even the government of Bangladesh and several NGOs commemorate the day now.

For Ebadon, marking Rokeya Day has become a vehicle for challenging the fundamentalist forces and the prejudices that keep women from participating in community activities. There was a time when people were scared to even speak about the reactionary fundamentalist forces, who controlled all activities in the area. Today, the fundamentalist forces find that they cannot cope with the organized power of the common people united under Ebadon's leadership.

She has also inspired women to make a break with the prejudices that held them back. Women in these villages now move around freely, participate in demonstrations, meetings, cultural events and protests, shoulder-to-shoulder with men. There was a time when women from the area did not even go to hospitals to seek healthcare for fear of the fundamentalist forces. The situation is drastically different now, with freedom of movement and increased awareness of women's healthcare needs.

Ebadon has also been actively working to generate awareness on the importance of educating both boys and girls. A number of girls from the area go to school, even college, today. With this, the practice of marrying off girl children when they are seven or eight years of age has also stopped. Ebadon had seen people in her village marrying very young girls off to trees if they could not arrange a suitable match, and her efforts have been focused on entirely rooting out these prejudices.

She uses all possible means of protest to effectively highlight the problems that her people face and the human rights violations in the area. She and her group gherao (demonstrate) the administration offices, submit memoranda, organize press conferences, file suits against criminals with the help of human rights organizations and build relationships with different professional groups and individual activists who support their struggle. She also regularly participates in seminars, workshops, dialogues and cultural events at the local and national levels.

Today, Ebadon is an elderly woman and her age commands respect. People also recognize and admire her knowledge, experience, foresight and even-handedness. She has been campaigning against dowry for a long time. When her son demanded dowry many years ago, she disowned him. To this day, she refuses to have any contact with him. She practices what she preaches and her bold actions make her acceptable to all, irrespective of gender.

Over the years, Ebadon has staked much to gain so much for her people. She had to fight against her family's objections, and her community's prejudices and disapproval. Her mobilization of people to fight for rights to khas land (government land) has also turned the influential people of the locality against her. Ebadon has received death threats, and even been confined and tortured by the fundamentalist forces. Even today, there are many influential persons with vested interests, who file false suits to harass her. However, Ebadon is unfazed, for she understands the power of unity.