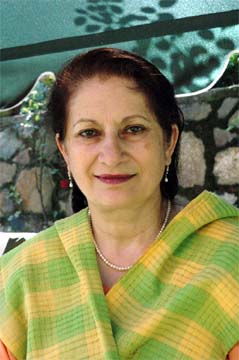 Jammu and Kashmir is not only torn by continuing warfare between the separatists and the Indian security forces, but also divided by the deep chasm that has developed between its inhabitants: the Muslim majority and the Hindu Pandit minority. In this violence-scarred scenario, Nighat Pandit (born 1961) stepped out of a comfortable home to address the pain and trauma of people caught in the 16-year-long conflict. Braving physical danger and other risks, Pandit and her organization HELP (Human Efforts for Love and Peace) Foundation work with rural communities, focusing on educating orphans, rehabilitating widows, promoting peace and inter-communal harmony. At a time when very few Kashmiri women were responding to the crisis in their midst, Pandit was the first woman to start an orphanage (in 1997) for homeless children.

Today, HELP Foundation - which she founded with a few like-minded persons in 1997 - works overtime to provide relief to those worst affected by the conflict. There are other such organizations, but this is the only one that operates effectively in both regions of this deeply divided state - in both Jammu and Kashmir.

The main activities of the organization are the education and upbringing of orphans, the rehabilitation of widows, mental health counselling for women and children, and the rehabilitation of physically- and visually-challenged children.

It also works for the promotion of peace and inter-communal harmony. In fact, Pandit, a Muslim, has been working closely with the minority Hindu community in the state - those living in the Valley, and those displaced and living in refugee camps in Jammu. The huge divide between the Muslim majority and the Hindu minority in the state has left deep scars, and Pandit and her fellow workers have worked hard to bring the two communities closer to each other. They have visited the few Hindu families that have stayed behind in the Valley to make them feel, paradoxically, at home in their own home.

A tiny minority can only survive in such a situation if it feels there is goodwill from the majority community and a sense of security. Pandit's organization is the only Kashmiri organization that does this for the minority community. Pandit has also taken an active part in promoting inter-community dialogue and holding conferences, workshops and seminars. Her efforts have been a source of inspiration for several other people working for the welfare of orphans, widows and other sections badly affected by the turmoil.

Pandit makes personal visits to violence-affected areas and interviews the people. She also works with groups to organize income-generating projects. She runs Shehjar, an orphanage, and her own school and counselling centre. She provides education and computer education to women and children, organizes medical camps and medical aid, counselling sessions and workshops, a child guidance and counselling centre, helps poor families conduct their children's marriages, and aids widows and women's groups.

HELP Foundation has given loans to 15 women who have set up their own mini-ventures, like coil-making, paper Mache, mat-making, tailoring and cutting, embroidery, screen-printing, block-printing and calligraphy.
The mental health of people living in the Valley has been deeply affected by the conflict. To respond to this concern, HELP set up a mental health guidance and counselling centre in 2003 for women and children. Experts from outside the state are invited from time-to-time to hold workshops and counselling sessions along with local doctors.

The stress and conflict have contributed to a rise in the number of physically- and mentally-challenged children. HELP has tried to help them by enabling their assistance and training in and outside Srinagar. Those who have returned after training have been organized to work in small production centers under the aegis of HELP at Shehjar, Srinagar, where they produce items such as candles, file covers and envelopes.

The places where Pandit works in the Kashmir Valley - the city of Srinagar, and the districts of Badgam, Pulwama, Baramulla and Kupwara - are prone to militancy and violence. It is not the scale of violence as much as the unpredictable nature of violence in the Valley that is a major source of concern. Thus, carrying on with this work involves physical danger. A major focus of Pandit's work is the Loab Valley, where most Kashmiris fear to tread, and where she makes monthly visits to meet with women and children whom her organization is helping.

During the winter months, though, the Valley is snowbound, and making physical contact with the people is, putting it mildly, extremely difficult. Another worry for Pandit is that her husband's position in the government - he is a senior civil servant - creates an impression that she relies on government funds, which is not the case: HELP's funds are raised by its trustees through door-to-door collection. Contributors include people from the Valley and from the rest of India.

Pandit belongs to a well-known family of Kashmir, which has played a pioneering role in the spread of education in the state. Her grandfather was the first registrar of Jammu and Kashmir University. Like every family in Kashmir, hers too, has been touched by the conflict. Her children (a son and two daughters) had to leave the Valley at a young age because they were threatened with kidnapping. Her husband was also threatened and narrowly escaped an ambush by a group of militants.

While many others in Kashmir have taken up Pandit's cause, Pandit herself is unique in being a fearless field person, who doesn't hesitate to go where her work calls her, no matter what the danger. Her helping hand stretches across all social divides - class, caste and religion.