For the last 10 years, Sunita and her husband, Shailendra Kumar Singh, have been working together in Anantkamtaul village, district Muzaffarpur, Bihar, in generating awareness about family planning. But it hasn't been easy. In a state where cultural taboos confine women to the home and hearth, Sunita has not only been able to break free of these shackles, she is also engaging with issues as sensitive and prickly as family planning.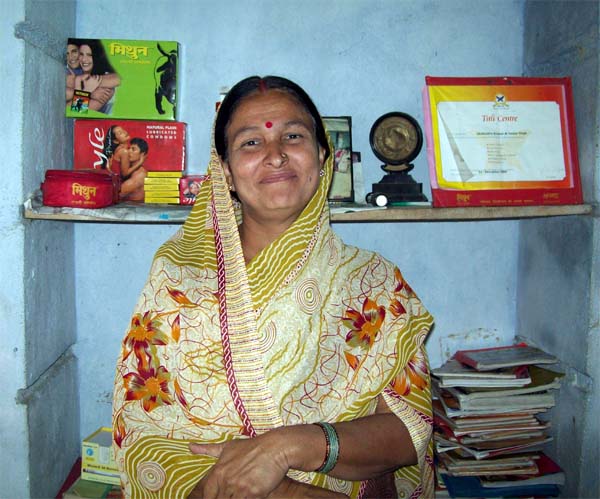 All this may never have been possible had it not been for Janani, a Bihar-based NGO working on family planning in Bihar and Jharkhand. The uniqueness of Janani's programme in training and motivating rural health workers to work with communities and advise them about family planning services, is its insistence on couples only as motivators. By training the wife, it has been able to get women to step out of their traditional roles; and empowered them to be change agents.

Today, Sunita is a part of Janani's network of 32,000 rural health providers who are making a difference. No longer is it just men coming to ask for contraceptives, women too are seeking family planning services. "This change has come because of the presence of my wife. It has made a big difference in making women feel more comfortable," says Shailendra Singh, Sunita's husband.

Bihar and Jharkhand make up 10 per cent of India's population - a staggering 118 million. The fertility rate in Bihar is 4, the highest for any state in India, and in Jharkhand it is 3.31, as against 2.68 in the rest of the country. It is estimated that 11,200,000 people in the two states want to contain their family size but do not know how to access family planning services.

This is where Janani's strategy of making use of a husband-wife team has helped. The team works to address misconceptions about family planning. The roles and responsibilities of each partner is well defined. For instance, while Sunita looks after the women, her husband is in charge of advising the men.

But IUDs (intrauterine devices) and oral pills are not all the motivators speak about. The couple offers advice to pregnant women about nutrition and child spacing. More importantly, they stress on the importance of the health of the woman. They explain that a woman should not be the one to bear the burden of family planning and feel compelled to undergo tubal ligation. They must educate men about the option of no scalpel vasectomy (NSV), which is quicker than tubal ligation and requires no surgery.

Even though winds of change are blowing in her village, Sunita feels her work would have been far more effective if more women were educated. During the last 10 years, Sunita says that she has been able to convince many couples that it was the health of the child that is important, not its sex. "I tell them girls are as good as boys and they should not keep having children in the hope of a boy. I give them the example of the widow in the village, who has only one child, a daughter. Although married, the daughter looks after her. I contrast it with the case of another family where the son has thrown out his widowed mother. What good is the son if he doesn't look after his parents in their old age, I ask them. This argument has motivated many couples," Sunita contends.

However, it is not merely the couples who need motivation. They reach out to mothers-in-law as well for, more often than not, they have considerable influence on the size of the family. This is where Sunita scores. Not only is she able to gain access to the entire household because she is a woman, she is also able to take advantage of being a trained motivator and the wife of the rural medical practitioner (RMP).

But when she comes across some difficult 'cases' she has had to think out of the box. As she did in the case of Sitavi Devi, the mother-in-law of Geeta Devi, 25. Geeta already had four children including two sons when she became pregnant for the fifth time. After giving birth to premature twin daughters, Geeta was weak and anemic even four months after giving birth.

Geeta didn't want any more children but she did not have the courage to say so. Every time Sunita would talk about family planning, Geeta's mother-in-law would say that the family needed more children to increase its income. At present Geeta's husband, a rickshaw puller, is the only bread winner in the family.

But Sunita did not give up after hearing this argument. She took the support of Sitavi Devi's neighbors to reason with her. She motivated Anamika Kumar, 16, a student living next door and their combined efforts finally bore fruit. Although Sunita told them that a vasectomy for her son would be quicker and painless compared to a tubal ligation for her daughter-in-law, the mother-in-law agreed to Geeta getting sterilized. "I did not insist on the vasectomy because at least she agreed to allow her daughter-in-law to undergo a sterilization. This is also a big step and the beginning of a change in her mindset," says Sunita.

Change is also visible in village Abirpur, in the adjoining district of Vaishali, where the husband-wife team of Manoj Maharaj and Reena have been able to rope in husbands to talk about family planning. In fact, they managed to motivate local resident, Jyotish Kumar Sharma, to join hands with them to spread the message about keeping families small and healthy. He has even performed street plays propagating these messages in the five other villages of the district.

It was Reena who played a pivotal role in counseling Sharma's wife, Neerja, after she had a near fatal brush with death giving birth to their third child, to undergo a tubectomy. Neerja revealed that once she and her husband understood the importance of maternal and child health, the decision was quick.

Getting husbands on board has helped the Janani teams to raise awareness about family planning. While the wife motivates her counterparts to talk to their husbands about NSVs, the husbands explain the entire procedure and benefits in simple terms. Once the men agree, they are referred to Janani's Surya clinics where these services are provided. So far, Manoj and Reena have referred 50 cases. The beneficiaries are taken to the clinic and dropped back home by the motivator, free of charge.

In rural Jharkhand,too, Janani motivators inspire men to opt for NSVs. Local RMP and motivator Rajesh Kumar of village Murtu, district Ranchi, is young and energetic. In fact, the newly-married Kumar has vowed that he would undergo NSV after two children. "If I don't look after my wife's health, who will? More importantly, if we are to motivate others, we must lead by example," he says.

In these two states where primary health centres are few and far and family planning a tabooed topic, Janani teams have opened the doors to winds of change.