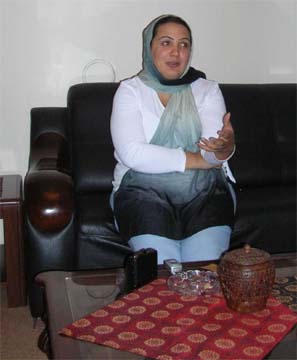 The feisty Shukria Barakzai, 33, is on her way to becoming a Member of Parliament. Most of it through her own hard work, and using her own money for the campaign leading up to voting for Afghanistan's first fully representational Parliament on September 25, 2005.

"I don't want to hear later that I won because of my husband's money." The streak of independence and confidence that marks this comment is characteristic of Barakzai.

It was this confidence that led her to start an underground school for children in her house in 1999, after she was flogged with a whip by the Taliban moral police as punishment for visiting a doctor without a male 'escort'. Angry about this denial of her basic rights, Barakzai says she started the school with the belief that education would be best way to empower people to fight for their rights. A struggle she continues today with the weekly newspaper for women called 'Ain- e-Zan' (literally, women's mirror), which she began soon after the Taliban fell.

Barakzai is now seen as a frontrunner for one of the nine parliamentary seats in Kabul that are reserved for women, even as her husband Abdul Ghafoor Dawi contested on one of the remaining 24 seats, counting for both being currently underway.

Barakzai firmly believes that elections to Parliament have been delayed for far too long. "So far, the president has held all authority in his hands. It reflects only one point of view, one person's opinion." Barakzai's decision to contest the elections was taken when she was made a member of the constitutional Loya Jirga, (a body of representatives from all over Afghanistan that was nominated to discuss and pass Afghanistan's Constitution after the fall of the Taliban). It was then during these deliberations that she realized that the power of Parliament was "more powerful than the president".

Barakzai argues that it is now time for new faces to come forward and replace the old tainted ones. "With international and national support, we will be able to remove the old warlords and drug lords and bring in people with fresh minds and fresh vision" - something she does not see in the political parties whose members are in the fray. "All the parties are based on ethnic, religious and linguistic divisions that should have no place in Afghanistan."

Saying that security has deteriorated in Afghanistan, she squarely blames it on the policies followed by the US of supporting the warlords. These former commanders exercised control over parts of the country through their private armies, aligning themselves with one faction or the other during the years of conflict. In many areas, these commanders have been absorbed into the government, being made governors of provinces or commanders of the fledgling police and armed battalions.

Criticizing the US' use of commanders in its fight against the Taliban and Al Qaeda - and thus supporting illegal power centers in independent Afghanistan - Barakzai says, "The US has this policy for Afghanistan: on the one hand, they want to show they are providing for Afghan democracy and, on the other hand, they support local commanders in the fight against Al Qaeda because they are a cheap army."

Despite the worsening security, she is glad that the country went to polls. "If you want to bring about a change, you have to take a risk. Without risks, there can be no change. How can you wait for peace if you are not willing to take a risk, if you are not willing to participate politically?"

Barakzai says that Afghan tradition is a big challenge for Afghan women. They have to "fight against child marriage, the treatment of widows. There are many issues, not just one or two or three." She however dismisses the notion that Afghan women's problems began with the Taliban. "For women, the situation was bad even before the Taliban. It is not right that we should blame the Taliban for all our problems. Women here faced a terrible time. There were a large number of rapes, of incidents of violence against women. The Taliban actively closed all doors for study, for work, for women's participation in society. But even before that, the doors were closed automatically because of the lack of security." She also rejects the contention that the fight for women's rights has begun after the fall of the Taliban. "Even when the Taliban were here, we were fighting for women's rights."

Critical of the international community's agenda, Barakzai says the policy is made from afar. "President Bush is looking from the White House and the members of Congress are looking from the windows of Congress. They don't know what the reality is here. Because of their own mistake in Iraq, they want to show Afghanistan as a positive example."

"The international community has its own agenda, own interests, own view. Their gender policy is an example." Barakzai believes that the western model of demanding equality as the first step would not work in Afghanistan, she feels, because the approach in a deeply conservative society like Afghanistan has to be different. The approach has to be gradual and Afghan society will have to change sufficiently before the demand for equality has any meaning, she feels.

"This (gender policy) is a joke. To begin with, we should educate both men and women about their rights. The situation is different here - we have our own traditions, our own problems. I believe the international community does not know how to address this problem. We know, we Afghan women know," she says.

Barakzai feels the wide participation of women in the electoral campaign has been a huge step forward for Afghan women. Men who until recently did not believe in women's empowerment were out campaigning for the women candidates, their sisters, mothers, who were candidates. "Afghanistan will be a symbol for other countries in a post-conflict situation. Other countries could not even have elections," she says with conviction.