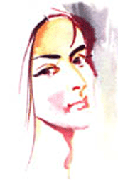 Kanchan Jha (15) is a very ordinary girl. Her extraordinary achievement is that this resident of a slum in Alakananda in South Delhi was one among six Indian children selected to attend the Children's Forum at the United Nations General Assembly Special Session on Child Rights, along with children from 175 other countries.

Getting to New York to attend the Special Session has literally been a long journey for Kanchan. Brought up in surroundings where men lie around the alleys, too drunk to move, and children carrying little siblings on their hips are a common sight, Kanchan has managed to craft her own destiny. Not
content with getting ahead in her own life, Kanchan, who has passed the matriculation examination, is now focusing her energies on helping other children in her slum to gain an education.

This young girl, whose father is a security guard, has had to face not only indifference about the value of education, but open opposition as well. "My elder brother dominates the family and questions all my activities. He says girls should not go out of the house after school hours, leave aside making decisions about their marriage or career." Kanchan has had to wage daily battles with her brother since he is not in favor girls' education.

It was Madhavi Kotwal, Project Director of the Community Aid Sponsorship Programme (CASP), who intervened to persuade her mother until she finally relented and allowed Kanchan to go to the UN Special Session. The staff of CASP, which conducts an education project in the slum where Kanchan lives, picked out this promising young student. "Her confidence and awareness are remarkable, and she is a born leader in the Bal Manch (Children's Forum)," says Kotwal.

The Bal Manch, formed a year and a half ago, has 24 members, all of them students from poor families. Putting their heads together to address the problems faced by children like them, this unique Manch is run entirely by children. And they are setting an example for the adults in their
localities -- from tips on hygiene to issues in education.

The impetus to set up the Bal Manch came after Kanchan attended a workshop on child rights. Along with her friends Laxmi and Sunita, Kanchan took the initiative to create a platform for children to articulate their problems and access their rights. While the CASP staff helped the Manch to get over its initial hiccups, the children soon began to conduct the weekly meetings themselves.

"How long will we suffer like this? We should do something to change the poor image of our community," averred the children. And in less than two years, their efforts are there for all to see. Earlier, the people of the slum used to throw garbage in the open, and the narrow alleys with stinking
open drains made it difficult to move around.

When the Bal Manch members first began to talk to families about the possibility of cleaning up the neighborhood, their ideas were greeted with derision. The thought of children leading the community was unacceptable to most. Some went so far as to call it a symptom of 'Kaliyug' or the dark age.

But persistence paid, and now about 200 families put their garbage into garbage bins and 70 families pay for the garbage to be carted away. "In a community of 2,000 families 70 may seem like a small number. But it's a huge achievement, it signals change," comments Kanchan, who adopts the
approach of convincing people rather than confronting them. "After all, we have to live together," is her realistic comment.

The Bal Manch creates a space for children to help each other cope with the school system and examinations. But it functions as much more than a coaching centre. After Kanchan had helped a school dropout to clear the admission test to Class VIII, she managed to convince the teacher to
re-admit the girl, who had discontinued her education. She donned the role of a guardian and filled in for a family that was disinterested in the girl's education.

Similarly, no one in six-year-old Vidya's family wanted her to go to school. Who would look after her infant brother, then? The Bal Manch stepped in to convince Vidya's vegetable-vendor father and domestic worker mother to send her to school. Now Vidya, studying in Class II, has some hope of living up to her name, which means 'knowledge'.

There are many Vidyas waiting to be educated. And Kanchan is determined to help these girls who lack opportunity. The dynamic youngster has initiated a poster campaign to promote education, including adult education. The members of the Bal Manch have made a beginning by teaching the adults in their families. To address the needs for funds, Kanchan proposes to set up stalls selling eatables. Displaying maturity beyond her years, this young girl gives life to the old adage: where there is a will, there is a way.