Meeta Vohra's loud snoring had become the butt of family jokes lately. Her kids would imitate the 'funny sounds' mom made while sleeping and then double up with laughter. Initially, even Vohra, 43, would join in the fun, but gradually - when tiredness and grogginess started interfering with the schoolteacher's daily routine - the joke stopped being funny. And Vohra decided to see her physician about it.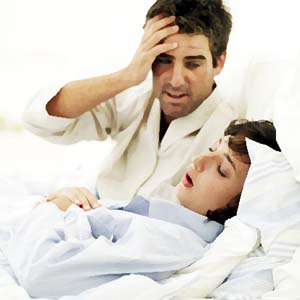 The physician's diagnosis was disconcerting - Vohra was suffering from obstructive sleep apnea (OSA). Elaborates Dr K.K. Handa, ENT specialist at the All India Institute of Medical Sciences (AIIMS), New Delhi, "It is a common sleeping disorder in which one has one or more pauses in breathing or has shallow breathing during sleep. The pauses can last from a few seconds to a few minutes. They often occur five to 30 times or more in an hour. Typically, normal breathing then starts again, sometimes with a loud snort or sputtering sound." This occurs due to an obstruction or narrowing of the airway in the nose, mouth or throat and can lead to an increased risk of diabetes, high blood pressure, heart attack, stroke and even obesity.

According to the International Diabetes Foundation (IDF), which had convened a summit of renowned specialists in Sydney, Australia, last year, sleep apnea - earlier thought to be largely a disease of men - is increasingly afflicting women. Though no official figures were released, the consensus among the participants was that apnea could severely impact human health climaxing in Type 2 diabetes along with a host of other ailments.

This is reiterated by doctors back home who say that more and more Indian women, especially in the 30 to 60 years age bracket, are succumbing to sleep apnea. "I'd say about 10 per cent of Indians would be suffering from sleep apnea, half of which would be women," elaborates Dr Ajay Rastogi, Senior Consultant, Fortis Hospital, New Delhi, who has been counselling scores of patients with sleep disorders lately. Even young girls and boys, says the doctor, are being diagnosed. The condition is found frequently in people who tend to snore or those who are overweight.

Unfortunately, sleep apnea often goes undiagnosed, as it is difficult for doctors to pin down the condition during routine investigation. Moreover, there are no prescribed tests for the condition. Even people who suffer from sleep apnea don't know they have it because it only occurs during sleep. A family member is usually the first to notice the signs of the chronic condition. "I come across many patients who are referred to us by other doctors through a two-three tier process, as physicians often find it tough to detect sleep apnea," says Dr A.S. Srivastav, a Delhi-based ENT specialist.

Dr Rastogi though has a pointer that family members can keep in mind. "If the breathing stops for more than 10 seconds around five times in an hour, it is a case of OSA."

For women, especially, sleep apnea can have disastrous consequences. According to Dr Michael S. Nolledo, M.D., University of Medicine and Dentistry of New Jersey at Princeton, USA, sleep apnea raises a woman's risk for gestational diabetes by twofold and pregnancy-induced hypertension four times. Such women may, however, need treatment only during pregnancy, he feels, as apnea during pregnancy usually crops up because of nasal congestion or rhinitis induced by hormonal changes or weight gain.

Studies reveal that undiagnosed sleep apnea may also affect women's sexual function by reducing sexual desire, sensation and lubrication, negatively impacting their relationship with their partner. In a study published in the 'Journal of Sexual Medicine' in 2005, researchers evaluated the sexual function of 25 pre- menopausal married women - average age being 48 years - diagnosed with OSA at a university sleep centre in Turkey. The results showed that as the severity of sleep apnea increased, sexual function scores decreased among the women.

Snoring among children does not necessarily signify sleep apnea but could be due to enlarged tonsils or adenoids. However, in children, sleep apnea needs to be cured as it leads to mental distress, low school performance, irritability and hyperactivity.

Doctors say that OSA becomes common with advancing age. At least one out of 10 people over the age of 65 has this condition and women are particularly at risk after menopause. Sleep apnea is also genetic. People who have small airways in their noses, throats, or mouths also are more likely to develop the condition.

Currently, there are no medicines or drugs to treat sleep apnea. For mild sleep apnea, doctors recommend lifestyle modifications like avoiding alcohol and shunning sleeping pills, which make it harder for the throat to stay open while one sleeps. Knocking off excess weight also goes a long way in fobbing off this
ailment.

In acute cases, however, patients have to wear 'Continuous Positive Airway Pressure' (CPAP) masks over the nose during sleep. This mask delivers air into the airways creating enough pressure during inhalation to keep the airways open. Some people may also benefit from surgery, which is done to widen breathing passages. It usually involves removing, shrinking, or stiffening excess tissue in the mouth and throat or resetting the lower jaw.

In some countries, sleep apnea patients are often referred to sleep clinics, which can treat such conditions better. In France, for instance, doctors have been studying sleep disorders seriously since the Sixties. The United States and Australia, too, are very sleep-disorder savvy. However, India woke up to its first sleep clinic at AIIMS as late as 1985. Now, of course, more sleep centres have been set up in cities such as Bangalore, Kolkata, Mumbai, Chennai and Coimbatore.

"The idea," sums up Dr Srivastav, "should be to create public awareness about this seemingly innocuous ailment, which can have life-threatening consequences. The more informed people get about this ailment, the better it will be treated and it's damage contained."