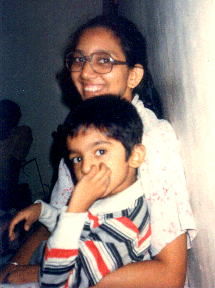 Amma, my Grandma, had her own way of imparting knowledge - through the usage of parables and blessings. When I was young, every time I would see my father greeting her, she would say, "Apne Jaaye Aap Paalo". And when I would ask my father or my uncles who would also get her blessings in the same way, they would explain that it is Amma's way of saying, "May you live long".
Now that I have been married for over 25 years and have two young adult children, I think back in retrospect what Amma truly meant when she said, "Apne Jaaye Aap Paalo". More than saying, "May you live long", she actually emphasized, between the lines, the sanctity and the importance of a fulfilled married life. Because she literally said, "May you nurse your own children" implying that both the parents should be responsible and committed in bringing up their children.
Today, when I look around and find large scale neglect of children due to the "not-working-out" approach between strayed couples and in some extreme cases the divorce having sealed the fate of the wedlock, to me Amma's saying becomes all the more relevant and logical. I cannot say it with assertiveness, but I do feel that perhaps somewhere from my childhood impressions Amma's words echoed every time my own marriage rocked in the turbulent and weak moments.
A little more analysis of this simple saying leads to obvious yet delicate questions.
The watchful eyes and easy-to-be-influenced tender minds of children become victim of this environment, not by their choice, but by the impact of the surroundings. In such a situation, parents cease to become the role model for their child and once the child looks outside the home for guidance, the innocence of the child is lost.
"Apne Jaaye Aap Paalo" thus in its message of blessings, is a protective shield to make our marriage and in turn family a happy and harmonious place. The saying is also a challenge, in that it compels us to be accountable and responsible for our role as parents.

Read also: It is Better to Poison than to Give False Promise