The reminder for a mammogram had been staring her in the face for a while now. There was no pain or lump in her breast so she had been ignoring the reminders for a free mammogram, sent to all women above 60 years of age. When Gladys Roach finally, decided to get it done five years ago, she was in for a rude shock.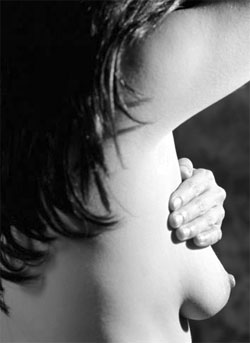 After the mammogram, the doctors conducted an ultrasound, but were still concerned and so performed a biopsy. After four hours of various tests, Gladys says, "I was told I had breast cancer. I was stunned and cried my heart out as I took the train home."

More than 12,000 Australians are diagnosed with breast cancer each year, making it the most common type of cancer and the leading cause of cancer death among women here. However, increase in early diagnosis in recent years has improved survival rates.

Mammogram, or a low dose x-ray of a woman's breasts, is currently the best method available for early detecting of cancer. For women over 50 years, it is recommended they have a mammogram done every two years, as 70 per cent of all breast cancers occur among women of this age group.

Gladys underwent an operation immediately, followed by radiation treatment. Gladys says, "Breast cancer was not so common then. People still spoke about it in hushed tones, but now it is like catching a cold."

Though it has become easier to deal with the illness now, it leaves a lasting impact physically and emotionally on patients and affects their families, careers and the community. As Gladys says, "It came as more of a shock when recently my 40-year-old daughter was diagnosed with breast cancer and underwent a mastectomy (the surgical operation to remove a breast). My own experience was a picnic compared to my daughter's, who is undergoing chemotherapy."

Losing a breast, hair and being separated from loved ones can be heartbreaking, but women feel fortunate if after that they can be tumor-free, thereby making it to the "survivor" category.

The incidence of breast cancer in younger women is growing. Latest available figures show that 700 out of 10,000 new cancer cases in 2000 were of women under 40. Australian pop queen Kylie Minogue, 39, was diagnosed with breast cancer in May 2005. She has told British 'Glamour' magazine in their November issue, "When you are stripped of everything and you have to grow your eyelashes back, grow your hair back, it's just astonishing. It's hard to express what I've learned from that, but a deep psychological and emotional shift has obviously taken place."

The rise in incidence of breast cancer in developed countries is being linked to affluent lifestyles, sugar and fat-rich diets, modern toxins and the decline and delay in having children. With the disease cutting across social lines, there are calls for more funding for research into finding improved treatment and ultimately a cure for breast cancer.

As patron of the New South Wales-based National Breast Cancer Centre's (NBCC) public awareness campaigns, Australian premier John Howard's wife, Janette, has said, "It is vitally important that we all work together to fund the research, which is already contributing to saving the lives of more Australian women each year through the development of new treatments and therapies. We all hope this research will one day lead to a cure."

Survival from breast cancer is very high in women whose cancer has been diagnosed at an early stage, according to a report by the Canberra-based Australian Institute of Health and Welfare (AIHW) and the NBCC.

A novel A$5 million (US$1=A$1.08) research effort is aiming to identify how existing drugs may combat cancers that have thus far defied the available treatments. Drugs prescribed for conditions such as diabetes and heart disease may hold the key. Associate Professor Christine Clarke at the University of Sydney is leading a national research project to identify nuclear receptors or naturally occurring systems in the body linked to the breast cancers.

Health Minister Tony Abbott has announced an A$23.8 million breast cancer programme, aimed at helping women who have lost a breast to pay for an artificial replacement. If re-elected, the government would fund new and replacement external breast prostheses up to a value of A$400. In the first year, the scheme would help the 50,000 women currently waiting for prostheses. A further 6,000 women would receive help each year over the following three years.

An external breast prosthesis, which is usually made of silicon gel, foam or fiber and needs to be replaced every two to five years, not only helps restore body image after surgery, but also helps in maintaining good posture and balance, particularly for women who had larger breasts.

A mother of two, Judy O'Donovan, 47, likes having the choice of an external prosthesis. Judy had found a lump in her breast while self-examining. A biopsy confirmed her worst fears. "I had to undergo a mastectomy followed by chemotherapy, which was awful. It also fast tracked me into menopause."

A group coordinator and facilitator at the Early Intervention Program in Sydney, Judy has made some lifestyle changes. She has started playing soccer for over- -5-year olds and ensures she has nutritive food and works reasonable hours.

Breast cancer survivor Pam Bell says, "Knowledge is power when it comes to breast cancer." The NBCC has recently launched an online tool (www.nbcc.org.au) that will enable women over 20 to calculate their risk of developing breast cancer. The calculator also provides useful information about lifestyle changes women may wish to make to reduce the risk.

When cricketer Glenn McGrath's wife, Jane, was diagnosed with breast cancer in 1997, they co-founded the McGrath Foundation in 2003. Jane had experienced the shortage of breast-care nurses in Australia during her treatment and became determined to help others in her situation.

Breast-care nurses are specially trained registered nurses who act as patient advocates, coordinating care for women with breast cancer, their families and careers. They provide accurate information, support and referral to services. The estimated cost involved in recruiting, training and employing a full-time breast-care nurse is around A$90,000 per year.

Breast cancer in males is rare. The number of new cases in males increased from 43 in 1983 to 84 in 2002. Nineteen per cent of all males diagnosed with breast cancer during this period were diagnosed with at least one other invasive cancer, most commonly prostate cancer, lung cancer and melanoma.