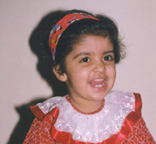 We were sitting in the beach in Goa enjoying the second day of our honeymoon when Yasir asked me the same question that each and every husband would ask his newly wedded wife. "Komal, do you want a girl or a boy? " I did not even wait for a microsecond before replying "Girl, of course". That must have surprised Yasir and he had a questioning look on his face. I just raised my eyebrows in response to his reaction and he said, "I thought all women like to have sons and all men like daughters. And specially for a South Indian woman to say that she loves to have a baby girl is surprising". I just smiled in response. Little would Yasir understand why I wanted to have a daughter!
I was born to middle class parents. Both my parents are graduates. My Dad is an engineer and my Mom is a graduate in Arts. I have one younger brother who is a doctor. I finished my graduation in Science about a year back and like most of my classmates got married soon after. I very much wanted to be an aeronautical engineer. Aircraft always amazed me but then my Mom did not allow me to pursue my dreams just because I was a girl. According to her the girl should be educated enough to handle herself, and that was enough.
Even though I have educated parents I felt a lot of discrimination at home. My Dad like all fathers loves his daughter very much and would do anything to keep me happy. But my Mom like most South Indian mothers, thought that girls should be brought up in a very strict manner. I could never sleep till late because girls don't sleep till late.
I had to ask her permission to go out anywhere or do anything while my brother would walk in and walk out of home whenever he liked. I could never go to the movie hall with friends. I was reminded day in and day out how a girl has to behave. If I learnt to swim, cycle and drive it was because of my own effort and my Dad's help. I could never go out and watch my Dad and brother swimming or playing tennis because the right place for a girl was at home. I was taught to cook and clean and do all girlish stuff. I could not even dream of buying a car of my choice because I was a girl.
My brother has a girl friend, who he brings home. She is a wonderful person. We all love her. But I was told time and time again that I should never dream of bringing a guy home let alone fall in love. Luckily for me Yasir is a very nice person and I liked him when I first saw him. We were not allowed to communicate much during the brief period that we were engaged so we did not get to know each other much.
At some stage I started feeling that everyone around me was over doing a bit. That was when I realized if my educated well traveled parents did this to me then what was the status of all those girls whose parents were uneducated. No wonder female infanticide prevails in our country. I do not know if mothers consider daughters as burdens and decide to kill them or they think that the girl will have to suffer in this big bad world and kill them.
One fine morning when I was still lying in bed and waiting for Mom to give me her usual wake up call I decided I will have a daughter. Whatever may happen I will bring her up in the best way ever! Make her dream of a wonderful life and then help her achieve her dream. If I can't have a daughter I'll adopt one, but yes I will bring up at least one girl in this world in the way she would want to live. I would teach her right from wrong and walk with her holding her hands all her life.
I must have got lost in my dreams because Yasir was shaking me up and asking me what happened. I will tell him my dreams someday and I am sure he would help me achieve my dreams.

Till then'