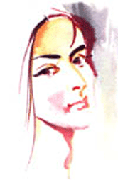 It is interesting to note how certain social movements take on colorful dimensions over the years. For instance, March 8th is a red letter day in the history of career women who struggled hard to gain better working conditions and fair wages. The day marks a milestone in the path of persevering women who financially support their families through hard labor. United, powerful and persistent struggle won them decent working atmosphere and better salary. The anniversary of this momentous achievement began to celebrated every year, initially by the working women alone. Gradually the day began to mean a day of celebration and felicitation for all women throughout the world.
Home-making is the forte of women. Indian women are proud to be home-makers. In south India, in my town Trichy, there are many ladies' clubs formed by home-makers. Ladies of a particular area join together and function as a friendly organization building a healthy, happy relationship among themselves. They meet at regular intervals to discuss welfare measures that would benefit the neighborhood. They take time to get together and share information and experiences. This is a welcome change from their mechanical, monotonous household chores. They find it tremendously satisfying to their innermost cravings. It feels good to participate in activities which better the lot of people who are less privileged than themselves. It is invigorating to accomplish things as an organization.
For the past 2 decades these ladies' organizations in and around the city meet in a grand get-together function on March 8th and celebrate the International Women's Day. A coordinator, helped by a committee meticulously plans the function. An eminent lady from anywhere in India is invited as the chief guest and local luminaries of the same sex are felicitated with citations and mementos. Aids and donations are given to the needy and deserving service organizations. Prizes are distributed to the winners of the interclub competitions held on some day prior to the function. These competitions are very interesting, conducted and participated with enthusiasm. They elicit the culinary skills, writing talent, oratorical power, strength of vocabulary, general knowledge and fine arts of the participants. If Kancheepuram silk sari competition enhances the elegance of traditional beauty, a two-wheeler treasure hunt encourages the modern, liberated womankind to walk ahead with confidence and competence.
The expenditure for the function and the competitions is equally shared by all. There are also
eager sponsors like local dailies and business houses who help make the function a grand success. The cooperation and unity found amid the ladies is admirable. Their creativity and innovation find an impetus on this day. It is an occasion for rejuvenation and demonstration of dynamism.
Happy International Women's Day! Hip, hip, hurray!