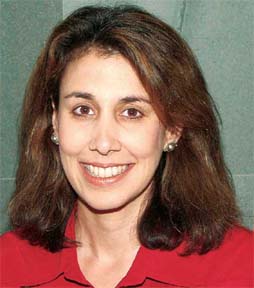 India-born Geeta Anand, 36, won this year's Pulitzer Prize for Explanatory Journalism along with her Wall Street Journal colleagues for their expose on corporate crimes. Anand's expose on Samuel Waksal, founder of ImClone - a top biotechnology company - led to his resignation. She also coauthored with journalist Randall Smith, stories on the goings-on in a clinical drug-testing laboratory. For the Mumbai girl, who represented India in the Asian and Commonwealth Games as a swimmer, the award is all about perseverance in a country where Indian reporters are rarely given a
fair deal. An interview.
Q1. From an ace swimmer to an ace journalist. How did you make this transition?
A1. I was always interested in writing, and wanted to be a writer of some sort. I edited my school newspaper, covering inter-house competitions and other local events. In any case, I did not want a career in swimming. After I completed class 12, I moved to the US. I came here for a degree in liberal arts at Dartmouth College and decided to be a journalist after I graduated.

Q2. What obstacles did you face in the beginning?
A2. I called all the newspapers telling them that I was looking for a job in journalism. The fact that I did not have a degree in journalism made it harder. Then I called this free weekly newspaper in Cape Cod and was asked to come for an interview. I had no idea where it was and I remember I asked
them to spell Cape Cod for me. I started my career by covering local government. In a sense, I was a foreigner covering their lives, their government and their business. There was a general skepticism about whether I knew what I was talking about.

Q3. Did your being an Indian woman pursuing stories on American life pose any challenges?
A3. When my husband, Gregory Kroitzsh, moved to Vermont to start a publishing business, I started searching for jobs in New Hampshire. I remember going for an interview to one of the small newspapers and the editor constantly kept pointing out that I had a different accent and wondering if people would understand me. It did hurt me a little. But it couldn't hold me back for long. I joined the 'Rutland Herald' in Rutland, Vermont, where I spent four years (1990-1994), covering a range of beats, from local government to courts and crime.

Q4. As a woman you have to constantly try harder to prove yourself. You have to show that you have the knowledge base and they should not dismiss you just because you have a smile and an easy laugh. I think you have to keep forging ahead and not pay too much attention to the other factors.
A4. My tenacity led to a job at the 'Boston Globe' where I covered American politics for four years. I wanted to prove that I had the mettle to be a hard-nosed investigative reporter, not just a soft feature writer. I broke stories on the leading candidate for attorney general who threatened the
contributors to her opponents' campaign; a turf battle between emergency medical technicians and firefighters as they fought over dying patients at rescue sites; and about Boston police flouting parking rules.

Q5. When did 'Wall Street Journal' happen and when did you get interested in biotechnology?
A5. In 1998, I moved to the Wall Street Journal's New England regional edition and then moved to New York city with my husband. When I went for an interview with the health editor, she asked me what I thought of biotechnology. I replied that I was not afraid of science. I guess the editor liked that and I started covering biotechnology.

Q6. When you started working on the biotechnology stories did you have any idea they would turn out to be so big?
A6. When you are working on something for months, you lose perspective. For me, the one big concern was whether I had managed to get all the facts for the story. I was surprised and happy when it made it to the front page.

Q7. How did you feel when you heard about the awards?
A7. I was at my desk when they found out about the Pulitzer awards. We went down and there was a big party. I was very excited and so was everyone here at the 'Wall Street Journal' because it was a real team effort. I felt very lucky because you can go through life writing good stories and never win
big awards. But if luck and timing are on your side, you get recognized every now and then. In this case, we wrote good stories and they happened to be on a compelling topic.

Q8. Has the award changed your life?
A8. I don't think you should let awards change your life and I'm sure this one won't change mine. I plan to continue to do what I'm doing now; I'm in journalism because I enjoy my job very much. Of course, winning a Pulitzer is an overwhelming experience and the reality is still sinking in. I am
at this stage of life where I can take weeks and months to cover a story and I want to enjoy that.