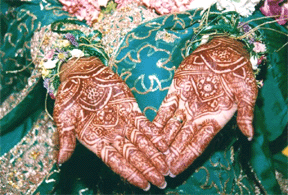 You've probably seen it on Gwen Stephanie, Demi Moore, Sharon Stone, Naomi Cambell and Madonna. It is becoming a quickly rising trend among women. Henna, also called Mehndi is the traditional art form of hand painting in India. It's a form of body art. The work is created with henna paste. Henna is a plant long known for its power to color any substance it is applied to. Henna is a small shrub called hawsonia inermis and is found in Iran, India, Pakistan, Egypt, and North Africa. It is a temporary body decoration that looks like a tattoo but isn't. It's fast, easy, painless and is a beautiful form of natural body decoration. It is also commonly used as a hair dye.
There is no actual formula to make the Mehndi paste, but there are basic ingredients that you can combine to make the paste and create your own recipe. The henna leaves are ground into a fine powder. Filter the Mehndi powder through a nylon cloth, to remove the large fibers from the Mehndi, which can get in the way when applying the paste. This powder can be mixed with oil (such as eucalyptus, Nilgiri, or Mehndi oil) and water, to make a thick paste. You have to add the right amount of water when making the paste so the Mehndi isn't too thick or too thin. You need to add some lemon or lime juice to get the color to set.

When using henna as a hair dye...You can mix henna with olive oil and apply it to the hair. Or you can just add water and lemon juice to the henna. You can also add tea to the water to make the color darker. You can use herbal henna once every 2 weeks as a hair conditioner and hair darkener. It stops falling hairs and itching of scalp. It also helps dandruff problems. Regular use makes hair longer, thicker and beautiful.

When applying henna to the body...You can apply henna with toothpicks, cotton swabs or by putting the paste into a cone (similar to a cake decorating tube) that has a tiny hole at the end. This enables the person to make designs in elaborate patterns. A simpler way to apply Mehndi is to put a stencil that is hand-shaped over your hand and spread the henna paste over the entire stencil. It's easy and any one can do it. But it wastes and uses a lot of henna. Mehndi can also come in tubes or bottles. This provides a ready- made, less messy method of Mehndi application. Application takes about 10-15 minutes. Elaborate designs can take longer.

After you apply the menthe you have to wait. You should keep it on for at least 5 hours. It might be uncomfortable at first but the longer you leave it on. The darker the color will be. Henna will set well if it dries with heat. Dry your hands around a candle flame or use a hair dryer. When removing it, scrape it off; don't just wash it off. Once it dries, you have to brush the henna off. The color left behind darkens over the next 12 hours or so. The paste that comes in a ready-made tube only needs to remain on the skin for an hour and it lasts about 12 days.

There are different types of henna available. Black, brown and red. While the color of the actual Mehndi dye is deep green, once it is removed, the dye leaves a color that varies from light orange to a deep brownish-black.

Mehndi has no true purpose in religion. It is meant to enhance beauty. Indian women use Mehndi to beautify their hands and feet before big occasions such as weddings and holidays. The night before weddings, women gather together and devote hours to having Mehndi designs applied. Henna is something that takes a lot of time. Bridal Mehndi covers the hands up to the elbows and the feet up to the knees. It can take at least 8 hours to complete. It is very special for weddings, Eid , the Hindu New Year, Diwali, parties, big celebrations. But, henna should be as beautiful as the brides. The Indian bride usually gets most of the henna work while her friends get smaller designs.

Although it originated in India, it has spread to other areas. Hands and feet were the only areas traditionally decorated with henna, but now many people apply henna on other parts of the body. But now it is also done around the wrists, navel and on backs. Men are also getting it done on arms and shoulders in designs like dragons and snakes or somebody's names.

Henna powder can be purchased at many health food, beauty supply, or Indian grocery stores. You can get Mehndi done at various Mehndi parlors located in Indian communities. You can always get a ready-made tube and make your own designs, including arm and ankle bands. It's safe, simple and easy. Do it for the fun and beauty of body decoration.