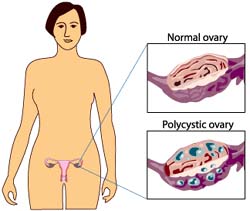 "It happened a year after my marriage. I began missing my periods and putting on weight for no reason. When I went to the doctors, they diagnosed it as Polycystic Ovarian Syndrome (PCOS). My husband and I were really keen on starting a family, and we were disappointed to know that I would have trouble conceiving due to my problem," says New Delhi-based Uma Bannerjee, 27.

A gynecological phenomenon that doctors classify as a state of the body rather than a disease, PCOS - the leading cause of infertility among women - seems to be on the rise among the urban Indian women. Says Dr Geeta Chaddha at New Delhi's Indraprastha Apollo Hospitals, "One out of three women I treat for infertility suffers from PCOS. It can happen to a woman at any point in her life."
PCOS is a condition wherein the body develops a resistance to insulin, a hormone that helps in converting sugar into energy in the body. The unabsorbed insulin remains in the body. This leads to an increase in the level of androgen (the male hormone) in the body. And it is this increased presence of androgen that impedes ovulation. As the ovaries are unable to produce the hormones for the ova to mature fully, the follicles (spherical aggregations of cells found in the ovary that hold the ova) turn into cysts. Ovulation fails and the hormone progesterone is not produced. The cysts, in turn, produce male hormones that further impede ovulation.

However, it is the symptoms of PCOS that make it a life-altering phenomenon. "The presence of androgen in the body leads to symptoms such as weight gain, infertility, hair growth in places where there should be none and a change in voice. These can really be depressing for a woman and create numerous other complications," explains Dr Chaddha. Unfortunately, as there is no real solution to the problem of PCOS, gynecologists target specific symptoms. "If a woman is suffering from infertility, we try to tackle that. If there is hair growth then we try to solve that,"
she elaborates.

According to Dr Suman Lal of AIIMS, over the past few years, around 20-40 per cent of adolescent girls have been diagnosed with the ailment. Compared to that, around 10-20 per cent women in the reproductive age group suffer from PCOS. "Since it is mainly something that we are noting among the urban women, we believe it is more of a lifestyle disorder," says Dr Lal. She has also observed that women from the lower strata of society do not complain of this disorder.

"We usually advise women diagnosed with PCOS to exercise so that their weight is under control, have a very balanced diet and generally change their attitude towards life," she says.

PCOS also leads to depression in some women. Admits Anahita Sethi, 20, who works at a call centre and often has a delayed menstrual cycle, "I feel like crying for days together." Those who end up gaining those extra pounds or with unnatural hair growth are equally upset. "I feel odd when I go to parties," says Mandeep Kaur, 32, who was diagnosed with PCOs after her first child. Mandeep has hair growth on her chin, which distresses her a lot. And if that is not discomforting enough, PCOS can also lead to a higher risk of heart diseases and diabetes in women who are approaching menopause.

Symptomatic treatment of specific problems that result from PCOS can help. Reveals Anishta, 20, a student: "I have been taking medicines to control hair growth on my chin and they have also helped in regularizing my periods to some extent." Manju Sharma, 30, a government servant, who was diagnosed with PCOS, was eventually able to conceive after religiously taking medication for five years.

Some take recourse to alternative medicine. Poonam Singh, 27, who works in a Delhi-based law firm, says, "I started suffering from PCOS after I lost my father when I was 17. So I guess it was the emotional disturbance that triggered it off. However, I later turned to 'vipasana' (meditation) and now I am fine."

While gynecologists hold a wide number of reasons - ranging from anxiety to weight gain - responsible for the occurrence of PCOS, they still haven't come across a concrete cause for the phenomenon. "We can say that the reasons are genetic but if this link is not found then that means there might have been a dormant gene somewhere which got triggered due to some reason,"
explains Chaddha. "I guess when we point out the right gene we would be able to find a cause and solution for the problem."

In the meantime, women could take a cue from support groups in the US and UK that offer assistance and information to women suffering from PCOS. Log on to wesbites such as www.pcosupport.org, www.soulcysters.com,www.pcosnutrition.com, and www.verity-pcos.org.uk to learn how to deal with the problem better.