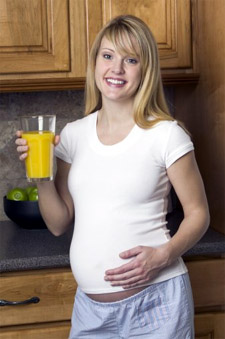 If you thought it is impossible to apply the 'do it yourself' philosophy to childbirth, think again. Many expectant mothers in North America are now opting for unassisted childbirth, which means that they go through labor and give birth without any outside help or intervention. Unassisted childbirth is, after all, childbirth left to its own devices. Thus, there are no doctors, midwives, doulas or even a friend or relative as a support person for the mother.

Interestingly, the place for unassisted childbirth is not the impersonal labor and delivery room but the bedroom. Often it involves giving birth straddling a bathtub or squatting on the bathroom floor or any other place the mother finds comfortable. The mother also chooses the most comfortable position - squatting or lying down flat on the ground - to help get the baby out. There is no checking for dilation of the cervix or attaching heartbeat monitors to the baby inside the womb. Once the baby comes out, it falls into its mother's hands rather than those of a nurse. The mum or dad then cut the umbilical cord.
The idea behind unassisted childbirth is that women can take personal responsibility for their children's birth. Alternatively, when healthcare experts get involved, the mother's autonomy is lost. This practice has been on for some time. However, of late, it has gained in popularity. In 1977, Laura Shanley, a resident of Boulder, Colorado, USA, and her husband, David, decided to have their first unassisted childbirth. Their son, John, was born without the help of doctors or nurses.

In the last two decades since John's birth, Laura has gone through four more unassisted deliveries. She has also written a book, 'Unassisted Childbirth', and runs a website, www.unassistedchildbirth.com, for mothers who want know more about this practice.

"There are no exact figures on how many mothers have gone in for unassisted childbirths but of late, there has been a lot of interest," she says. One indicator is the number of hits - about 50,000 a month - on her website. "A lot of women are researching on the internet and trying to find out more about how to give birth to their children without assistance," adds Shanley, who also runs a discussion forum on the procedure on her website.

According to her, the cause of increased interest in unassisted childbirth is the high C-section rate of almost 30 per cent. "As medical practitioners are interfering more and more in childbirth there is hardly any birth which can be called normal," she says.

However, not everyone is convinced about giving birth without medical help. Prabhjot Sachar, who is 36 weeks pregnant, says she would feel vulnerable giving birth without the help of doctors or drugs to help her. "I want my delivery to be smooth and under the observation of my obstetrician. I have made up my mind about taking the epidural to help me with the delivery pains. Even the idea of giving birth on my own without the help of doctors or drugs is scary," she says.

Shanley has a word of advice on risks involved in childbirth. According to her, the most important thing for any mother willing to do it alone is to be mentally and physically tough. "Childbirth is a very natural and safe process, which should go right provided the mother is not overworked or underfed." She advocates building up mental strength to get over the fear of delivery pains. She says what is also helpful is to have faith in the power which keeps things right. "This power can be given any name - God or your own inner strength. If you believe in it, it is possible to look beyond medical care," she says.

Shanley has some tips for women interested in unassisted childbirth: No aspect of the birth should be rushed; Once the baby is born, the umbilical cord should be cut - after it has stopped pulsating, which may take about 15 minutes - an inch or two from the baby's belly button with a clean pair of scissors; She believes that it isn't necessary to have any sort of a kit; After the birth, she recommends that the baby be immediately put to the mother's breast, as breastfeeding helps the uterus contract, which ensures the delivery of the placenta.

"Some people take the baby to a doctor after the birth, but I did not. I don't believe that babies are born sick. A newborn baby needs to be in its mother's loving arms after the birth. Also, most doctors do not react well to unassisted birth. The parents may be reprimanded by the doctor, in spite of the fact that unassisted birth isn't illegal. Going to a midwife would be a better option, as most are not as critical," she says.

The Society of Obstetricians and Gynecologists of Canada (SOGC), an Ottawa-based association of doctors, has opposed this practice calling it risky. "The SOGC supports natural childbirth, but the evidence is overwhelmingly in favor of giving birth with a skilled attendant present," says Dr Donald Davis, the outgoing President of SOGC. "Whether you choose a registered midwife for a home birth or trained healthcare professionals in a hospital setting, having a skilled attendant's experience and knowledge at the mother's side can be the difference between life and death."

Dr Vyta Senikas, Associate Executive Vice-President, SOGC, couldn't agree more. "Unassisted childbirth is unsafe. People who advocate this are tragically uninformed and are promoting high-risk, dangerous behavior disguised as sound medical advice. You have to look at the source. These are not trained and educated medical professionals," she says.

However, advocates of unassisted birth say that any medical interference, no matter how well-meaning, can disturb the natural and hormonal processes of labor, triggering a stress reaction that hinders the birth's progress. "By constant supervision and observation doctors and nurses interfere in the natural process of childbirth, and when somebody is observing you that changes the whole process," says Shanley.

However, doctors point out to the statistics of risks involved in childbirth. According to SOGC, up to 15 per cent of all births involve potentially fatal complications and the risks of an unattended childbirth outweigh any possible benefits. Skilled attendants have the training required to identify and react to potential problems for the mother and baby as early as possible - both during childbirth and in the critical period that follows. Choosing to give birth without this type of assistance poses a danger to the mother and child and can lead to tragic consequences, they warn.