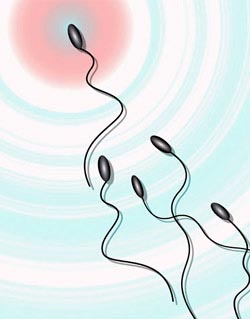 Instead of holding a woman responsible for recurrent pregnancy loss, try blaming unhealthy sperms, say Indian scientists who have developed new technology to study the quality of sperms.
When a female faces miscarriage more than twice in a row, it's called recurrent pregnancy loss. In around 80 percent such cases, imperfect and inefficient sperms lead to a weak embryo formation, finally ending with miscarriage, say scientists at the National Institute of Health and Family Welfare (NIHFW).
"We took the cases of 35 women who were facing recurrent pregnancy loss. As we did not find much problem with them, the samples of their husbands' semen were tested in our laboratory," said M.M. Misro, a scientist at NIHFW's department of biomedicine.
"Though the sperm count and mobility were almost normal, we found that 80 percent of the cases were because of defects in sperms," Misro, who carried out the study, told IANS.
"While 20 cases of the 35 showed a defect in the sperm plasma membrane and enzyme in the top of the sperm (Acrosome), 29 cases reported problems in the nuclear chromatin de-condensation."
The new findings on sperm quality are greatly expected to help women who suffer from recurrent pregnancy loss.
"The revelation is startling and will help millions of such women who are socially ridiculed. This study proves that men should not blame women alone for recurrent miscarriage. They are equally responsible," he added.
Elaborating on the inferior quality of sperms, Misro said environmental pollution is one of the factors. "Through polluted air and water, a compound called Xenoestrogen enters our bodies and alternates the reproductive hormone."
Misro said the technology developed by him in the institute not only keeps track of sperm mobility and its count (20 million per millilitre) but is also capable of testing three other aspects.
"Along with mobility and sperm count it allows three tests - hypo osmotic swelling, Acrosome status and nuclear chromatin de-condensation - to stay assured about the competence of sperms leading to a healthy pregnancy."
Misro claimed the new technology was unique and they were trying to patent it.
"It would be of great help for sperm banks and clients going to fetch them. I think a man should test these above factors in his sperm to make sure that his wife does not suffer"