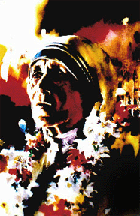 International woman's day is a day dedicated to women for their rights and valuable contributions to society. It is a day dedicated to 'ordinary women as makers of history.'
"Ordinary Women as Makers of History" - as I comprehend this line and think of those women who have been achievers, givers, believers, preachers and so much more that will make them remembered centuries down the road into the future, several faces seem to occupy my mind. Indira Gandhi - prime minister of India in the year 1966, Diana - princess of Wales, Helen Keller - the woman who overcame barriers of Deafness and blindness, Dame - Agatha Christie - The Mystery Novelist, Mother Teresa - Agnes Gonxha Bojaxhiu (her maiden name) - Missionary of the poor.
From these and other women who are writers, innovators, peacemakers, originators and most of all, believers in a cause, Agnes Gonxha Bojaxhiu or Mother Teresa is the one whom I truly admire and respect.
The world may be full of good people, great humanitarians that really care, and people who donate billions of dollars for the a good reason but Mother Teresa was the one who dedicated everyday of her adult life caring for "The dying, the crippled, the mentally ill, the unwanted, the unloved" and she valued every minute of it. She fed them, sheltered them, and cleaned their wounds. She made them feel good, loved and wanted.
In her life of more than eight decades, Mother Teresa made the poorest of the poor feel a sense of belonging. She went out of her way to do everything possible to help people who were a burden to the society and shunned by everyone.
I dedicate this woman's day to Mother Teresa, who gave meaning to the true essence of a woman's heart, from where love, compassion, benevolence and goodwill flow unconditionally.
It is not how much we do, but how much love we put in the doing.
It is not how much we give, but how much love we put in the giving."
Mother Teresa