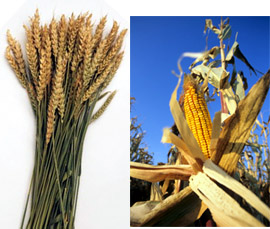 The word cereal is derived from Ceres, the name of the Roman goddess of harvest and agriculture. All the cereal crops are grasses mainly cultivated for their edible part i.e. grains or seeds. Cereals are the major part of Indian diet so also known as staple foods.
The major cereal crops are rice, wheat, maize or corn, jowar, ragi and bajra. The eighty percent of the dry matter in grains is carbohydrate, mainly the starch therefore, they are considered as the main energy providing crops. The four major groups of foods are prepared from the cereal grains like:
• Baked products – breads, cakes and pastries
• Milled grain products – white rice, wheat flour, semolina and breakfast cereals
• Beverages – hard drinks like beer and whisky
• Whole grain products – brown rice, popcorn.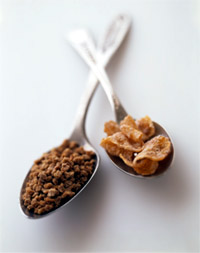 Cereals provide 350 kcal of energy per 100 grams to the body. Cereals contain six to twelve per cent of protein so it's also a significant source of protein and provides more than fifty per cent of the daily protein requirement. The whole grain form of cereal is more nutritious than milled one as it contains greater levels of B-complex vitamins, dietary fiber and essential fatty acids. Cereals like millets also supplies minerals like iron and calcium. They generally lack vitamin A and vitamin C except yellow maize that contains traces of beta carotene.
Due to its low fat content it has become the choice of many health conscious people. The milled cereals with less nutritional value may lead to obesity if eaten in excess. Various cereal bran's add bulk to the diet as it contains high levels of dietary fiber and helps in reducing the risk of heart diseases by lowering the levels of cholesterol. Fiber also helps to prevent constipation and may reduce the risk of developing various bowel disorders including bowel colon.

Nutritive value of cereals per 100 grams
Cereals

Protein
(gm)

Fat
(gm)

CHO
(gm)

Minerals
(gm)

Calcium
(mg)

Fiber
(gm)

Energy
(K Cal)

Wheat whole

11.8

1.5

71.2

1.5

41

1.2

346

Wheat flour

12.1

1.7

69.4

2.7

48

1.9

341

Rice bran

13.5

16.2

48.4

6.6

67

4.3

393

Rice (raw)

6.8

0.5

78.2

0.6

10

0.2

345

Rice (parboiled)

8.5

0.6

77.4

0.9

10

0.2

349

Maida

11

0.9

73.9

0.6

23

0.3

348

Bajra

11.6

5

67.5

2.3

42

1.2

361

Jowar

10.4

1.9

72.6

1.6

25

1.6

349

Ragi

7.3

1.3

72

2.7

344

3.6

328
Therefore, cereals should be added in the diet for its significant nutritive value. The calorie conscious people can switch over to various breakfast cereals (sweetened or unsweetened) available in the market nowadays