On 27 December 2003 a major cultural event was held in Bharateeyam, the state-of-the-art auditorium of the Eastern Zonal Cultural Centre, Kolkata, inaugurated recently by the Vice-President of India. Entitled 'Panchakanya of the Indian Epics', the event began with a day-long seminar to explore why Ahalya, Kunti, Draupadi, Tara and Mandodari are celebrated as 'kanyas' (virgins) despite having had sexual relations with more than one person and even with persons other than their husbands. Further, why should remembering them wipe out grievous failings (pancha kanya smarenityam maha pataka nashanam). The speakers were: Sanskrit scholar extraordinaire Dr. Nrisingha Prasad Bhaduri on why their memory is sin-destroying; Sahitya Akademi awardee Dr. Pratibha Ray on 'Ahalya from transgression to transcendence' (the subject of her new epic novel Mahamoha).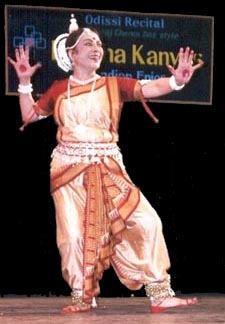 Dr. Ratna Roy of Evergreen State College USA (the foremost living exponent of the 'Panchakanya' composition in the Mahari 'ang' of late Padma Sri Guru Pankaj Charan Das) on how the Mahari devdasis find the lives of these five redemptive with particular reference to Tara and Mandodari; Dr. Chitra Chaturvedi, winner of many awards for her novels on epic characters, on Kunti (the subject of her epic); research scholar Archna Sahni on 'Unpeeling the layers of Draupadi in contemporary fiction' which was acclaimed as the finest paper of the symposium; and Sangeet Natak Akademi awardee Smt. Saoli Mitra on 'Draupadi in performance'.
Pradip Bhattacharya, specialist in comparative mythology, was in the chair and in his summing up explained the significance of the epithet 'kanya'. In the evening Dr. Ratna Roy performed, for the first time in India, the entire Panchakanya dance for two hours to a packed hall. Dr. Roy had come free of charge from USA so that Indians could see this unique composition of her Guru that has created great interest in America.