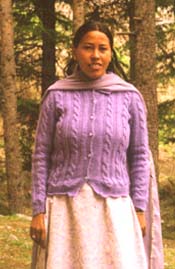 Ruddy-cheeked girls with hair glinting like amber in the morning sunlight traipse past with milk cans or school satchels in Palchan village, a few miles above the tourist resort town of Manali in the mountainous state of Himachal Pradesh. Dicky Dolma, who at 19 was the youngest woman in the world to climb Mt Everest in 1993, also began life in a traditional wooden house with bales of hay sunning on the flagstones in the courtyard and vistas of snowy peaks, alpine meadows and the rushing white water of the Beas River. "I once heaved a sack of grain half a kilometre uphill with a boy from the village. We took turns carrying it on our backs and by the end he was reduced to tears so I offered to do his share as well," recalls Dolma who was also the national women's ski champion for over a decade.

Thoughts of skiing, much less mountaineering, never crossed her mind, she says, laughing in retrospect at how easily she might have missed becoming an outstanding sportswoman. Dolma's world record as the youngest woman summiteer of Mount Everest was set on May 10, 1993, when she reached the top of the world's highest mountain as a member of the Indo-Nepal Women's Everest Expedition. The expedition led by Bachendri Pal - herself a record holder as the first Indian woman to climb Mount Everest in 1984 - put seven women atop the summit. Dolma, then 19 years old, became the youngest woman summiteer ever while another member of the team, Santosh Yadav, set another world record as the first woman to climb the Everest twice, having already summitted the year before.

Nine years on, Dolma's face still glows with satisfaction as she asks, on the anniversary of her climb, "Need I have any fear of my world record being broken in the near future?"

No she does not. Like the record for the youngest man to summit Everest, set last year by 15-year-old Temba Tsheri of Nepal, even Dolma's record is unlikely to be broken. With an eye on safety, the Nepal government has decided this year to refuse climbing permits for Everest to anyone below 18
years of age.

As for Dolma's record, she points out that few women mountaineers from the West come to the Himalayas at such a young age; and those from India or Nepal, for whom the Himalayan foothills are home, lack resources. In fact, Dolma has never managed to visit her Tibetan family's ancestral home in Lahaul-Spiti, in the upper reaches of Himachal Pradesh. This is a cold desert under 30 to 40 feet of snow in winter. So remote is the region that her relatives do not even know that she is a world record holder.

Dolma's success story could be the fantasy of every little girl. "It was in 1986 that I first began playing in the village with home-made skis ' shaved wooden planks with rough straps to slip on over shoes. Then I won a scholarship for the Basic Skiing Course but my family didn't like the idea of my missing school. It was after one of the senior skiing instructors at the Skiing and Mountaineering Institute in Manali wrote a letter to my parents that they agreed. And then there was no looking back. I did all the courses and began participating in competitions," she says.

The Manali Institute, formally known as the Directorate of Mountaineering and Allied Sports, has played a major role in Dolma's life. After she completed the Institute's skiing courses, she did the Basic Mountaineering Course in 1991. It was after this that the Institute forwarded her name for
the Pre-Everest Women's Expedition.

But ironically, Dolma is also probably the only climber to have summitted Everest without completing an advanced course in mountaineering. "Ah, yes, I finally did that course in 1994," she laughs. Her association with her alma mater continues today: she is a skiing and mountaineering instructor
at the Institute.

Dolma's career as a sportswoman has enabled her to travel far from her mountain home. As a champion skier, she went to New Zealand for a contest in 1997 and to the Asian Winter Games in Korea in 1999. In India, she first won the Women's Slalom gold in the 1989 All-India Open Auli Ski Festival and has reigned supreme in her pet event ' the Giant Slalom, in the National Winter Games of 1991, 1996, 1998 and 2002. She was also the coach of the Indian team at the Junior Asian Games in Japan in 1995. Skiing also brought her a friend whom she eventually married in 1999. "My husband had come here to ski and we became friends. My in-laws are very encouraging and even come to watch me participate in skiing competitions," she smiles.

Her first love remains skiing though and she admits that she has, on occasion, opted to go for a skiing competition rather than a mountaineering expedition. "But I will definitely do some more climbing if I get the opportunity," she adds, when asked why she followed Everest (28,029 ft) with ascents of only minor peaks like Ladakhi (18,300 ft) and Hanuman Tibba (19,450 ft).

Yet, her happiest memories are of the three years from 1991 to 1993 when the women's team was whittled down through two Pre-Everest expeditions to the final team that went to Everest. She also speaks of her immense sense of loyalty to the leader, Bachendri Pal. "She awakened in us a desire to overcome all hurdles. We never felt the hardships and gained tremendous confidence. We learned to hold our own anywhere."

Dolma's achievements have had a ripple effect on the community, on whom she has had an immense impact. "There are women who don't travel alone from Manali to Kullu. Since we climbed the Everest, the attitude of girls and their parents has been changing. Girls are now encouraged to venture out of the house and try to do things on their own."