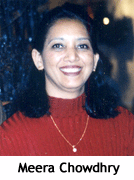 The other day I was talking to my husband about a movie, I had watched in my childhood. The movie had left a grave impact on my mind. Story was about a woman on trial for killing her three kids. She had lost her husband and after trying every thing was left with the only alternative of taking away her kids' life. I told my husband, "Isn't it much better now?" "Not really" was the reply. I said, "At least now women are able to feed themselves" Well things have changed to some extent. It's very natural to think, the things are well with others if they are nice with you. At the same time I very strongly believe we women are responsible to a great extent to change things for us.
We all have some experiences in our childhood. May be someone had a brother who was given preference over. These small incidents when we are young could be disturbing and leave us with complexes. However, when we grow up we should try to rationalize and forgive. This forgiving is for our own good and unless we forgive we are not able to heal from within and thus get out of complexes. This healing is important for us to have a higher self-esteem.
Foremost thing is the high self-esteem. God created us all unique. Everyone is here for a purpose and we women have no reason to feel less than anyone. There are some people who are more fortunate. However, we get what we deserve (Swami Vivekananda) and things that we become capable of, come to us automatically. This fact should not make us feel less fortunate.

I think when someone tries to put us down or looks down upon us, it is written on our face that okay they can do it. I was reading a book called Relating wherein the author writes "an individual cannot keep kicking you in the rear unless you keep bending over" sounds very ridiculous but so true. We need to feel good about ourselves no matter what and should be responsible for ourselves.

In my life, my husband and I have had innumerous arguments. These arguments were always because we did not agree with each other in principle. It was never because I was a women and I was left at his mercy. There was a period of 12 years when I didn't work and helped raise my kids. I am proud to say that even during that time I never had to ask him for anything and I was never made to realize by him that I am depending on him. I am not discarding his goodness here though I myself never felt that I was a burden. I was always aware of my rights. If I had taken a decision to raise my kids over my career, I was fully in consent with him. It is another thing that we both share common values.

Being independent - is very important. Being independent financially, emotionally and physically. We should not however misinterpret this independence. God created us all also interdependent man needs a woman as much as a woman needs a man. However, this should not give any one idea for exploiting each other. No one should let himself be exploited. In our society man is fully independent, we women should bring ourselves to a level that if the need be we should be able to take care of ourselves solely. For this, we should never at any stage take life laid back. Our learning should never stop. We must put in all the efforts to update and upgrade ourselves. If at any stage we feel the necessity to go back to school we should not hesitate. Nothing is impossible if we have the determination to do so.