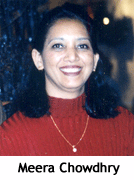 On my previous article Strength of a Woman Ashok Dongre wrote to me, " Weakness of a woman in India (I do not know about others) is that she doesn't remember that she was once a girl-child, when she becomes the mother of a girl-child. She also doesn't remember that she was once a daughter-in-law, when she becomes the mother-in-law." I couldn't agree with him more. This comment necessitated my continuing on the same theme, this week.
It is very unfortunate but women tend to forget their experiences and force other women to face the same situations, they were in. I had an aunt, may her soul rest in peace. She was literally ruled by her mother-in-law, however when it was her turn to become a mother-in-law, she let all her bitterness out on her daughter in law. Is this fair? There was a constant battle between the two ladies and in the process my cousin was the greater victim. Often my aunt mentioned that the business trips my cousin was taking were to get away from home and the frustrations. Irony is that she was aware of his plight yet she continued with her bitterness. Is this love for your child? I don't know what kind of love do such mothers have for their kids that make them do things that are in turn harming their kids. It is important for us to forgive and rationalize only then we can heal within and feel happy.
Then there are these other women who love their sons so much that they cannot share them with anyone not even their wives. If we are able to understand that what a mother can give to the son the wife cannot give and what a wife can give the mother cannot give. There is a place for each that can't be replaced by either. Each should stop pulling the man and tearing him apart and respect the rights of the other women. It would be a much better situation for all three of them. Of course the bottom line is love. If the wife loves the husband as much as she claims to be then she certainly will accommodate the mother and likewise the mother. Always focusing on the impact their actions are creating on the man.

Well the other part of the "weakness of woman'" is the daughter. I think now most mothers at least educated and more aware in a modern society do not treat their daughters less important than sons. We may be more protective of them of course thanks to our society. We do treat them differently to the extent that we don't give them as much freedom as boys get. This is a common complaint of the modern-day girls. They don't get enough freedom. One such girl wrote to me once and I asked her a question, "Would you like your Mom to go to a bar alone and have a little good time at late hours?" And the answer to my question was NO obviously. She got my message.

There is another known fact; by nature fathers are a little closer to the girls and mothers to the sons. In all practicality this does not in any way warrant a different treatment. However, I have always had complaints from my kids. The son complains that father doesn't love him and the daughter complains the mom doesn't love her. I am going to leave it to them when they have kids and understand this aspect of the Mother Nature.