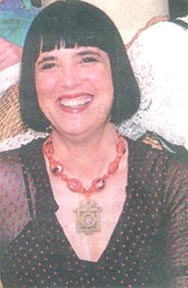 Since 1998, American feminist playwright Eve Ensler's work, 'The Vagina Monologues' - voicing women's experiences of sexuality, symbolized by their relationships with their vaginas - has formed the core of the V-Day Movement (V for Vagina and Victory over Violence) - a global initiative to end violence against women. Annual benefit performances and events in 40 countries have raised awareness and over US$ 20 million to support women's initiatives - from rape recovery centers in US to a secret girls school in Italianized Afghanistan. Director-actor Ensler recently performed Monologues in Delhi, as part of the international conference on 'Confronting Violence: Recounting Resistance, Envisioning Justice', organized by women's groups Jagori and Sangat, along with V-Day . Ensler talks about V-Day's vision of a just world that honors women's capacities.

Q. Can you describe the journey of 'Vagina Monologues' since 1998?

A. Six years ago it was in one city, this year, it will complete 2300 performances in 1,100 cities around the world. We are talking of places as varied as a Methodist church in Nebraska (US) to Lebanon and Pakistan. Chennai, Shanghai and Catholic colleges are the only places that have censored it. As Monologues goes on, it goes into towns, villages and gets translated into more languages. When translated into people's languages, it gets really threatening.

Q. Your work, describing women's most intimate experiences - from sex to menstruation and birthing - has a fervor akin to a mystical experience. How do you see it?

A. There is this very powerful, mystical, political energy connected to women that we've just tapped into this much (indicates a finger-tip) - it is so oppressed by patriarchy.

This energy has to do with all of us. It has to do with an essential understanding that if we do not come into our power as women, the species won't go on. The degree to which women are violated in every city, village, country is an indicator of not holding life sacred in general, particularly of women. We accept it in every culture. We expect women to be raped, burned and battered.

Q. How does your notion of the liberating power of the woman's body - as the repository of earth energies and creation - fit in the lineage of the feminist movement, which moved away from biological determinism?

A. I don't know whether this notion is only gender focused. I think men are fully capable of carrying that feminine energy in them. It's a question of whether patriarchy allows them to open to it.

In terms of feminism - I can only speak from my own history - in the beginning the feminist movement was very cerebral, it was all about re-arranging our thinking. But it did not translate into the body for most women - there were many strong women running companies, taking charge but still living with abuse... When women know they have agency over their bodies, that's when your revolution will happen.

Since the 'Vagina Monologues', I have met extraordinary men who have opened a part of themselves, which needs to grieve. I think all violence is the result of hardened grief. The curative for violence: I would say take men away, put them in beautiful places, let them grieve for five years, let women run the world.

Q. Where does the body begin and end in conceptualizing a new order of politics and power?

A. I have seen women come into their bodies around the world. They are less apologetic about knowing what they know, seeing what they see, and saying what they say.

People say there have been women leaders but we see women masquerading as men in power, holding patriarchal values. Aung San Suu Kyi is one leader who has refused to participate in the dynamics of patriarchy. When women come into their bodies, it allows for a different kind of leadership, based on principles of non-domination, non-hierarchy, non-violence, inclusion, and that the good of all is better than the good of a few.

Q. What inspires your vision of empowerment?

A. There seems more violence than ever - one reason is that more people are talking about it. Simultaneously, there are women - whom I call 'vagina warriors' - experiencing violence, but rather than take up AK47s or weapons of mass destruction, they hold that suffering in their bodies, transform it and devote their lives to stop it happening. I see hundreds, if not thousands or millions, of such people. They are not getting announced because the press doesn't want good news.

But there is this other world emerging. We need to have faith in it. Which is why I'm here.

Q. How does V-Day deal with the notion of feminist concerns specific to the West and the Third World?

A. I think it is about art being at the centre of the movement. I go to Mumbai (India), Bosnia, Philippines. Different performers, different languages, but the laughs are at the same place, people cry at the same place.

Patriarchy and globalization - the bad globalization - have made us believe we are different in ways that we are not different and same in ways that we are not the same. There is difference - why would we want to give up the sari, a genius invention. But, if women across the world also knew what they have in common is their livelihood, freedom, safety and rights, they could lead a revolution where women would be protected in every country. Because, women would watch each other's backs.

Q. What is V-Day's campaign for the coming US election?

A. This year we have created the 'Vagina vote'. We are getting women all over America to start voting for whoever is working to stop violence against women. It is great to have celebrations, to raise money. But until we have power, political goodwill and leadership positions, we cannot stop violence against women.