Deep in the forests of Gadchiroli, a tribal area of eastern Maharashtra, live the Gond 'adivasis' (tribals), some of the poorest and most neglected people of the state. The region is considered dangerous because large parts of it have come under the sway of Maoist rebels, also known as Naxalites, who have taken up the challenge of organizing the Gonds to fight for a society they claim is based on justice and equality. The ensuing conflict between the rebels and the state has turned the region into a "police state", where anti-insurgency security forces are constantly on the vigil, storming Maoist hide-outs and eliminating suspects. The word 'encounter' - a euphemism for such extra-judicial killings - has become a part of local vocabulary.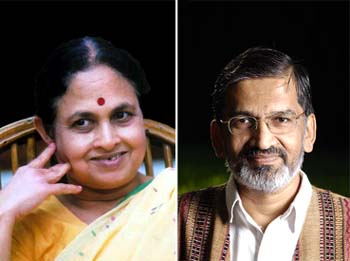 The forest is usually not a place where one would expect to find qualified doctors, especially ones who have studied at the world renowned Johns Hopkins University in the US. But then Dr Rani Bang and her husband, Dr Abhay Bang, who are both in their fifties, founders of the Society for Education, Action and Research in Community Health (SEARCH), are not "usual". They were determined to take the road less travelled.
Rani Bang (nee Chari), daughter of a doctor and the granddaughter of a prominent Congress Party Member of Parliament (MP) from Chandrapur, met Abhay, the son of the famous Gandhian, Thakurdas Bang of Wardha, at Nagpur's Government Medical College. Abhay was involved in the Sampoorna Kranti (Complete Revolution) movement initiated by political leader Jayaprakash Narayan. On returning from Johns Hopkins, where the couple had gone to pursue higher studies after their marriage, Rani and Abhay resolved to put their powers of healing, as gynecologist and physician respectively, in the service of government Primary Health Centres (PHCs) for the benefit of ordinary people.
In 1985, the couple set up SEARCH, a multifarious village within a village. Located in Shodhgram, about 15 kilometers from the district headquarters of Gadchiroli on the Dhanora road, SEARCH is a hospital, a de-addiction centre, a voluntary organization that runs various projects on tribal welfare, health, adolescent sex education and so on. It is also a research institute that has brought out many publications. Reminiscent of a tribal village, it is equipped with all the modern amenities necessary to meet its objectives. Mud houses amidst trees built around a common courtyard, hutments for in-house patients to live in with their families, a temple dedicated to Danteswari Devi, worshipped by the Gonds, and other symbols of tribal culture, are around to make patients feel at home. "We asked the people what kind of a hospital they would like and then designed this facility," says Dr Rani Bang. Of course, the funds to do all the good work come from various government schemes and donors like the Ford Foundation.
The greatest achievements of the SEARCH project have been to bring about a fall in the maternal mortality rate (MMR) of the area through improved neo-natal childcare. This has been done by introducing modern medicine and practices of hygiene into the tribal lifestyle, through camps, visits to villages, training of birth attendants and health workers from among the community and by encouraging city-trained doctors to work in the area.
According to Sunanda, Women's Health Coordinator, SEARCH, maternal mortality has been high in this region because childbirth is carried out at home in the most primitive way. "Women arrive at the hospital only in cases of an emergency, due to factors such as lack of transport, finances and, initially, a lack of faith in modern medicine. But this is gradually changing." This positive behavioral change - including a growing preference for institutional deliveries - is largely because workers of SEARCH take the pains to explain the danger signs to pregnant women so that they understand when they must go to a hospital. "We explain about the anatomy, nutritious food and convince the mothers-in-law to feed the pregnant women well," elaborates Sunanda, who has been with the project for 15 years. Sunanda is originally from Nagpur and has done her MA in Sociology. She and her husband are both social workers employed by SEARCH.
Local customs are the reason for infant deaths, too. Traditionally, Gond mothers starve themselves for an easier birth, don't nurse for three days after their babies are born, and don't clothe the newborn for five weeks. As a result, pneumonia kills a large number of infants. In an attempt to address this concern, SEARCH has been encouraging mothers to check the weight of their newborns, among other measures. SEARCH has also trained birth attendants (TBAs), who can be any committed person who has attended to around four child births in the village.
Another SEARCH intervention has been in improving the hygiene of the traditional Gond 'korma' - the rather dark and dirty hut in which women are isolated during menstruation. While it has been difficult to convince the community to do away with this practice of isolation, SEARCH health workers have managed to at least improve the 'korma', turning it into a clean, comfortable place, with perhaps a bed and a tiled roof. The 'korma' has, in fact, been transformed into a 'women's room', where women meet during their difficult days, rest and share experiences.
Elucidating the SEARCH approach to improving the well-being of the Gonds, Sunanda speaks of the need to understand the essentials of Gond culture and build on their tribal heritage. "We don't laugh at the tribals, their beliefs or superstitions," she says. "Their medicine is mainly herbal medicine and black magic practiced by traditional healers. We tell the people that they should also take our modern medicine. We encourage them to bring their healer along and try to train him in modern medicine. Now the traditional healers trained by us carry malaria slides and give tablets."
At the other end of the spectrum, Rani Bang has been working on the Gond tribal medicine, conducting scientific experiments to ascertain their veracity. She feels that the use of asafetida (hing) to treat fungal infections of the skin; garlic for vaginal infections; and boiled guava leaves for anal fissures probably have a sound scientific basis.
Her book '
Goin
', a Gondi word for 'friend', has a study of the flora of the area as seen through the eyes of Gond women and traditional healers. Her research has introduced her to a wealth of tribal knowledge and anecdotes. Yet, despite her wide exposure to tribal customs, there are times when she is left startled. Once she was taken aback when a woman casually pointed to a plant which she claimed was useful to "kill a husband"!
But how can people work so selflessly in an area of conflict? Don't Rani Bang and her colleagues sometimes feel intimidated by their difficult circumstances? Says Rani, the recipient of the National Award for Women's Development Through Application of Science and Technology, 2008, as well as many national and international awards, "What is there to fear? After all, everybody has to die some day?"