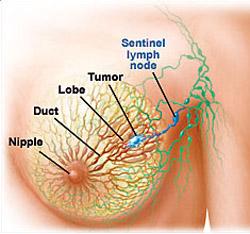 Even with all the advances in medicine, cancer continues to be a dreaded illness. And, of all the cancers affecting women, breast cancer is one of the most common. Lung cancer is the most common cancer worldwide, accounting for 1.2 million new cases annually; followed by cancer of the breast, just over one million cases. Of the breast cancer cases, some 580,000 cases occur in developed countries and the remainder in developing countries. In 2000, the last year for which global data exists, some 400,000 women died from breast cancer, representing 1.6 per cent of all female deaths. ('WHO and World Cancer Report', a global report issued by the International Agency for Research on Cancer, which is part of the World Health Organization).
India's first cancer atlas, produced by the Indian Council of Medical Research in 2005, confirmed earlier observations that breast cancer has replaced cervical cancer as the leading site of cancer among women in Indian cities.
Not a happy set of statistics, to be sure. What the statistics do not describe, however, is the boundless trauma associated with breast cancer. Since the breast is an important psychological and physiological part of a woman's being, any disease that affects it also necessarily affects the woman - not just physically but also emotionally.
In fact, it was just such a personal experience that led to the setting up of Hitaishini, a breast cancer support network based in Kolkata and the only one of its kind in the entire eastern India region. Composed of cancer survivors, social workers and health professionals, the organization recently celebrated its 10th birthday.
The story of its birth goes back to August 1995, when a group of 12 women, all of whom had undergone mastectomy, met in Mumbai to form the Mastectomies Association of India (MAI). Vijaya Mukherjee from Kolkata was the only representative of the east. Says Mukherjee, Founder President of Hitaishini, "Post-surgery, we were literally cringing to hide our deformed bodies. We were totally traumatized." United under the banner of MAI, the women discovered that there were hundreds like themselves, hiding in the secret recesses of despair, banished as it were forever from their own familiar worlds. MAI members began to visit hospitals and nursing homes in Mumbai, sharing experiences and bonding with women suffering from breast cancer.
For Mukherjee, it was a valuable lesson. Back home in Kolkata, she set up Hitaishini ('hit' in Sanskrit means well-being; and a 'hitaishini' is one who is involved with the well-being of others) with Rashmi Vohra and Deepa Ganguly - who had also fought breast cancer - in November 1995.
The beginning augured well. Dr Maqsood Siddiqi, then director of Chittaranjan National Cancer Institute, Kolkata, welcomed the new-born organization to start a counselling clinic for breast cancer patients at the hospital. In the souvenir brought out by Hitaishini to celebrate its 10th anniversary, Siddiqi writes, "This was a pioneering effort on the part of Hitaishini and gave a new direction to the supportive care of patients in West Bengal." Such was indeed the case. Women came to the clinic totally devastated; mere shadows of their former selves. By the time they left, they had regained much of the confidence they thought they had irretrievably lost.
As its work began to bear fruit, Hitaishini began operating from three other major cancer treatment centers of the city - Thakurpukur Cancer Hospital, Subodh Mitra Cancer Hospital and Research Centre, and Bengal Oncology Centre. News of these clinics spread by word of mouth. Young women who suspected they had the disease, but were afraid to confide in their families for fear of bitter repercussions, would come to the clinics. Doctors would refer patients to them for counselling. Volunteers of the organization had to often attend other hospitals and nursing homes on request.
Soon Hitaishini grew in strength and extended its area of operation. Cancer survivors as well as ordinary homemakers joined its ranks. Counselling apart, Hitaishini began to offer - albeit on a small scale - medicinal aid to patients who could not afford it. This ranged from advice on breast conservation to breast reconstruction and prosthesis (artificial extension of a missing part of the body).
Rehabilitative support to patients and aid to dependants of terminal patients were the other services it began to offer. Funds, or the lack of it, never permitted anything grand, but the sincere and unpretentious efforts were rewarding. The gift of a sewing machine to a girl whose mother had died of breast cancer, professional driving lessons to a boy whose widowed mother had succumbed to the disease, and other similar gestures of support helped many a family to remain on its feet after the untimely demise or permanent incapacitation of its breadwinner.
In the 10 years of its life, Hitaishini has provided direct counselling to close to 10,000 women. This figure does not, of course, include the many women Hitaishini volunteers talk to and console over the telephone. However, despite its groundbreaking work, the organization continues to battle a drastic shortage of funds. It receives no aid from the government and has to depend on the generosity of individual donors.
Experience revealed to Hitaishini members the singular dearth of awareness on the disease. Few know or believe breast cancer is curable if detected and treated early. Mukherjee recounts the case of a young mother she met at the Thakurpukur hospital. The woman was inconsolable. Gentle questioning brought out a shocking story. She was crying not because she would die, but because she would not. When she was diagnosed with breast cancer and referred to Thakurpukur, her neighbors in the village convinced her that she would be going there to die. So she gave up her one-and-a-half month old baby for adoption. It was only much later that she learnt how foolish she had been.
There were other equally tragic cases: A woman whose marriage was about to be wrecked by the disease; a mother who was sure that she would pass on the disease to her child if she fed him with her own hands on his birthday; a young woman who died because she had conceived too soon after chemotherapy.

The result was that awareness programs on the symptoms, causes and remedies of breast cancer were high on Hitaishini's list of priorities. Awareness camps - complete with CDs on their activities and slides on breast self-examination - are now organized throughout the state, often on the request of women's organizations, social welfare organizations and so on. The response has so far been very encouraging. Says Mukherjee, "We are trying to form independent groups of women outside Kolkata who can work to spread awareness on breast cancer in their own localities."