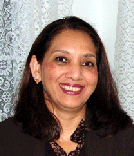 We could go on endlessly complaining about the prejudices of either sexism or racism or against religion. The place of a woman is not what it should be but who is responsible for this? Have we ever wondered? The views that we have start from our home. We should not forget that not everyone has same views and our views are always influenced by our upbringing, our experiences, our education and our exposure to situations that change our perspective.
I remember when I was a young kid; we had a temple at the corner of my block. If I sat in the window, I could watch people worshipping. One day while I passed by the temple, I also knelt the way I watched people did. When we returned home, my sister complained to my Mom and my Mom just laughed. She didn't even tell me not to do it again and I continued to visit temples, Gurudwara and mosques with friends. She did not condemn me. I strongly believe her reaction has everything to do with my open-mindedness, when it comes to religion. I really wonder till today, how many mothers would miss an opportunity to emphasize on their religion at a situation like this.
My views about women or daughter as such are greatly influenced by my Mom's. Because she had eight daughters, she was condemned by the society. However, she always placed a lot of importance to a girl-child. For her, all eight of us were precious. In fact, my aunt who did not have a child wanted to adapt one of us and my mother refused to part with anyone. Also, my father sent us all to college and made it clear girls are no different than boys when it comes to getting education.
The way men treat women is given to them from home also. I can't help myself but make a comment here and there when I see my son's behavior is not good. Ultimately, it's his happiness that counts. If he is going to treat his wife badly she will do the same to him, which will not be conducive for his happiness. Let me tell you here, mother has a greater influence on the kids than that of a father's. It is not that the boys see their fathers behave badly and they do like-wise. If mothers desire, they most certainly can influence them.
Now, a lot of hue and cry is going on among the Indian community about the dowry deaths and the ill treatment of the female community as such. Unfortunately, for most dowry deaths women (mothers-in-law) are responsible. I also wonder, how many mothers are there (including myself) who are teaching their sons household jobs with the premise they should share such responsibilities with the wife? If at all any boys are made to do household chores are either to help the mother or to help themselves while the mothers are away. Most mothers on the other hand make their daughters get trained at these jobs. My American colleagues are no different at this. They wait for their sons to get home to visit them when they can treat them with the favorite foods. In fact, one of the popular comedy programs on TV - Martin has his mother constantly pressurizing his wife to cook for him, do chores for him - treat him like a prince in other words.
The best course for us mothers should be stop complaining and start training our sons differently! Teach them to treat women well and with respect, teach them to contribute evenly in the domestic chores with the wife. Fair enough?