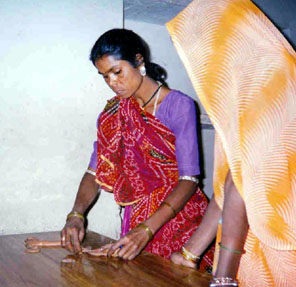 Durgabai Gameti, 27, a Bhil tribal, is a social animator with the Udaipur (Rajasthan)-based NGO Action Research and Training for Health (ARTH) at its centre in Kadiaya village. She is confidante and advisor to the women who visit the centre. "Many woman approach me in confidence. Very young, unmarried girls want to get rid of unwanted pregnancies, married women want to limit their families, while still others have extra-marital relationships and desperately seek our help," says Gameti.
This is a remarkable change among women who, barely a decade back, were ignorant about their reproductive health concerns and had no access to facilities. It is also proof of the success of ARTH's efforts.
ARTH has been working in Rajasthan since 1997, reaching out to patients through its two centers at Kadiaya and Kuncholi, and through field clinics in 22 villages. The field clinics are held on fixed days of the month at pre-decided venues. Pregnant women and lactating mothers can consult the nurses who at these clinics. Women's self-help groups (SHGs) in these villages help organize these visits and ensure that all those who want to see the nurse arrive at the appointed place. ARTH has also appointed Swasthya Sakhis (literally, health friends) who play an important role in coordinating the meeting between the women and the nurses.
The women are then referred to the health centers in Kadiaya or Kuncholi. The health centers themselves are round-the-clock facilities, so that women have easy and constant access to reproductive health care. They are equipped with a labor room and a four-bed ward housed in a tent. A doctor is available three days a week - Mondays, Tuesdays and Thursdays - at these centers. The centers provide a range of services, including two visits after post-natal discharge, referral for complications, attending to the newborn, immunization, treatment of sick children, contraception and early abortion.
Today, ARTH's efforts cover a population of 54,650 women, of which 46 per cent are from Scheduled Castes (SC) or Scheduled Tribes (ST). August 2006 figures released by ARTH show that 81 per cent women of the women it covers received at least one antenatal check-up (ANC), while 46.3 per cent received three or more ANCs. About 67 per cent deliveries took place at home and 37.5 per cent deliveries were conducted by skilled birth attendants.
The figures have improved since 1997, when a survey conducted by ARTH in the southern part of Kumbhalgarh block revealed that only four per cent of deliveries were attended by nurses or Auxiliary Nurse Midwives (ANMs).
The National Family Health Survey II conducted across Rajasthan in 1998-99 revealed that only 14.3 per cent of rural deliveries in the state were attended by a doctor or other health professionals. More recently, a baseline survey conducted by ARTH in 2000 showed that antenatal check-ups were rare (16 per cent) and most deliveries (95 per cent) took place at home, and only 9 per cent of these took place in the presence of skilled birth attendants.
Gradually, though, ARTH is making a difference. More and more women are approaching the centre for guidance on reproductive issues. The intervention programme aims to establish the effectiveness of trained ANMs, who stay at the ARTH rural health centers so that the women may have easy access to them. ARTH ensures that they are continuously trained to deal with emergencies.
ARTH's records show that the average age of women who seek delivery or obstetric first aid services is 24 years, and that nearly 43 per cent were from SC/ST communities. This was a significant finding; earlier studies showed that, while 23 per cent women belonging to the upper caste had utilized institutional delivery services, the rate was a mere 3 per cent for SC/ST women.
Dr Sharad Iyengar, who helped to conceptualize the intervention, explains, "Upper castes are always the first to access any opportunity; they know how to milk schemes. Tribal people, however, are diffident about new programs because they have been exploited by politicians in the past."
The social realities and power structures in the villages severely impact ARTH's work. Take, for instance, the case of Ganeshi Bai, 25, who was pregnant. The ARTH centre referred her to a government hospital for blood transfusion. She went home and raised a hue and cry saying, "The doctors are telling me to go to Udaipur and are asking me to take blood from my husband. Is that possible? Can a woman take her husband's blood?" Gameti says that Ganeshi and her family could not understand that she needed a blood transfusion and that her husband could donate blood. "Ten days after a seemingly normal delivery, she died," Gameti recalls.
Also, with only two outreach centers, ARTH finds it difficult to meet the various needs of women in a state as vast as Rajasthan. The alternative is scary. In desperation, a woman will just approach the local 'Bengali doctor', a quack, and go through a very traumatic abortion.
"Women with botched abortions have turned to us for help later. Because the health centers are open 24x7, we are able to help some, but not all women are so lucky," says Iyengar. Earlier, before the outreach centers were set up, women had to travel all the way to Udaipur in case of an emergency. But since the doctor's days are fixed now, the social animators urge women to meet the doctor at the centre.
Radhabai, President of a recently formed SHG in the village, says, "We are now getting together so that we can improve the lives of women and children in the village." In village Chapra, the SHG donated a room for ARTH's field clinic in 2001. The SHG is responsible for keeping the room clean, and a Swasthya Sakhi meets pregnant women, lactating mothers parents of small children and advises them to visit the field clinics.
Gameti attends the monthly meetings of the SHG at Kadiaya and gives health education to women. Here, she has formed two groups of adolescent girls with 35 members each. She speaks to them about health issues. These interactions have encouraged many adolescents and SHG women to attend the saksharta (literacy) camps running in the village.
And the changes are there for all to see. According to Radhabai, the women of the village have begun to ensure more cleanliness. However, their main sense of achievement comes from the fact that they have been able to create awareness among women on a very personal and intimate issue, such as reproductive health, in an extremely feudal region. The village confidante Gameti knows she has a long task ahead. "I wanted to finish my studies, but I really do not have the time. After work, I have to cook, wash clothes..."